Hummus is a delicious Middle Eastern dip made from cooked, mashed chickpeas blended with tahini, olive oil, lemon juice, and garlic.
Slowly roasted, raw garlic cloves are usually added for a punchy kick to the hummus.
This creamy delight is often served as an appetizer or snack but can be eaten as part of the main meal.
The texture of hummus is usually smooth with a few small chunks of chickpeas in each handful when you dig in with some pitta bread or veggies.
Thanks to the garlic and tahini, the taste is strong but not overpowering – unless you have accidentally added too much garlic.
Hummus has a mild hint of lemon that compliments the other flavors in the dish.
There are many different variations of hummus, but they all contain these key ingredients in differing amounts.
Some people blend a little cumin into their mix, while others add a dollop of harissa to give it an extra kick.
Whatever you decide to do with your hummus paste, make sure you get the basics right before you start experimenting.
Side dishes that go perfectly with hummus include tabouleh (bulgar wheat salad), roasted veggies, fresh salads, and raw vegetables.
In this article, we will list 8 of the best side dishes for your hummus so that you can mix it up and find a combination that works best for your palate.
Why Consider Serving Side Dishes for Hummus?
If you're looking for a quick and easy appetizer, look no further than hummus.
It's tasty, healthy, and impressively versatile.
But why stop there? One of the best parts about hummus is how well it goes with different flavors.
There are many ways to customize your hummus, from adding green peas to garlic-seasoned olive oil.
The answer lies in its simplicity, function, and versatility.
It's easy to make, can fulfill many roles as an appetizer or a light meal, and has endless potential for flavor added after the fact.
While it should be noted that hummus can stand on its own and needs no accompaniment whatsoever, some side dishes will enhance the experience.
One way to make your hummus taste even better is by adding different vegetables.
There are plenty of veggies out there that will go well with the base flavor of hummus, including all sorts of leafy greens, broccoli, and tomatoes.
The key here is simplicity.
You want to let the flavors in your side dish pair up with the flavors already in the hummus, not overpower it.
Just pick one or two that will complement each other well, and serve them up on a plate with your hummus.
What to Serve with Hummus? 8 BEST Side Dishes
So you've mastered the art of making hummus, and you're ready to bring it to your next gathering, but what will you serve with it?
You don't want to sit there eating a whole bowl of chickpeas yourself while everyone else enjoys their snacks.
Here are eight great ideas for side dishes that work well alongside delicious homemade hummus.
1 – Roasted Vegetables
If you're looking for something simple, roasted vegetables are a great option.
Preheat your oven to 425 degrees Fahrenheit and chop up any veggies you have on hand (the more, the merrier).
Toss them in olive oil, salt, pepper, and garlic powder, then bake for about 20 minutes or until they turn golden brown.
Of course, there are many different types of vegetables you can roast, so be creative.
If you have a few more minutes on your hands, sprinkle some fresh herbs on top after they come out of the oven.
2 – Avocado Bruschetta
Avocados are healthy, and they're healthy for you.
It's true; avocados are packed with essential vitamins and minerals crucial to living a healthy lifestyle.
Avocado is also delicious on its own, but even more so when coupled with some homemade bruschetta.
Here's what you do: slice half of an avocado into thin pieces, then add some freshly chopped tomatoes, garlic or shallots, and cilantro.
Add a little salt and pepper to taste, then smother your bread with it before serving.
3 – Kale Chips
There are plenty of ways to enjoy kale chips, but the best way is to make them yourself.
There are many benefits of making your kale chips instead of buying them at the store.
You can customize them with whatever seasonings you like, and it's always cheaper than buying premade bags.
To make your delicious kale chips, toss large kale pieces in some olive oil and whatever seasoning you want (garlic powder, salt, onion powder are all great choices).
Put them into the oven at 350 degrees Fahrenheit, then bake for 15-20 minutes or until they turn crispy.
4 – Mini Quiches
This is a great option if you're looking to make something that will last several hours.
You can make mini quiches the night before, and they'll still be fresh for when your guests arrive.
There are many different variations of mini quiche, but mushroom and spinach are some of the most popular flavors.
You're going to need a crust, some cheese, eggs, and milk.
Then sautee some vegetables before adding them to the mixture.
You can either cook your quiches on the stovetop or bake them in the oven – they only have to cook for 15-20 minutes at 350 degrees Fahrenheit.
5 – Baked Sweet Potato Fries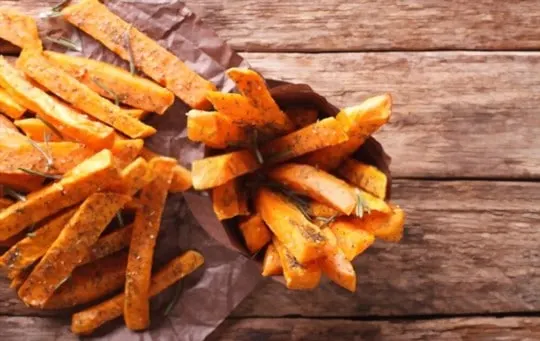 This is a classic side dish that can be combined with many different foods while also adding sweetness to the table.
To make your own baked sweet potato fries, you'll need large sweet potatoes (or yams), olive oil, salt and pepper, paprika, cinnamon, and cayenne pepper.
Slice up your sweet potatoes into thin pieces, then coat them with olive oil.
Add your seasonings before putting them in the oven at 425 degrees Fahrenheit for 30 minutes or until they turn golden brown.
6 – Fried Plantains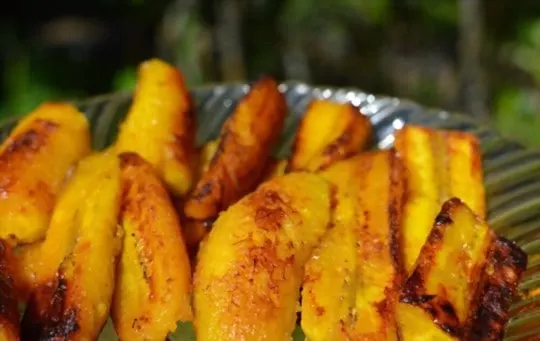 Believe it or not, plantains are vegetables.
Whether you choose to fry them until they're crispy or grill them until they're soft, you can't go wrong.
The best way to determine the level of ripeness for your plantain is by peeling off one end of the outer peel.
If it's black, then you'll want to wait until it's yellow.
If it's mostly green, then you can chop it up and fry them right away.
After your plantains are fried, add a little more salt on top for good measure.
They're especially delicious with lentils or beans because the sweet and savory combination is always a winner.
7 – Pita Chips
This is one of the quickest and simplest sides you can make, but it can be delicious.
All you need to do is cut up your whole-wheat pita bread into thin slices, then cover them in olive oil and salt.
Bake at 450 degrees Fahrenheit for about 5 minutes or until they turn crispy and golden brown.
Pita chips are perfect for hummus or even to eat on their own.
You can also add any seasoning you want to the olive oil before baking your pita chips, but garlic powder and red pepper flakes are always a safe choice.
8 – Falafel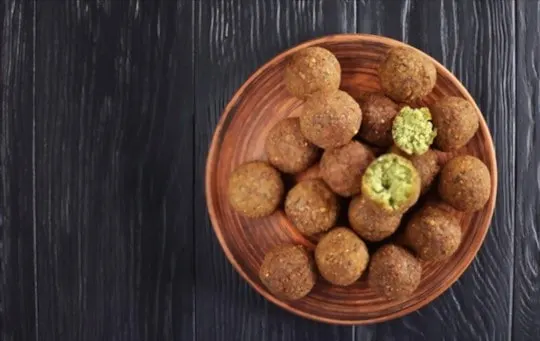 If you've never had falafel before, then what are you waiting for? This Middle Eastern dish contains chickpeas blended up with garlic, onion, cumin, and other spices to form small balls.
Then they're fried until crispy on the outside while remaining soft on the inside.
Add some hummus or tzatziki on top of your falafel for an extra flavor kick.
You can also serve them with pita bread or a side of roasted veggies.
Falafel is also a great option for vegetarians since it's high in protein and fiber.
Conclusion
In conclusion, hummus is a delicious way to eat your veggies, grains, and legumes.
There are many different ways to serve it, but the options listed above are only a starting point.
Combine your hummus with any flavors you want, or simply eat it plain.
You can never go wrong when adding another dimension to your meal.
So, what do you think about this side dish? Quick and easy to make, huh? Do you want to give it a try now?