Have you heard of Korean beef? You know, the super flavorful and tender beef that is cooked at your local Korean restaurant.
Well, you don't have to go out to get this flavor anymore. You can make it right from the comfort of your home.
So what is this special marinade that makes Korean beef so savory and delicious? Gochujang, a fermented red chili paste with a slightly sweet and spicy flavor.
Ginger, garlic, sesame oil, honey, soy sauce, and green onions give it a more complex and rounded taste.
This marinade works great with beef, but it can be used with chicken or pork as well.
Once you've marinated the meat, you can either grill it or roast it in the oven.
My favorite way is to put everything on a sheet pan and bake it at 400 degrees for 20 minutes.
So now you know how to make Korean beef, but what about sides? You can't just have steak or chicken without sides.
That's where these recipes come in.
These are 7 of my favorite go-to side dishes that always turn out delicious with any meal.
Why Consider Serving Side Dishes for Korean Beef?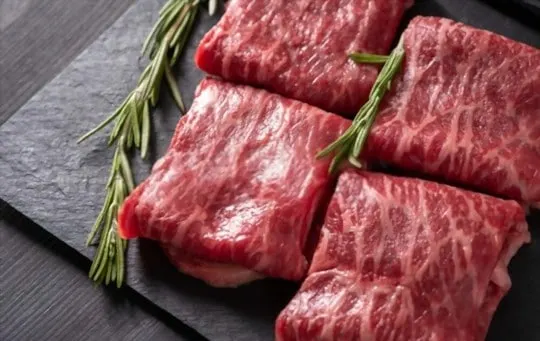 Korean beef is unique because of its flavor profile.
It's the perfect meal for the person who likes everything packed with intense flavors but isn't crazy about spicy foods or super flavorful vegetables.
These sides work because they enhance the flavor of your main dish without being too overwhelming.
If you're making Korean beef, then you might be thinking that it doesn't need a side dish.
After all, isn't that what rice is for? While plain white rice does go great with this meal, I have found that having some interesting sides makes it even more delicious.
It's hard to go wrong when you add sides to any meal, but knowing which sides taste best with the main dish can be challenging.
Your good friend and food blogger (ahem) is here to tell you all about how some easy and straightforward dishes can make your special dinner even more special.
So back to the question: why consider serving side dishes for Korean beef?
To enhance and compliment your main dish. Sometimes, a meal can taste bland without the right sides to help round out the flavors and pop.
To add some interest and excitement to dinner. It's always fun to experiment with new dishes, and these seven recipes are unique.
To make this meal more of a party. I found that these side dishes go well with so many other kinds of meals, as well as Korean beef. It's a great way to spice up your usual dinnertime rotation.
As an appetizer or side dish after your main course, I don't know about you, but sometimes I get so full from dinner that I don't want to eat dessert. But what if my sweet tooth gets the best of me? Well, these are perfect for enjoying some more food without feeling guilty or taking up more room in your stomach.
To make this meal a complete experience. I always feel like my food is missing something if I don't have at least one side dish to enjoy.
What to Serve with Korean Beef Bowl – 7 BEST Side Dishes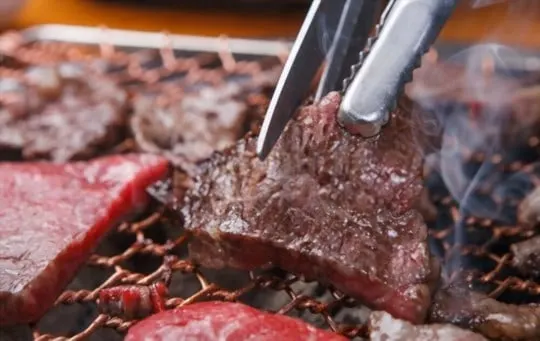 Here are some of my favorite sides to serve with Korean beef.
Each of these seven recipes is quick and simple yet unique.
The best part? They all go well with Korean beef.
While there is no wrong choice for sides, I recommend one of these seven recipes.
1 – Spicy Cucumber Salad
This is a great side dish because it's fresh and flavorful.
The cucumber works well with Korean beef, especially if you make a spicy sauce to go along.
I love this dish because it has a little bit of everything: protein from the cucumbers, bitter from the arugula and kale, crunch from carrots and peanuts, plus it's topped off with the perfect amount of dressing.
It has a ton of flavor without being too overwhelming.
Perfect for pairing with Korean beef, this salad is easy to make and only takes 10 minutes.
If you don't want something spicy or prefer not to use peanuts, feel free to leave them out.
The salad is delicious either way.
2 – Korean Ssamjang
This is the perfect dish to serve with Korean beef because it can make in your rice bowl.
It has many intense flavors thanks to ssamjang, a mixture of miso paste and gochujang (Korean chili pepper paste).
It isn't too spicy or overwhelming but adds a little kick to your meat and veggies.
The flavors blend well, nearly making it taste like a sauce or gravy of some sort.
Ssamjang is easy to make at home, so try making some with this recipe.
This side dish also goes excellent with Korean fried chicken, so consider adding it to your list of favorite dishes when you want to mix things up a bit.
3 – Spicy Kimchi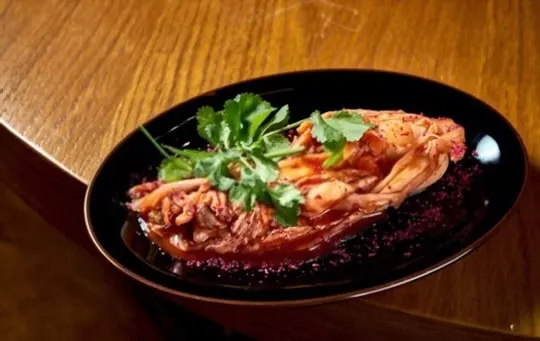 Kimchi is a classic Korean side dish that has been spicing up meals for hundreds of years.
It's an acquired taste, so not everyone enjoys it as much as other dishes.
But if you like kimchi and spicy food, this will be perfectly paired with your Korean beef meal.
You can always buy premade kimchi at the store, but the homemade version is so much better.
I recommend using white or napa cabbage to make it.
You can eat this dish all by itself, but also try putting it in between two pieces of bread for a fantastic sandwich.
Kimchi is excellent with most Asian meals, but especially noodles.
Try mixing some into a stir fry or a bowl of fried rice for a spicy kick.
4 – Yukgaejang (Spicy Beef Soup)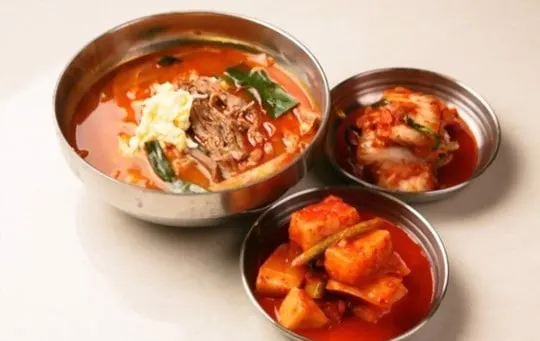 This is a Korean beef soup, but it can double as a side dish.
The flavors are so intense that you don't need anything else to go with the meal.
I love this recipe because it's really easy to make in large batches.
This means you'll have plenty of leftovers for future meals or even to freeze.
It's kind of like a spicy version of Phở – the beef soup that's served in Vietnam.
Not only does this dish pair well with Korean beef, but it goes great with any Asian meal in general.
My favorite ways to eat yukgaejang are either by itself or with rice.
5 – Korean Fried Zucchini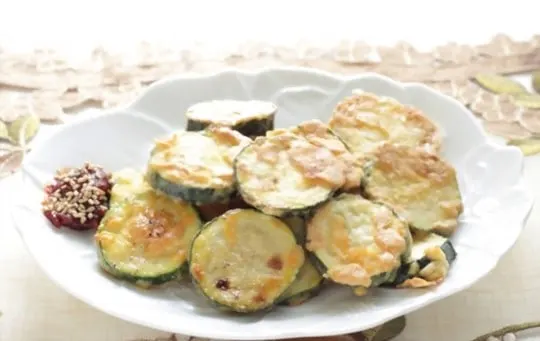 This is one of the easiest recipes to make.
It's simple, quick, and so much better than regular fried zucchini.
The key is to serve it with a delicious dipping sauce that makes all the difference.
If you're not into spicy food, then take out the gochujang in this recipe.
You can also add other ingredients such as sesame seeds, green onions, and bean sprouts.
Not only is this side dish perfect with Korean beef, but it's good with any Asian meal in general.
I also like to make a double or triple batch of it and freeze the leftovers for another time.
It's the perfect thing to whip out when you have a craving for fried food.
6 – Cabbage Doenjang Soup
Doenjang is a Korean soybean paste that has an earthy flavor.
It gives this dish its unique taste, but it also contains ingredients like garlic, onion, and chili powder for extra spice.
This dish can be served as is or with rice.
It's just the perfect thing to pair with Korean beef because it has that same sort of intense flavor, so it enhances the taste of your meal even more.
This soup is also great for heating old leftovers.
Try pairing other types of meat with doenjang or adding some noodles to make this side dish even better.
7 – Egg Roll Omelette
Everyone loves egg rolls, so why not turn them into an omelet? It's a great way to add some flavor and spice to your meal.
Plus, it makes the perfect side dish because it goes well with so many different things.
This dish is incredibly delicious if you use a mix of meat and vegetables for the fillings.
The flavors in this side dish are light, but it will still taste excellent with Korean beef because of the egg.
I suggest serving it with rice and Ssamjang to make the meal complete.
It's also great for eating with other Asian-inspired meals such as ramen soup.
Conclusion
In conclusion, a Korean beef bowl with any of these seven side dishes will be a perfect meal to enjoy.
Choose any two or three of them to accompany your Korean beef bowl.
Have you enjoyed these side dishes with your Korean beef bowl? Which one was your favorite? Are there any other side dishes that you want pairing with the Korean beef bowl?
Do you have any questions about these recipes? If so, leave a comment below.