Tilapia is a very common fish found in grocery stores all over the world.
It is also one of the three most popular farmed fish, along with catfish and salmon.
Tilapia can be prepared using various cooking styles; however, it lacks a strong taste or flavor.
Cooking tilapia in a sauce can enhance the flavor.
The best sauces for tilapia are cream-based, cheese-based, and white wine sauces.
It is essential to avoid using oily or tomato-based sauces because they tend to mask the taste of the fish.
Tilapia can be consumed with a wide variety of food.
Some common foods that people eat tilapia with include various vegetables, rice, and pasta.
If you are feeling a little overwhelmed about cooking a tasty fish dish for dinner tonight, do not worry.
In this article, we will list down some of the best side dishes to eat with tilapia, and we will share a bit of its taste and flavor.
Why Consider Serving Side Dishes for Tilapia?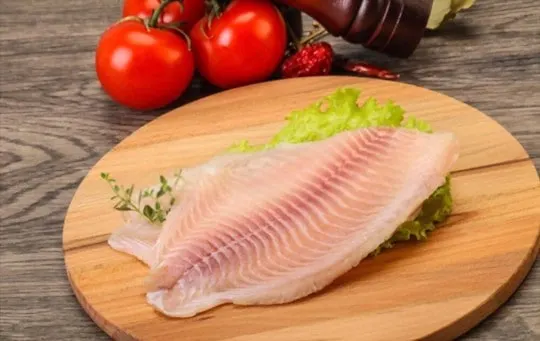 Tilapia is light and mild-flavored fish that can be consumed by itself.
However, most people choose to consume tilapia with side dishes to elevate the taste of the entire meal.
Side dishes such as vegetables and rice also go well with tilapia because they enhance the flavor of the fish.
When cooking tilapia for many people, it is ideal to consider serving side dishes alongside the fish to make food easier to serve and eat.
This means that you can easily pair side dishes to whatever favorite tastes your guests may have.
If you include many creamy and cheesy side dishes, then the tilapia will perfectly fit into that menu.
Another reason why side dishes are a good choice when cooking tilapia because it also provides an excellent opportunity for you to experiment with different side dishes.
Most people do not know what vegetables go well with tilapia because they usually stick to the usual vegetables such as potatoes, green beans, and carrots.
Many other vegetables can be paired with tilapia, which you can learn if you read the rest of this article.
What to Serve with Tilapia – 7 BEST Side Dishes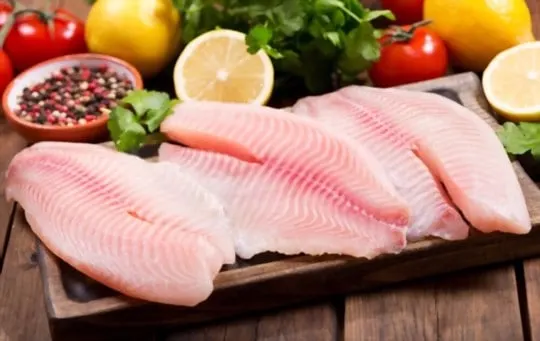 So, what are the seven best side dishes to serve with tilapia?
And what could be some of the vegetables that you can pair with this type of fish? Let's find out.
1 – Brown Rice Pilaf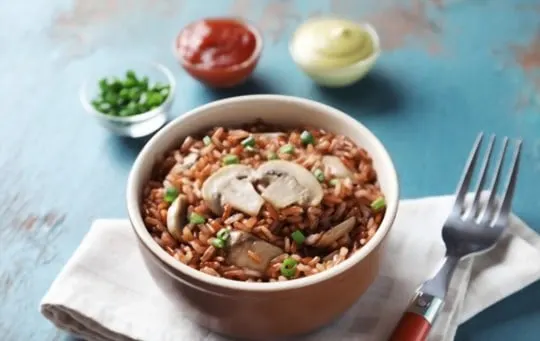 Rice pilaf is one of the most common pairings for tilapia because it goes well with the mild, soft flavor of the fish.
It is essential to make sure that the rice is cooked correctly so that your side dish is ready when your fish comes out of the oven.
The rice needs to be cooked to enhance its natural flavor while preserving the texture of every grain.
It should not be mushy, but it should also not be hard and crunchy.
If you use white rice, make sure to pre-cook it until al dente before adding water.
Brown rice pilaf is easy to make because you need brown rice, garlic, onion powder, salt, vegetable broth or stock, and some spices.
You will need to use onion powder for this particular recipe because it complements this type of fish.
2 – Baked Potato Fries
Potato fries are an excellent side dish for any fish meal because they can also be made in various ways.
For instance, you can choose to bake the fries in the oven or deep fry them for a more flavorful taste.
Some people prefer to season their fries with salt and pepper, while others make them spicy by adding hot sauce or cayenne powder.
Adding cheese is also another way of improving the taste of your potatoes.
You can also add your favorite vegetables, such as broccoli or carrots.
3 – Creamy Spinach and Artichoke Dip
Spinach and artichoke dip is a popular side dish for fish because it goes well with almost any type of fish, and it also provides a burst of flavor that complements the taste of tilapia.
You can make this dish ahead of time, or you can serve it with frozen appetizers.
When serving spinach and artichoke dip as a side dish for tilapia, it is best if the dip is warm so that the cheese melts over the vegetables.
When heated properly, this recipe tastes great even when served on its own or crunchy crackers.
4 – Loaded Scalloped Potatoes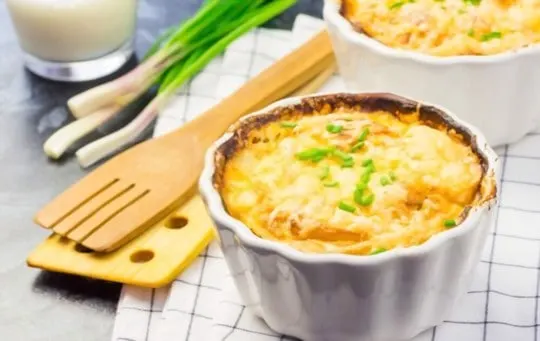 Scalloped potatoes are among the most popular side dishes in the United States, especially those who like to eat seafood.
Potatoes can be cooked in many different ways, but scalloping them gives it a unique flavor not found when you prepare other potatoes.
If you want to make a good pairing for tilapia, make sure that your scalloped potatoes are loaded with cheese and bacon bits.
You can add cream or milk to give it a creamy texture while adding parsley flakes for added flavor.
Scalloped potatoes should be topped with shredded cheese when they come out of the oven so that the cheese can melt and stick on the potatoes.
5 – Zucchini Casserole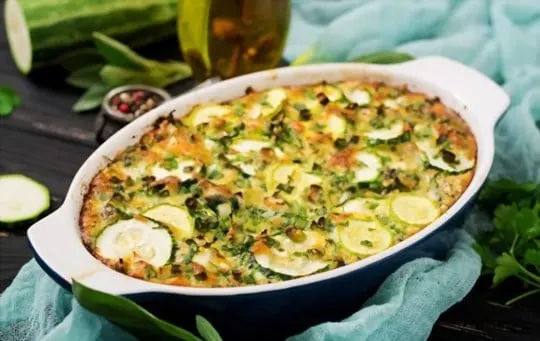 Zucchini casserole is another great side dish option for fish because it goes well with just about any type of seafood meal.
To enjoy its flavor and texture, you do not need to fry this dish or turn it into a soup.
The simple, clean taste of zucchini is what makes it a good pairing for tilapia.
This recipe usually calls for cheese and bread crumbs to add flavor and texture to the casserole, but you can also choose to make it healthier by using less cheese and replacing the bread crumbs with nuts.
You can also top this dish with a good sauce such as cheese or marinara sauce.
6 – Cilantro Lime Rice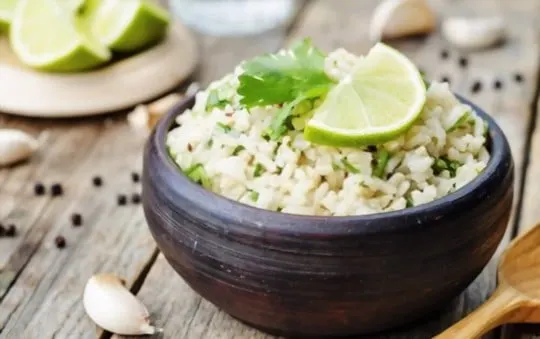 Rice is another staple food that complements the flavor of tilapia, and cilantro lime rice is one of those rice dishes that go well with this type of fish.
Cilantro gives you a refreshing burst of flavor, while adding lime makes it taste even better, especially when mixed with butter or margarine.
The best thing about cilantro lime rice is that you can easily pair it with almost any dish, but the easiest way to serve this side dish is by placing it on top of your tilapia fillet.
This recipe typically calls for cilantro, lime juice, butter or margarine, long-grain rice, tomato sauce or canned diced tomatoes, and chicken broth or stock.
7 – Kale Salad with Cranberries and Pecans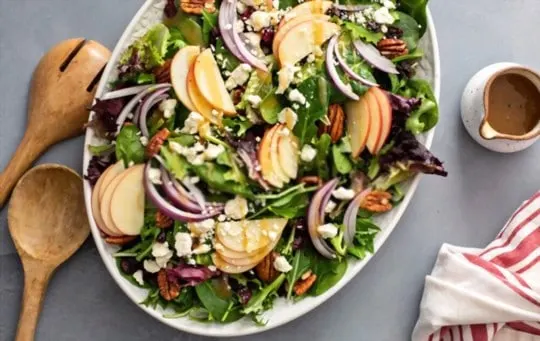 Kale salad is another healthy side dish option that complements the taste of fish.
It also has many antioxidants, and it provides fiber, calcium, and iron which your body needs daily.
Kale can be prepared in several ways, such as boiling or grilling it.
However, the best way to make kale salad is by quickly boiling it and then marinating it in a vinaigrette dressing.
When serving kale as a side dish for tilapia, the best type of vinaigrette that you can use is an oil-based sauce.
You can also add cranberries and pecans for added flavor and texture.
Just make sure that you do not use too much dressing to prevent it from overpowering the dish.
Conclusion
So there you have it. Seven side dishes that are perfect for tilapia.
You can choose to pair them with your tilapia fillets or serve them on their own.
No matter what, they all taste great when you make them from this recipe.
You can also modify these recipes to suit your preferences.
Just make sure that you do not use too much dressing or sauce because it can overpower the flavor of tilapia, making it less delicious.
About The Author