Seafood lovers, listen up: if you love steak but hate the mess and fuss of cooking it, then switching to swordfish steaks might be your best bet.
Swordfish is a fantastic fish that has a pleasant taste similar to steak.
It's not too hard on the wallet either, with one serving costing around 35-50 dollars depending on the size.
With its unique texture and taste, swordfish has become a trendy fish option in recent years.
Plus, it's straightforward to cook. So how do you prepare this sea delicacy?
Swordfish is highly versatile in its preparation methods. It can be fried, sauteed, grilled, or broiled.
However, no matter what form of preparation you choose, the result will always be unique.
Swordfish has a firm texture, one that makes it the perfect fish option for skewering.
Just like you would with beef kebabs or chicken shish kabobs, you can skewer swordfish cubes and grill them over hot coals to get deliciously tasty results.
Swordfish steaks are also a delicious choice when sauteed or fried.
These two options allow for a friendly browning and crisping on the outside of the swordfish while keeping it moist and juicy on the inside.
It's a two-for-one deal. But what about side dishes? What do you serve with swordfish steaks or cubes on a stick to make your dinner complete?
In this article, we will list seven side dishes that go perfectly with swordfish.
Try them all to see which one you like best.
Why Consider Serving Side Dishes for Swordfish?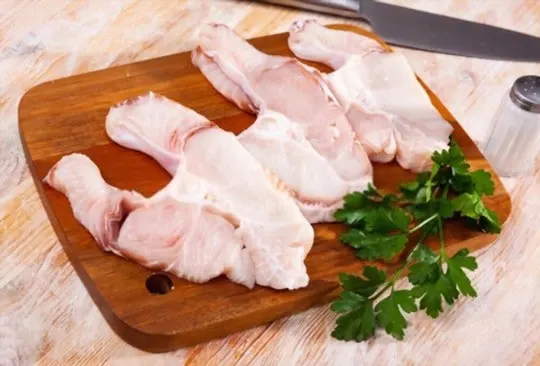 As we mentioned, swordfish is highly versatile in its preparation methods.
As such, it will play well with most side dishes; but some go better than others.
Swordfish has a mild flavor and a firm texture, making it one of the most versatile of all the different types of saltwater fish.
It can be fried, sauteed, grilled, and broiled.
If you're feeling brave enough to try your hand at swordfish steaks, then skewering cubed swordfish is just as simple to do.
Swordfish pairs well with practically any vegetable or starch you could imagine serving it with.
Steamed veggies are always a good option, no matter what the main course is.
You can even serve it with mashed potatoes or rice pilaf if you want to go all out.
Likewise, side dishes like garlic bread, baked potatoes, and couscous are excellent swordfish options.
Corn on the cob is another superb choice since it'll be made fresh right when you need it.
Side dishes that involve intense flavors, such as garlic and rosemary, pair great with swordfish.
However, you should never overpower the taste of your fish.
If it's fresh and cooked right, then all anyone will taste is goodness.
What to Serve with Swordfish – 7 BEST Side Dishes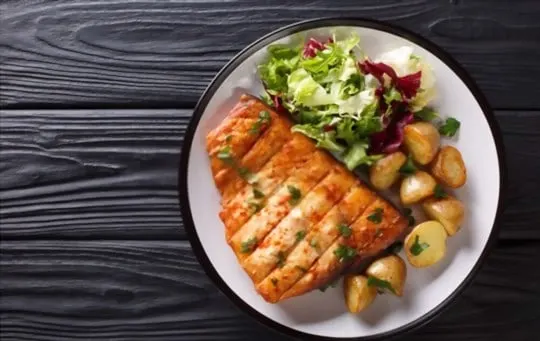 So what are the best side dishes when it comes to swordfish? We've compiled a list of seven of our favorites in this article, which you can view below.
Check them out and see if you agree.
1 – Baked Potato Casserole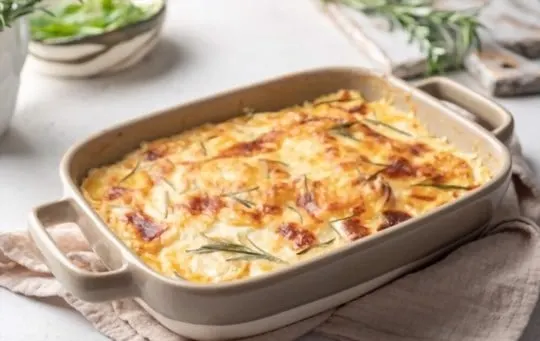 A baked potato in casserole form is delicious with any meat dish but goes particularly well with swordfish—the creaminess of the casserole pairs well with the flaky texture of the fish.
This baked potato casserole is made with shredded cheese, milk, sour cream, and butter.
It's a classic baked potato dish, but with some extra goodies to make it even better.
You can use light or heavy cream, depending on how it fits your dietary needs.
This casserole is best served piping hot and straight out of the oven.
It'll melt in your mouth and fill you up.
If you're looking for a side dish to go with your fish, this is one we recommend.
2 – Garlic Bread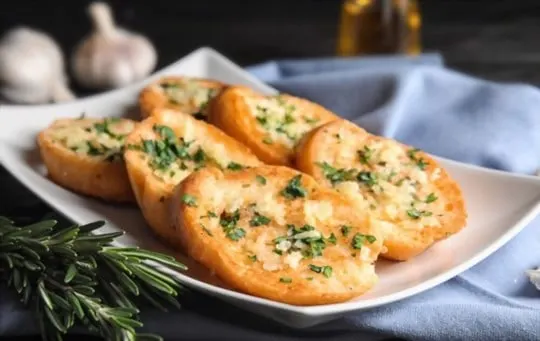 Garlic bread is one of the easiest things to make, and it goes exceptionally well with any fish dish.
You can serve it alongside your swordfish steak or cube skewers for an even tastier experience.
It's also great on its own as a snack while you prepare everything else.
Garlic bread is made by taking fresh bread and slathering it with garlic, butter, salt, pepper, and any other spices you want.
You then place the freshly made slices into a pre-heated oven for about 10 minutes to create crispy goodness.
Swordfish steaks pair well with garlic bread because of how savory they are.
It's also an excellent choice because it's so easy to make.
The long baking time required for bread and fish is perfect.
3 – Seafood Pasta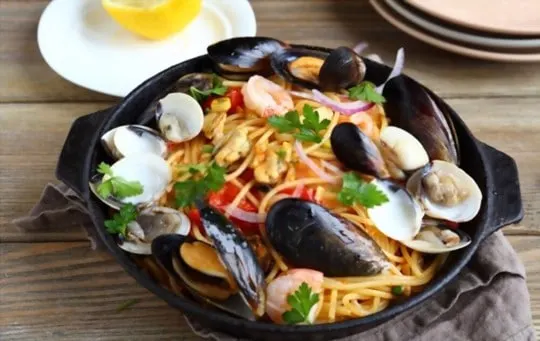 Seafood pasta is another simple dish that goes well with just about any type of fish, but we think it works exceptionally well with swordfish steaks.
It's also a great option if you're serving a large number of guests because it's so easy to make.
This seafood pasta includes shrimp, clams, and mushrooms. It's cooked in a tomato sauce that uses olive oil as a base.
You can add any other vegetables you want into this dish for extra flavor and texture.
Just be sure to saute them first. We recommend using fresh seafood when possible, but it's entirely up to you.
Frozen shrimp and clams can be used in place of fresh ones. As for the mushrooms, you can choose whichever type you like the most.
White button or cremini are both delicious choices. This dish is all about your preference.
4 – Couscous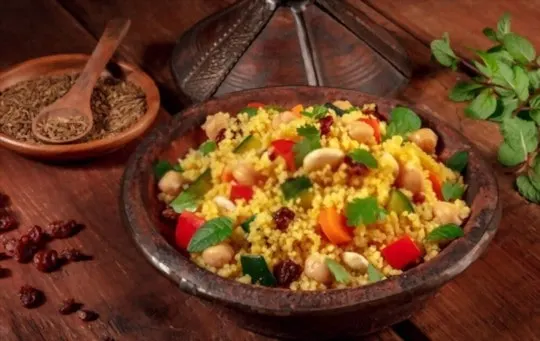 Couscous is a light and fluffy side dish that pairs very well with swordfish.
It's hearty enough to fill you up but not heavy enough to weigh you down if you want to have room for some other delicious options too.
We recommend using whole-wheat couscous in this recipe because it has a nutty flavor that pairs very well with the fish.
Plus, it's way healthier for you because it uses whole grains.
All you have to do is follow the instructions on the box, and voila – dinner is served.
Swordfish steaks are excellent if they're topped with fresh herbs like parsley or thyme.
Couscous doesn't include any herbs of its own, but it tastes excellent with spices.
We recommend adding oregano, thyme, basil, or some other seasoning to your couscous for an extra pop of flavor.
5 – Seafood Jambalaya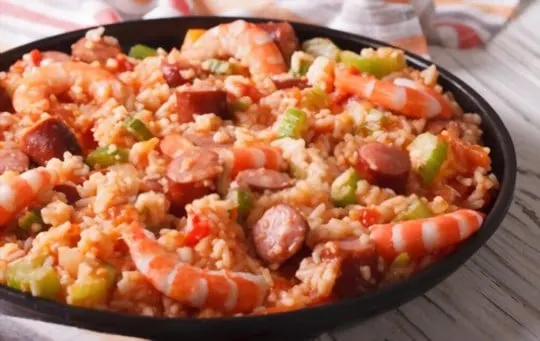 Seafood jambalaya is another excellent seafood option when it comes to side dishes.
It's full of shrimp, crab, and spices that'll fill you up fast.
There are plenty of vegetables in this recipe, too, so you'll feel nice and healthy after you eat it.
Jambalaya typically includes smoked sausage in its main recipe, but you don't have to stick to tradition if you want.
Any meat will work well with this dish – chicken, beef, or even alligator.
It's up to your preference.
Since seafood jambalaya is a bit spicy and intense, we recommend serving it with white rice.
The rice's starchiness will help you fill up faster and stay full longer, which means you can save room for dessert too.
It's a win-win situation if we ever saw one.
6 – Pan Roasted Beet Greens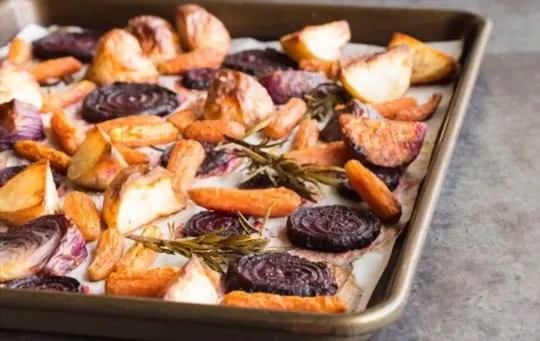 Beet greens are a unique side dish that you're unlikely to find in most restaurants, but they're delicious if you make them at home.
And since they're so easy to prepare, this is one of the best choices for side dishes.
All you have to do is clean and chop up your greens.
Then, you'll want to saute them in a pan with olive oil, salt, and pepper for about five minutes.
Once they've softened up, your dish is ready to be served.
We recommend pairing this side dish with garlic bread because it's also great topped with butter and other spices.
Beet greens are the leaves that grow on beets.
They're full of antioxidants and vitamins, so you'll feel great after eating this unique dish.
7 – Grilled Asparagus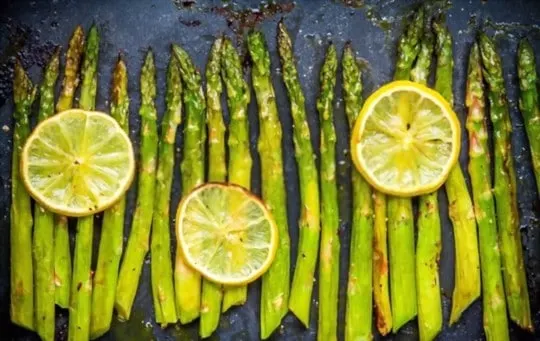 Grilled asparagus is a tasty appetizer that goes perfectly with swordfish.
It requires minimal effort to make, so it's an excellent choice for busy home cooks too.
All you have to do is clean your asparagus and chop off the bottom of each stalk.
Then grill them up in a pan on the stove until they're slightly softened.
You can season them with salt, pepper, or any other spices you enjoy eating – the possibilities are endless.
This is another side dish that goes great with garlic bread if you want an extra-hearty meal.
It's also delicious when dipped into a hummus of your choice.
Asparagus is an excellent choice for vegans and vegetarians because it isn't meat, so that everyone will love this vegetable side dish.
Conclusion
In conclusion, swordfish steaks are a great choice if you're looking for a delicious seafood dish.
They're commonly served with fries as the side dish, but they taste just as good when paired with any one of these seven options.
One of the most important things to remember is that you have many options for side dishes, so don't be afraid to experiment.
We hope that this article will come in handy next time you need to plan a meal.
About The Author