For the steak lovers out there, it's time to reinvigorate your dinner plate with some seriously delicious sides.
Whether you're escalating a midweek meal or celebrating an evening with friends and family, nothing quite beats cutting into that juicy steak.
but how about pairing it up with something extraordinary? Forget plain mashed potatoes and broccoli – here are 10 of the BEST rice side dishes for steak that will tantalize your taste buds and take your dinner experience up a notch.
With options ranging from decadent risotto to sweet-savoury teriyaki fried rice, get ready for flavours fired up to perfection.
Why Pair Rice with Steak?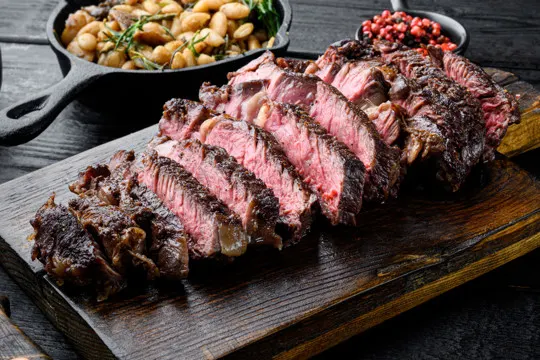 Rice is a perfect side to steak.
It blends flavors and textures, while absorbing the steak's juices.
Plus, rice provides important carbohydrates for energy.
It can be customized to suit any taste, from garlic butter to wild mushroom risotto.
Brown rice is especially healthy, with fiber and essential minerals.
Add veggies or legumes to make it even more nutritious.
With rice, your meal is sure to be delicious and satisfying.
10 Rice Side Dishes for Steak
Finding the perfect rice side to go with a juicy steak can be a fun challenge.
Here are ten yummy rice dishes that will take your steak experience up a notch.
From classic faves to unique and flavorful options, you'll find something for everyone.
1 – Garlic Butter Rice Pilaf
Garlic Butter Rice Pilaf is an amazing side dish to pair with steak.
It offers a unique flavor that stands out.
The garlic and butter add a delightful fragrance to the fluffy rice.
With each bite, you'll savor the harmonious blend of these two flavors.
This tasteful dish is prepared in a special way.
The rice is sautéed in butter then garlic is added for an extra aromatic kick.
Finally, it's cooked until it's light and fluffy.
This delightful side dish adds flavor to your steak and creates a creamy contrast to the meat's juiciness.
So, with every mouthful, you get to enjoy a burst of flavor.
2 – Creamy Parmesan Risotto
Creamy Parmesan Risotto: a delectable rice side dish.
It's velvety texture and nutty flavor make it a treat for your taste buds.
The Arborio rice has an amazing ability to absorb flavors.
So when cooked in broth and wine, it releases starches to create a creamy consistency.
At the end of the cooking process, grated Parmesan cheese is added.
This adds nuttiness and creaminess.
It melts into the rice, creating a luscious sauce that coats each grain perfectly.
Creamy Parmesan Risotto's versatility is great.
Delicious on its own or, customize it with mushrooms, asparagus, herbs like thyme or rosemary.
Experiment to enhance the overall taste.
3 – Teriyaki Pineapple Fried Rice
Teriyaki Pineapple Fried Rice is a scrumptious side dish that pairs perfectly with steak.
It's a delightful fusion of sweet and tangy teriyaki sauce and juicy pineapple chunks.
Here are some key features:
Sweet and tangy: The teriyaki sauce and pineapple give it a unique flavour.
Juicy pineapple chunks: Freshness and flavour enhanced.
Savory fried rice: Stir-fried to perfection, absorbing all the flavours.
Colorful vegetables: Bell peppers, carrots, and peas add texture and beauty.
Aromatic garlic and ginger: Adds depth and a subtle fragrance.
Versatile ingredient: Enjoy on its own or with steak.
Plus, this dish offers an interesting twist on traditional fried rice.
Whether you're looking for a vibrant side or some delicious Asian-inspired flavours, Teriyaki Pineapple Fried Rice will not disappoint.
4 – Cilantro Lime Rice
Cilantro Lime Rice is a zesty side dish that goes perfectly with steak.
Its mix of cilantro and lime gives your meal a fresh twist.
The aroma of cilantro and the tangy taste of lime make an explosion of flavor.
Its bright green color adds to the plate's appeal.
Cilantro Lime Rice gives a contrast to the steak's savoury taste and a balance in texture.
The fluffy grains are infused with the flavour of cilantro and lime, creating a light and airy texture that goes well with the steak's tenderness.
This rice stands out from other side dishes due to its unique blend of flavours.
The herbaceous notes of cilantro and the tartness of lime make a harmonious mix that boosts the meal's taste.
5 – Mushroom and Herb Wild Rice
Mushroom and Herb Wild Rice is a tasty side dish for steak.
It's flavorful with earthy mushrooms and fresh herbs.
Here are four points to remember:
Versatile mix: Wild rice, mushrooms, garlic, onions, and herbs like thyme and rosemary make this dish special.
Earthy and Aromatic: The mushrooms add a deep flavor to the savoriness of steak. Herbs give it an amazing smell.
Nutritious: Mushroom and Herb Wild Rice is healthy too. Wild rice is full of fiber and protein. Mushrooms are full of vitamins, minerals, and antioxidants.
Easy to make: Even with all its great flavors, it's simple to make. You'll be serving it with your steak in a few steps.
6 – Spanish Saffron Rice
Spanish Saffron Rice: vibrant and flavorful.
It has a golden hue from the saffron, plus a burst of flavors.
Unique taste and subtle floral aroma.
Earthy flavor too.
Cook with onions, garlic, and bell peppers for depth.
Fragrant and savory rice that goes great with steak.
Perfect for dinner parties or just a steak night at home.
Spanish Saffron Rice – elevate your meal.
7 – Coconut Jasmine Rice
Coconut Jasmine Rice is like a dream.
Creamy coconut and fragrant jasmine rice? Yes please.
This side dish takes you to a beachy oasis.
It's so delicious your taste buds won't want it to end.
Coconut and jasmine rice come together for an unforgettable flavor.
The creaminess of the coconut enhances the natural sweetness of the rice.
Each spoonful brings an explosion of flavor that tantalizes your palate.
To make it even better, try adding some toasted coconut flakes.
They bring a subtle crunch and nutty aroma that are out of this world.
A sprinkle of cilantro or lime juice adds a refreshing twist to balance the richness.
Coconut Jasmine Rice isn't your ordinary side dish.
It's an exotic journey for your senses.
The aroma, texture, and tropical undertones make it a culinary adventure.
Next time you're grilling steak, don't forget this amazing side dish.
8 – Pesto Basmati Rice
The Pesto Basmati Rice is a yummy side dish.
It tastefully pairs with a juicy steak.
Basmati rice and pesto give a burst of freshness.
Its creamy texture and herb-infused flavor make it a must-have.
To make this dish, cook the fluffy basmati rice according to instructions.
Let it cool.
Then, mix in pesto sauce.
Basil and garlic notes bring out the flavors of the rice.
For those who want something richer, stir in Parmesan cheese.
This adds a nutty flavor and improves the taste.
To serve the pesto basmati rice with steak, spoon it onto the plate.
Its vibrant green color will be tantalizing.
Your dinner spread will look more appetizing.
9 – Cajun Dirty Rice
Cajun Dirty Rice – a classic Southern dish – adds something special to your steak dinner.
Rice, ground meat, onion, bell peppers, and garlic combine for a burst of flavor.
Paprika, cayenne pepper, and other Cajun spices provide just the right amount of heat.
As a side or part of the main course, Cajun Dirty Rice will spice up your meal with its rich taste and Southern charm.
10 – Greek Lemon Rice
Greek Lemon Rice – an exotic side dish for your steak dinner.
Sauté onions in olive oil until translucent.
Then, stir in long-grain rice.
Pour in broth and fresh lemon juice.
The zesty kick enhances flavor.
As it cooks, the rice absorbs all the flavors.
Herbs like dill and parsley add freshness.
Tangy lemon and savory herbs balance the taste.
Customize to suit your preferences.
Add lemon zest or diced vegetables.
Enjoy the delightful experience.
Conclusion
Steak night? Take it to the next level with a delicious side.
Here are 10 rice dishes to try.
We've picked different varieties and techniques to fulfill every tastebud.
From Parmesan risotto to cilantro lime rice, these side dishes will bring out the steak's flavor.
Experience different cuisines, like Spanish saffron and Asian pineapple fried.
Plus, there are vegan and gluten-free options like quinoa pilaf or wild rice salad.
Simple but tasty, try coconut jasmine or herbed rice.
All of them complement the juicy steak and free up time to enjoy it.
Our selection of ten rice side dishes offers something for everyone.
Classic or adventurous, give one a go tonight.
You'll be amazed at how much the right side dish can enhance steak night.
About The Author