Have you ever had Yorkshire pudding? It's a British dish made from a batter usually cooked in the oven.
The flavor and taste of Yorkshire pudding can vary depending on what you put into the batter.
Some people like to add herbs or cheese, while others keep it simple with just flour, eggs, and milk.
Although Yorkshire pudding is a popular side dish in the UK, it can be used as a main course or dessert.
The pudding has a crispy outer layer and a soft middle that tastes sweeter than the crust.
Some people say Yorkshire pudding tastes like savory pancakes without sugar.
Everyone likes Yorkshire pudding.
It's the perfect side dish, but for those who want something more substantial, you can eat it as a main course with potatoes and vegetables.
If you're entertaining guests at home or looking for something to serve on Thanksgiving or Christmas, then Yorkshire pudding will fit the bill perfectly if you have an oven.
This article will explore eight different side dishes that you can serve with Yorkshire pudding.
We'll provide a little information about each dish and why it pairs well with the pudding.
So, without further ado, let's get started.
What to Serve with Yorkshire Puddings? 8 BEST Side Dishes
It's important to serve Yorkshire pudding with thick gravy.
Most people like to use beef or chicken broth, but you can make vegetarian gravy by using vegetable broth instead.
The rich flavors of the meat, chicken, or vegetables in the broth will combine perfectly with Yorkshire pudding and taste delicious.
1 – Classic Mashed Potatoes and Gravy
If you want to go with a classic side dish, then mashed potatoes and gravy are the way to go.
You can't go wrong with this combination, especially if you're serving Yorkshire puddings as a main course.
Mashed potatoes are made by boiling them in water until they're soft, then mashing them with a fork or an immersion blender.
You can add butter, milk, and salt to taste.
Some people like to add cheese, herbs, or garlic for extra flavor.
Once you have the mashed potatoes ready, it's time to make the gravy.
Gravy is made by combining beef, chicken, or vegetable broth with a thickener like flour, cornstarch, or tapioca starch.
You can adjust the thickness of the gravy by adding more or less of the thickener.
2 – Creamy Cheesy Spinach
This is a decadent dish perfect for those who love cheesy dishes.
I know you're going to love the creamy and rich taste.
First, start by cooking your spinach in water or chicken stock until it's wilted.
Then, transfer it into a baking pan before sprinkling grated cheese on top.
Finally, bake the spinach for a few minutes until it's warm and cheesy.
This dish goes well with turkey or ham cutlets.
The rich flavors of the dish will complement the savory meats beautifully.
3 – Green Beans with Bacon
Green beans are a delicious and healthy side dish that goes well with any main course.
And this recipe takes them to the next level by adding bacon.
Bacon is a type of pork that is cured and then smoked.
It's a popular ingredient in many dishes because of its salty and smoky flavor.
When you add bacon to green beans, it gives them a crispy and delicious texture.
The green beans will also take on the smoky flavor of the bacon, making them even tastier.
This side dish is perfect for those looking for something a little bit healthier.
It's also great for those who love bacon.
4 – Buttered Parsley Noodles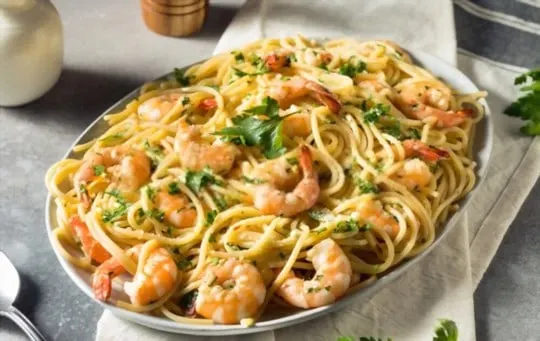 Buttered noodles are an excellent side dish because they're easy to make and go well with many main courses.
This recipe is especially delicious with chicken or turkey.
First, boil your noodles according to the directions on the package.
Then, drain them and set them aside before melting butter in a skillet over medium heat.
Add salt, pepper, and garlic powder to taste before adding the noodles into the skillet.
Mix everything well, then transfer your noodles onto a plate or into a bowl before garnishing with parsley.
5 – Buttery Garlic Bread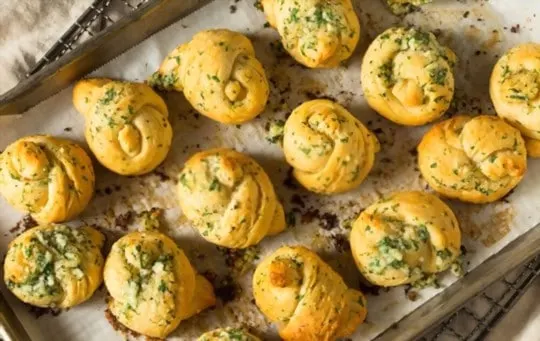 Yorkshire puddings are excellent by themselves, but they taste even better when you have something to dip into them.
That's where this buttery garlic bread comes in.
It's the perfect accompaniment to any meat or vegetable dish.
To make the garlic bread:
Start by slicing a loaf of French or Italian bread.
Spread butter on both sides of each slice and sprinkle with garlic powder, salt, and pepper.
Place the slices on a baking sheet and bake for about 10-15 minutes until they're golden brown and crispy.
This garlic bread is simple to make and tastes delicious.
It's the perfect side dish for any meal.
6 – Beef Bourguignon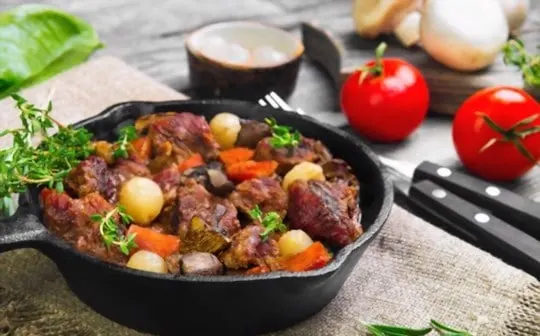 Bourguignon is a type of stew known for its rich and creamy sauce.
It's beef that has been boiled in red wine and then cooked with bacon, mushrooms, pearl onions, garlic, and herbs like rosemary and thyme.
If you're looking for the perfect way to warm up during those cold winter nights, this is it.
The delicious flavors in Bourguignon will have you feeling warm and cozy throughout the entire meal.
This dish is perfect for those who love beef and mushrooms.
It's also a great way to show off your cooking skills.
7 – Roast Beef or Turkey with Gravy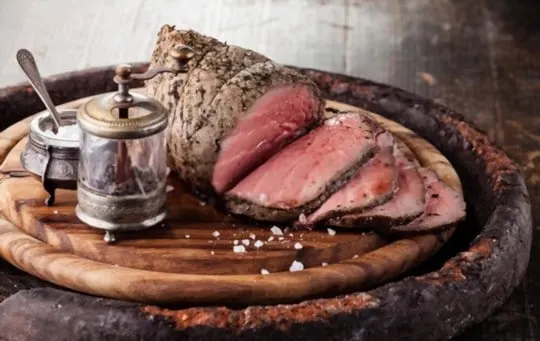 No Thanksgiving or Christmas feast is complete without roast beef or turkey.
And the best part is the gravy.
There are many different ways to make gravy, but I will share my favorite recipe with you.
It's simple, easy, and delicious.
Start by heating some beef, chicken, or vegetable stock in a saucepan to make the gravy.
Then, add flour and whisk until the mixture is smooth.
Continue cooking the gravy over medium heat until it thickens—season with salt and pepper to taste before serving.
Gravy is the perfect way to top off your roast beef or turkey.
It's also a great way to add flavor to your meal.
8 – Sausages with Apple Sauce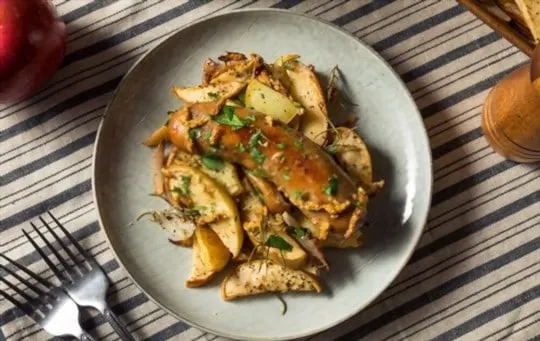 Sausages are a type of meat typically made from pork, beef, or lamb.
They're often smoked or grilled, and they're a popular addition to many dishes.
Apple sauce is a type of sauce that is made from apples.
It's typically served as a condiment with pork or poultry dishes.
It's a perfect combination.
The salty and smoky taste of the sausage goes perfectly with the sweetness of the apple sauce.
This side dish is perfect for those who love meat and those who are looking to try something new.
It's a great way to switch up your meal routine.
Conclusion
Yorkshire puddings are excellent by themselves; they can be a little dry.
That's why it's important to have a delicious side dish to go with them.
There are many different side dishes that you can choose from, but these eight are some of my favorites.
They're all simple and easy to make, and they taste great.
They're the perfect accompaniment to any meat or vegetable dish.
So, next time you're planning a meal, be sure to include one of these side dishes.