Poke, pronounced 'PO-kay', is a traditional Hawaiian dish of seasoned raw fish, usually tuna.
It's similar in style to Japanese sashimi or Italian ceviche.
However, it most likely originated in Polynesia before being introduced to Japan.
Poke recipes vary, but most include soy sauce, seaweed, and green onions with sesame oil or chili pepper flakes for heat.
Poke is a healthy, refreshing, and flavorful dish when made correctly.
It has a slightly salty taste with a kick of spice and a slight oceanic flavor from the seaweed.
The fish itself is very tender and can be eaten with a fork or chopsticks.
Poke is usually served as an appetizer or main course and is easy to make.
The ingredients can all be found at most supermarkets, and the recipe is very versatile, so feel free to experiment with your combination of flavors.
You'll need some tasty side dishes to complete the meal when serving poke.
Read on to learn eight great options.
What to Serve with Poke? 8 BEST Side Dishes
Poke is a Hawaiian dish that has become popular all over the United States in recent years.
The dish is made with raw fish, rice, and vegetables, and it can be customized to fit the tastes of the person eating it.
While poke is a great main course, many people wonder what to serve as a side dish.
Here are eight side dish ideas to consider to go with your delicious poke.
1 – Dinner Rolls
There are a lot of rolls you can pick from to serve along with your poke.
Dinner rolls, Hawaiian sweet rolls, and cornbread would be great choices.
If you're serving the meal to someone gluten-free, choose gluten-free dinner or Hawaiian sweet rolls.
These little buns have a nice, tender crumb.
They're perfect for sopping up the delicious sauces and broth of your poke.
And if you want to be adventurous, try making them Hawaiian-style with pineapple juice in the dough.
2 – Easy Cheesy Potatoes
This is a classic side dish that everyone loves. It's simple to prepare, too.
You take a standard baking potato and top it with sour cream, grated cheese, salt, pepper, and chives or scallions.
Once the mixture is combined, bake for 40-45 minutes at 400 degrees Fahrenheit.
The potatoes will come out tender inside while crispy outside.
They're perfect for pairing with poke.
3 – Avocado Salsa
If you're someone who loves fresh ingredients, this is the perfect poke side dish for you.
It's far healthier than your standard fare, plus it tastes amazing.
The recipe couldn't be simpler.
Just place some diced avocado in a bowl with chopped tomatoes, diced onion, and cilantro.
Add in some lime juice and salt for flavor.
Combine all of the ingredients, then enjoy.
4 – Farro Salad with Chickpeas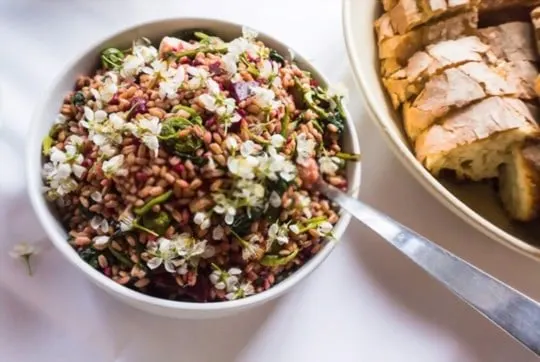 This is a great salad to serve if you add more protein to your poke dinner.
The farro gives it a nice chewiness while also soaking up the flavors of the dressing.
The salad is easy to make.
Just cook up your farro according to the label directions, then let it cool.
Toss in some diced tomatoes, scallions, chickpeas, cucumber, and red onion.
Then add a simple dressing of lemon juice and olive oil, along with salt and pepper to taste.
5 – Homemade Coleslaw
Have you ever had better coleslaw than the kind you make yourself? I didn't think so.
This is a classic side dish made with either shredded or chopped cabbage.
You can also add carrots, green onions, and other vegetables if you like.
You'll need mayo, Dijon mustard, apple cider vinegar, honey, salt, and pepper for the dressing.
Whisk all of the ingredients together until smooth.
Toss the dressing with the cabbage mixture, then refrigerate for 30 minutes before serving.
6 – Grilled Vegetables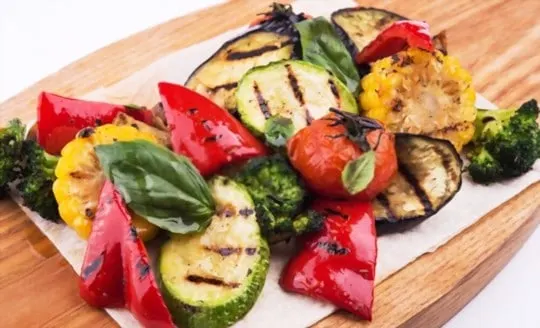 Grilled vegetables are a great option if you want something a little lighter than the other side dishes on this list.
They also have a delicious smoky flavor that pairs well with poke.
You can use any vegetables you like for this recipe.
My favorites are zucchini, bell peppers, and onion.
Slice your vegetables into thick rounds, then toss them with a little olive oil and salt.
Grill over medium-high heat until tender and slightly charred.
Serve warm with the poke.
7 – Fries
Crispy, salty fries – what's not to love? If you want a side dish that pairs well with everything, this is the way to go.
Instead of buying them in a box or bag at the store, you can also make your own.
For fresh-cut fries, peel and cut some russet potatoes.
Then blanch them in boiling water for 5 minutes before freezing, frying, or baking them.
You can also buy frozen fries and bake or fry them at home.
Look for ones made with natural ingredients, like olive oil instead of soybean oil.
As always, avoid anything with artificial flavors or preservatives.
8 – Bread Rolls or Hawaiian Sweet Rolls
Trying to figure out what to serve with poke? Why not go for something everyone loves – bread.
Plus, you can make your own from scratch, so it's healthier.
If you want a classic side dish, try serving the poke on top of homemade rolls.
You can also buy some Hawaiian sweet rolls to go with the dish.
This classic dinner roll is made with pineapple juice, rich and flavorful.
It's also topped with crushed macadamia nuts for added crunch.
Add a little bit of color by serving your poke inside these delicious buns.
Conclusion
Poke is a relatively healthy meal.
It's made with fresh seafood and served with flavorful, naturally-sweet vegetables.
Pair it with the right side dishes, though, and you have yourself one heck of a delicious dinner.
These eight side dishes are the perfect way to round out your poke dinner.
They're all flavorful and taste great with the seafood.
From grilled vegetables to homemade coleslaw, there's something for everyone.