Spaghetti squash is an excellent replacement for pasta.
It's low in carbs, gluten-free, and can be eaten raw or cooked.
Spaghetti squash can be a great source of nourishment for those who are on a diet.
But what do you do if you've already made spaghetti squash and want to eat it again later? Some ways will help keep your spaghetti squash fresh until the next day.
If you're looking for step-by-step instructions on how to reheat spaghetti squash, this blog post has everything that you need.
What is Spaghetti Squash?
Spaghetti squash is a type of winter squash that has an edible stringy flesh in its center.
It's named for its resemblance to spaghetti and can be used as a substitute in recipes calling for pasta or served on its own with sauce and cheese.
They are available all year round, but the peak season is from September through November.
Spaghetti squash can be roasted, steamed, or boiled and has a sweet flavor with hints of nutmeg and clove typically found in winter squashes.
They contain about half the calories as pasta, making them an excellent choice if you're looking for something healthier to go alongside your meal.
Can You Eat Leftover Spaghetti Squash?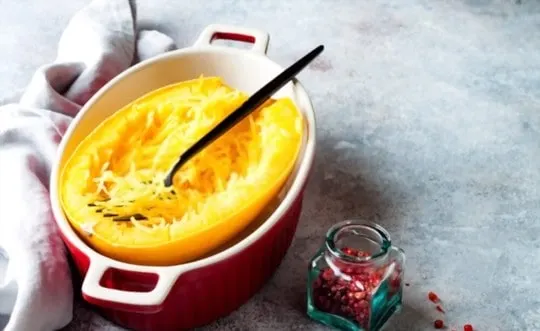 The answer is yes. Leftover spaghetti squash can be eaten as a healthy substitute for pasta, and it is packed with vitamins.
It's also gluten-free if you're looking to avoid wheat or have the Celiac disease.
However, one downside of leftover spaghetti squash is that the texture becomes much softer than when freshly cooked.
If this doesn't bother you, then, by all means, enjoy your leftovers.
Is it Ok to Reheat Spaghetti Squash?
If you're a squash fan, but not so much the traditional pasta sauce, spaghetti squash is for you.
This vegetable tastes excellent after being roasted or microwaved and has an incredible texture when cooked properly.
The best part about this type of food is its low-calorie and versatile enough to be served as either a side dish or main course.
There are many ways to prepare this veggie, but one question remains: can I reheat spaghetti squash?
The answer is yes.
Reheating frozen or refrigerated spaghetti squash works well in the oven at 350 degrees Fahrenheit for 20-30 minutes with foil covering the top of your dish.
The best part is that you can then eat the roasted squash with some pasta sauce for a quick lunch or dinner.
Both ways will give you satisfying results without any guilt; make sure not to overcook them, so they maintain their signature taste.
How to Store Leftover and Cooked Spaghetti Squash?
If you love spaghetti squash but are often left with too much leftover after a meal, I have some tips for storing it and cooking it the next day.
Store leftover spaghetti squash in the fridge, lightly covered with plastic or a moist paper towel – it will last up to five days this way.
– You can also freeze cooked spaghetti squash for up to three months.
When you're ready to eat it, let it thaw overnight in the refrigerator and then reheat on the stovetop until warmed through (about ten minutes).
If freezing leftover spaghetti squash, make sure not to add any moist dressings on top of the squash before freezing – the moisture can make it more likely for mold to form.
You may also want to cut spaghetti squash into smaller pieces and freeze in resealable freezer bags or reusable containers, so you don't have one large container taking up all that space.
Make sure to label and date your spaghetti squash before freezing it to keep track of the expiration date.
How to Tell if Leftover Spaghetti Squash is Bad?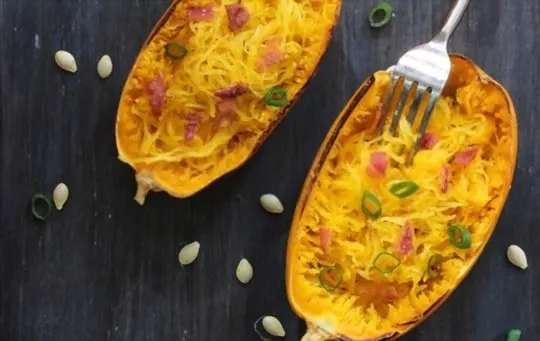 Leftover spaghetti squash is a delicious and versatile dish, but how can you tell if it's gone bad? There are some simple ways to determine this.
First, open the lid of your container and smell the inside.
If no odor or unpleasant smell is accompanying the squash, it is likely still safe to eat.
Next, take a look at the spaghetti squash and see if it's spotted or has slime on it (almost like mold).
If you notice these signs, then the spaghetti squash is likely bad and should be discarded.
Finally, if you're not sure about the safety of your leftover spaghetti squash, it's best to discard the dish.
With so many dishes you can make with this healthy and delicious vegetable, there is no need to risk an illness for a few bites.
How to Reheat Spaghetti Squash in an Oven?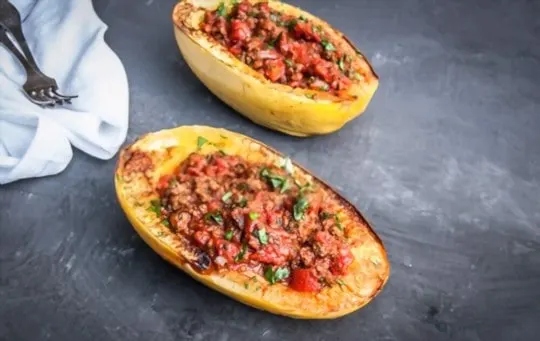 Spaghetti squash is a popular low-carbohydrate, gluten-free and vegan pasta substitute.
It's easy to prepare but can be challenging to reheat correctly.
Here are some tips for how you can successfully reheat spaghetti squash in the oven.
Place your leftover spaghetti squash on a baking sheet lined with foil or parchment paper.
Bake the spaghetti squash at 350 degrees Fahrenheit for 15 minutes or until it's heated through.
Serve as desired and enjoy.
One of the great things about an oven is that it can evenly heat any food without compromising taste or texture.
How to Reheat Spaghetti Squash in a Microwave?
Do you have a spaghetti squash in your fridge and aren't sure how to reheat it? It is easy.
All you need is the microwave. Here are the step-by-step instructions to help you out:
To start, put the spaghetti squash into a microwavable dish and coat the surface with olive oil.
Season it as desired before popping it in the microwave.
Microwave it for about three minutes at a time, checking in between each minute to see if the squash is tender.
If not, continue microwaving and cooking until your spaghetti squash has softened up.
Once cooked through, remove from microwave and serve with sauce on top.
Spaghetti squash can be microwaved to reheat, even from a partially frozen state.
Microwaving takes less than a minute, which is faster than most other reheating methods and produces tasty spaghetti squash that's fresh-tasting.
However, microwaving does have a few drawbacks that are worth considering.
For one, microwaves can dry out the squash or make it rubbery when processed improperly and cooked too long.
Make sure to coat the surface with olive oil before cooking for the best results.
Additionally, some people find an unpleasant odor released from reheated spaghetti squash in the microwave since it steams instead of roasts while in its natural environment (the oven).
How to Reheat Spaghetti Squash in a Steamer?
It's officially fall, which means it's time to start stocking up on all the comfort food your heart desires.
One of my favorite things about autumn is that I get to break out my spaghetti squash for some delicious and easy dinners.
But how do you reheat spaghetti squash in a steamer?
Here are the steps to reheating your spaghetti squash in a steamer:
Toss the cooked and cooled spaghetti squash into a pot with water. Bring to boil, then lower heat before adding other ingredients.
Add desired vegetables, onions, garlic for extra flavor if you want it.
Mix well until all veggies are coated in the sauce from the spaghetti squash.
Allow the squash to simmer for about 15 minutes. Stir occasionally until the spaghetti squash and vegetables are thoroughly heated through.
Enjoy your pasta dish in all its reheated glory.
Compared to other methods, the steamer is a healthier way to reheat because it preserves all the vegetables' nutrients.
How to Reheat Spaghetti Squash on the Stove?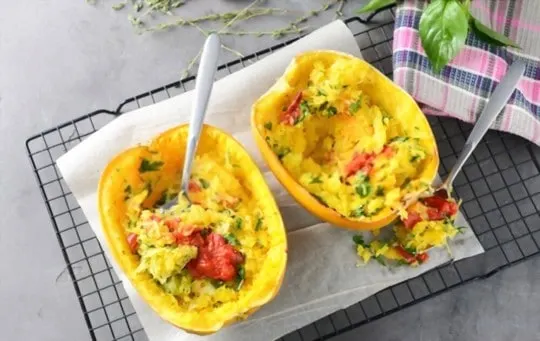 Another way to reheat a spaghetti squash is on the stove.
To reheat, you must first thaw it.
Once thawed, place it on a plate and pat dry with paper towels to remove as much moisture as possible.
Drizzle a tablespoon of olive oil in a skillet and heat over medium.
Once heated, add the spaghetti squash and spread it across the pan.
Cover with a lid and let it cook for about five to seven minutes until heated through.
The squash should be very soft when you're done cooking it this way, so cut it into one of the pieces to check doneness before serving.
Season with salt and pepper, if desired.
The spaghetti squash will have shrunk considerably in size once cooked, which is why only half or two-thirds of an uncooked squash can fit on your plate at any given time.
If reheat too long or over high heat, the exterior may get crispy but inside will still be mushy—so watch out for that.
How to Reheat Spaghetti Squash Boats?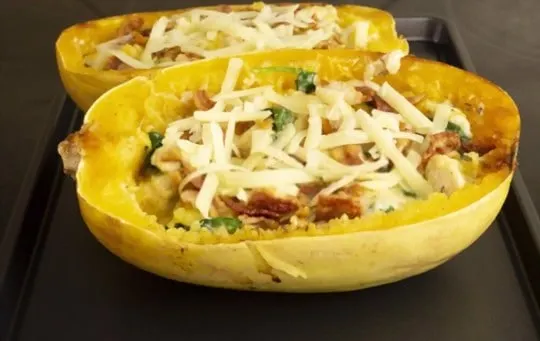 Did you know that spaghetti squash boats taste just like pasta? It is an excellent substitute for gluten-free diets.
Here are some easy ways to reheat spaghetti squash boats in the oven:
Preheat oven to 350 degrees F.
Brush the spaghetti squash boat with olive oil or butter and season it with salt, pepper, herbs if desired, garlic powder, and crushed red pepper flakes for a bit of heat.
Place in the oven on a baking sheet lined with parchment paper until tender (about 20-25 minutes).
Remove from oven and let cool just enough to handle before taking off the parchment paper, then fill as desired. Top with more cheese when ready to eat.
How to Reheat Spaghetti Squash Lasagna in Oven?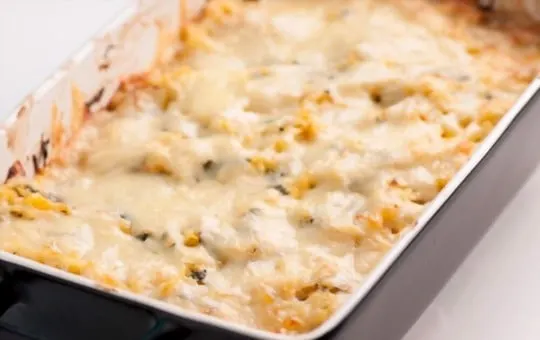 If you're looking to make a lasagna, but don't want the fuss of making pasta noodles and meat sauce from scratch, then spaghetti squash lasagna is for you.
Thanks to the convenient spaghetti squash noodles that have become all the rage in recent years, it's easy and reasonably quick to make.
With just a little planning, you can make this dish on short notice as well.
And because of its high water content, it reheats very nicely too.
Here are the steps:
Preheat the oven to 375 degrees F.
Place the lasagna in a glass baking dish.
Sprinkle grated mozzarella cheese evenly across the top.
Bake for 25-30 minutes.
Let the lasagna cool a few minutes before slicing and serving it.
It tastes best when served with hot tomato sauce on top.
You can also make your healthy red sauce or use store-bought pasta sauces to save time in this regard, too.
Conclusion
Spaghetti squash is an excellent alternative to pasta and has been shown to help people with type 2 diabetes.
We've put together some of our favorite methods for heating your "spaghetti" so that it tastes just as good as the first time around.
Which way do you prefer? Let us know in the comments below.