Garlic is an essential spice that makes an excellent addition to food if you're a fan of the intense flavor and intensity it brings to the dish.
Further, it has a string of medicinal benefits, which makes it fit for consumption.
Incorporating garlic in your diet helps in keeping the gut healthy and safe from ailments like cold and cardiovascular problems.
It is also known to reduce cholesterol and helps in stabilizing fat content in the blood.
When you grind garlic to form a powder, it can last for a maximum duration of two to three years.
Depending upon the type of method used for preparation or the processing, it can last up to even four years.
There is no decline in the flavor or the aroma, and the stability is intact. To upgrade the level of taste in the food, you can use garlic powder as a seasoning. So, how long does garlic powder last?
How Long Does Garlic Powder Last? Does Garlic Powder Go Bad?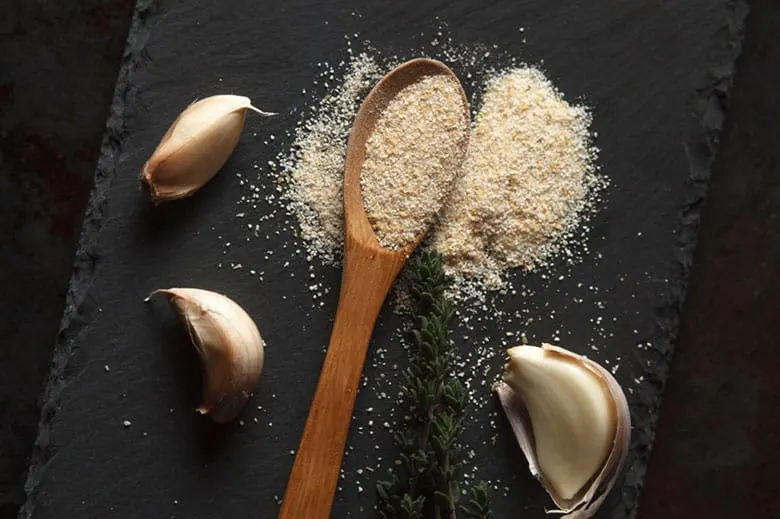 The duration for which the garlic powder lasts depends upon the storage conditions. If you store it in cool and dark conditions, it stays fresh for longer.
Further, keeping it away from direct heat or sunlight also helps in keeping the flavor and aroma intact.
To retain the flavor, it is also recommendable to store the garlic powder in containers that are tightly capped. Airtight containers help in keeping the garlic powder smelling tremendous and tasting incredible.
It is best to replace your batches of spice when the potency is reduced. Usually, it is better to do it on a yearly basis so that you have a fresh set ready.
Even though expired garlic powder isn't toxic to you, it doesn't do much for your dish either.
Hence, you should take care that the garlic powder is robust and flavorful. This can be ensured if you do the grinding of the cloves of the garlic at home. Freshly ground garlic powder is beneficial in every aspect.
For the store-bought garlic powder, the package information and storage instructions should be read and understood completely.
Usually, these labels come with essential information like date of manufacture, expiration date, and the best by date.
The powder's shelf-life is extensive, and it is ideal to buy a packet or the bottle with the date of manufacture being closest to the date of purchase. Further, to extend the shelf-life, you need to follow specific steps.
Firstly, take a minimum quantity and keep it on the kitchen shelves while the entire batch can be refrigerated.
Hence, the degradation process of the garlic powder is slowed down. Secondly, you can keep it away from moisture content.
Water can cause clumps to form, and worse, the flavor and aroma are affected. Hence, it is better to store it in dry conditions.
How to Tell if Garlic Powder is Bad?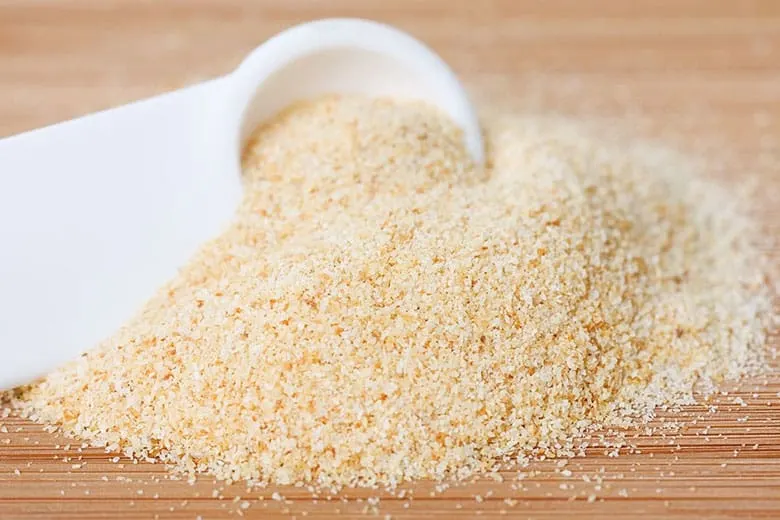 It is easy to know if the garlic powder has gone bad. The fragrance and taste of the powder are no longer intense and fades away with time.
To understand it in an instant, take a small amount in the palm of your hand and take a whiff of it.
The flat aroma or fading out the smell is indicative of the garlic powder losing its power. Further, if you take a pinch of it and taste it, then you will know better whether the garlic powder can be continuously used.
If the taste doesn't feel strong enough to your palate, then it has unfortunately lost its strength and will keep losing it unless you replace it with a brand new batch.
Ensure that you crush and rub the powder so that you know the flavor and aroma are intact.
While using the garlic powder, it is better not to make direct contact by using your fingers. It is recommendable to use a spoon so that no moisture or foreign particles enter the bottle.
Furthermore, it is better to use stainless steel or a metallic container for storage purposes so that the container is tightly wound and there's no air getting in.
Even though plastic bottles are a popular choice, you can think again and rally for other materials for storage.
Using wooden racks and spoons also helps in storing the garlic powder appropriately. Further, certain types of wood and clay pots are known to lend an authentic flavor and aroma to the spice being stored inside.
Conclusion
No matter what material of the container you use to store your spices and condiments, it is necessary that you do a thorough check to know whether the garlic powder is fresh.
Garlic powder is known to be a natural preservative, and if you stick to the storage instructions, you will always have a new batch of the powder on your shelves.
About The Author