It is time for some spaghetti that is not pasta! Do you love pasta, spaghetti to be exact, guess what?
You may cut down on your starch intake with some substitute that isn't really the same with pasta.
We are talking about spaghetti squash. What does spaghetti squash taste like?
Well, it tastes so good and it looks so much like regular pasta, hence the name.
What's even better is that the spaghetti squash is much more beneficial for the health! Read on to learn some about it!
What is Spaghetti Squash?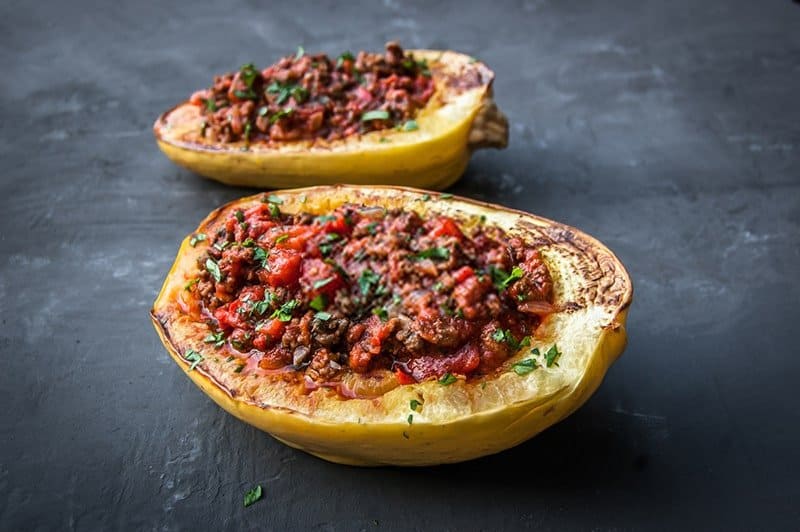 Spaghetti squash, otherwise known as vegetable spaghetti (source), is a fruit that belongs to the plant family Cucurbita. It is of the same family as pumpkin and some other squash varieties.
What's unique about is that it has a resemblance to a regular spaghetti pasta when cooked. This is what encourages the use of this squash as a substitute for spaghetti pasta.
This is essential in cutting low on carbs and replacing it with vitamins and fiber, which come with the squash (source).
Moreover, spaghetti squash may either come in orange or yellow color, any green-colored spaghetti squash is still unripe and isn't ideal for cooking.
It may also be cooked in so many ways and is served with various soups or sauces.
Additionally, common spaghetti squash is hard and solid when not cooked, and when cooked, it falls off so easily from the skin, forming tiny strands, like spaghetti.
What Does Spaghetti Squash Taste Like? Does Spaghetti Squash Taste Like Pasta?
One thing that you should note about the spaghetti squash is that it generally tastes like, of course, squash.
Some even say that its taste is the same as the yellow winter squash, slightly crunchy, a bit sweet, amongst others.
Spaghetti squash possesses a greatly mild, nearly neutral taste, even though we consider it as being faintly sweet. It isn't closely as strong in taste as some other winter squash, just like butternut squash or acorn.
The noodles that come from the spaghetti squash might be a bit watery, or have a bit crunch to them (recipe), varying on the squash.
This somewhat crunchy texture is what makes it stand out from the regular pasta. You will love its texture –but can be surprising if you are expecting for regular spaghetti noodles.
How To Cook Spaghetti Squash?
There are actually a lot of ways on how to cook spaghetti squash. This includes baking or microwaving it whole.
Also, you may opt to steam it in a pan of water in the oven, slice it into rings and bake, and so much more.
One of the best ways of cooking spaghetti squash is to cut it in half. Scoop out all its seeds, rub a bit of salt and olive oil inside, and roast in the oven cut-side down.
This way, there will be no mush, no fuss, only deliciously tender spaghetti squash (recipe)!
You may also try it out with meatballs (recipe) or make it into a chicken alfredo, just like the normal spaghetti pasta.
As we said earlier, don't be surprised if it doesn't taste the same as the normal pasta –the sauce is the key! Don't ever think that spaghetti squash goes bad –it does not!
There you have it! I hope we answered your question regarding what does spaghetti squash taste like.
We also hope that you liked the other necessary information about spaghetti squash we included. Try it now and see for yourself what an amazing squash it is!