Picadillo is a ground beef composed of chopped vegetables such as tomatoes, onions, and garlic.
Picadillo is an easy-to-cook dish using basic ingredients easily found in supermarkets or any local market.
It's a popular dish in Latin American countries, and it's also common in some European cuisines, like Galician cuisine.
The flavor of this meat mixture depends on the type of tomato sauce used and how it's cooked (on low heat for a longer amount of time or quickly) to preserve its bright color.
In addition, Picadillo's seasoning varies from country to country, and some add raisins and almonds while others don't.
To serve, you can use picadillo as a filling for empanadas or tamales.
You can also eat this delicious dish on its own with white rice, black beans, and fried plantain.
In this article, we will list the eight best side dishes you can serve with Picadillo to complete your meal.
Why Consider Serving Side Dishes for Picadillo?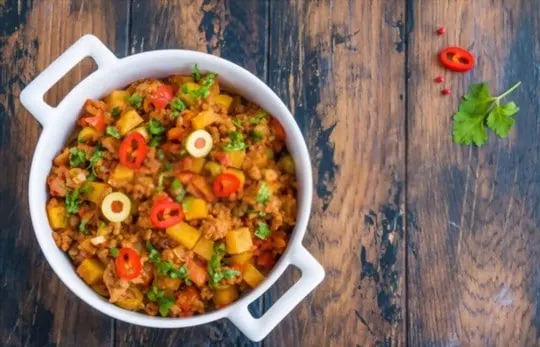 Picadillo is a traditional Latin American dish, usually consisting of ground beef and vegetables, frequently served with rice.
However, serving this dish for a special occasion such as Thanksgiving or Christmas dinner is also appropriate to serve side dishes that complement the picadillo.
To complement the picadillo, it is best to serve a side dish with a similar flavor profile as the meat.
These would be dishes that have some of the same spices or vegetables as those in the picadillo.
For example, if your picadillo has cumin and chili powder, then tortilla chips dusted with those spices would complement the dish.
Also, because it is a Latin American dish, Hispanic-style rice would complement it well.
In addition to complementing the picadillo, serving side dishes can add texture and visual appeal to your dinner table.
Picadillo is traditionally served with white rice, so serving brown rice would give your table a nice contrast.
Another way you can use side dishes to add visual appeal is by using different colors of vegetables in the picadillo.
What to Serve with Picadillo? 8 BEST Side Dishes
So without further ado, here are eight side dishes that would complement picadillo very well.
1 – Tortilla Chips and Guacamole
This goes for nachos too, but tortilla chips are the perfect way to give your table some crunch.
There are many varieties of store-bought guacamole.
Pick one that works well with the other dishes you're serving, and serve it up.
It's very simple to make at home if you want to go the extra mile and impress your guests, but store-bought is almost as good.
The main thing is, it must be fresh.
If the guacamole has been sitting in the fridge for too long, your guests will know and won't appreciate it as much.
So make sure to have it made just before you serve it.
2 – Pico De Gallo
Pico de gallo is a fresh sauce that originated in Mexico.
It can be served with tortilla chips or as a topping for other dishes.
The reason why it's so good to serve with picadillo because it's a very fresh sauce, with many similarities to picadillo.
Pico de gallo is typically made with the following ingredients: tomato, onion, chili pepper (typically jalapeño), salt, and lime juice.
Because of the chili pepper taste in this sauce, it has a similar spice level as picadillo.
It also has some of the same vegetables, like tomato and onion.
It's also fresh, which is why it will compliment picadillo very well.
Another good thing about pico de gallo is that there are many recipes for this sauce on the internet.
So if you're not sure how to make it yourself, look up an online recipe, and you should be golden.
3 – Rice Pilaf
Rice pilaf is one of those universal dishes that can go with anything.
It's also a very popular dish, so if your guests have never had it before, now is the perfect time to introduce them.
There are many recipes for rice pilaf out there, so if you don't know how to make it, Google a recipe for it.
It will go well with picadillo because the main ingredients of this dish are rice and vegetables.
The most common vegetables in pilaf are carrots, celery, onion, and garlic.
These vegetables provide the same aroma that picadillo has, so that they will complement the picadillo very well.
4 – Spanish Rice
Spanish rice is a dish that goes very well with picadillo.
There is no need to make Spanish rice from scratch because there are many canned versions of this dish out on the market.
Look for one that has similar ingredients to picadillo (tomato, onion, chili pepper).
If you can't find any like this, look for one with similar ingredients to the rice you are serving with picadillo.
These are usually very simple dishes, so it shouldn't be too hard to find a good canned version of them.
If you still really want to make Spanish or Mexican rice from scratch, though, there's always Google.
Just in case the store-bought version didn't work out, you can always look up an online recipe for homemade Spanish rice.
5 – Mexican Street Corn Salad
This dish is a popular summer side dish in North America. It's also very simple to make.
You may not have thought of it before, but it will go incredibly well with picadillo.
The reason why is because of all the vegetables that are included in it.
This dish can also be served cold, which will provide a nice contrast to picadillo's spiciness.
Typically, Mexican corn salad has corn kernels, mayonnaise, chili powder, cotija cheese (a crumbly white cheese), lime juice, and fresh cilantro.
The main goal when making this is to ensure that you get all of the ingredients in one bite – so they must be mixed well.
You can find many recipes for this dish on the internet.
It's also a very simple dish, so don't be too intimidated by instructions that may seem complicated.
6 – Curly Fries
Curly fries are a very popular side dish, especially for kids.
They are also incredibly easy to make yourself – it takes about an hour to cook them.
They will compliment picadillo very well because they are a very savory dish.
Picadillo is also savory, so the two dishes will go together nicely.
Typically, you will make curly fries by slicing potatoes into long strips and deep-frying them in oil until they turn golden brown.
You can add seasonings to these fries if you'd like.
Some suggested seasonings for curly fries include garlic powder, pepper, and salt.
7 – Green Beans with Bacon
If picadillo is a little bit too spicy for you, but you still want to make it more savory, this dish is perfect.
Green beans with bacon is an incredibly simple dish to make.
You can also buy canned green beans and pre-cooked bacon at the grocery store (in the same aisle as the canned soups), so it's convenient to have this dish.
The dish is made by cooking the bacon first and then adding a few spices before adding the green beans.
You can add some tomato sauce or chopped tomatoes at the end of the cooking process if you want.
This will give it a richer flavor.
8 – Cheesy Potato Casserole
Cheesy potato casserole is a dish that will fill you up, and it goes very well with picadillo.
In addition to having similar ingredients as picadillo (tomato, onion), this dish also has potatoes, which is the main carbohydrate in picadillo.
Typically, cheesy potato casserole has cream of mushroom soup, shredded cheddar cheese, and french fried onions.
It will also have spices in it – these can be salt and pepper or garlic powder.
Once all the ingredients are together in a casserole dish, it will be baked for about 30 minutes at 200 degrees Celsius.
Conclusion
Picadillo is a delicious dish that is incredibly versatile.
The flavor is amazing, and it goes well with many different side dishes.
If you don't like the sound of any of these suggestions, there are undoubtedly many other options for you to choose from.
The beauty about picadillo is that it's very easy to make, and there are infinite possibilities when adding different ingredients.
It can also be made in advance – if you're making this dish ahead of time, it'll only get better.