Panzanella is a traditional Italian salad, and you may have it in two main ways.
The first way to make Panzanella is with the bread cubes soaked for an hour or so before being tossed up with olive oil as well as salt; this allows them to soften enough not only soak but also absorb all of those flavors!
Another version includes vegetables like tomatoes, cucumbers, and basil that are then mixed until they're combined nicely into one delicious dish.
You can enjoy either type by adding some wine vinegar on top mix gently since too much will turn your mixture brownish from oxidation!
To flavor up the meal, you can also add in some olives, capers, and anchovies. The dish is usually served as a side to accompany grilled meats or other dishes that are rich with flavor but not necessarily heavy on the stomach.
It's perfect for those who want something light yet satisfying! It's best enjoyed when eaten fresh. If possible try adding freshly grated Parmesan cheese over top before serving.
This will give your Panzanella just enough saltiness without overpowering any flavors from what was added into the mixture beforehand.
What to Serve with Panzanella? 8 BEST Side Dishes to Make
Here are the top 8 side dishes to serve with Panzanella that will make your family crave more.
1 – Eggplant Parmesan
You'd be amazed at how many people don't know that eggplant parmesan is a great side dish for Panzanella.
The bread absorbs the juices from both dishes and becomes soft, while also adding some texture to your meal.
The best part about this recipe? It's super easy to make.
First, slice the eggplant into rounds and then coat them in a mixture of flour or breadcrumbs with salt to taste before frying on each side until they're crispy browned.
This should take about five minutes per round depending on how thick your slices are.
Next, you'll need some tomato sauce for dipping: heat up one cup canned tomatoes mixed with two tablespoons olive oil.
Add garlic cloves if desired, simmering it all over the medium-low flame while stirring occasionally so that nothing sticks at the bottom from 20 minutes till 45 mins; season generously using pepper flakes as needed.
When done cooking pour half can's worth onto plate along with fried eggplants followed by Panzanella salad topped off.
2 – Roasted Potatoes with Garlic and Rosemary
It's classic. It's delicious. And it pairs well with Panzanella salad!
The process is simple enough that even kids will enjoy helping out in this kitchen task too. Just peel your potato skins then cut into bite-sized pieces about an inch long each on average.
Toss these cubes together using some chopped-up fresh herbs from above plus any additional spices/seasoning ingredients. Then drizzle with olive oil and toss again.
Then, just spread these potatoes out on a baking sheet lined in parchment paper or foil; sprinkle them generously using salt followed by pepper flakes as needed.
Then bake for about 45 minutes at 425 degrees Fahrenheit (or until crispy). Finally, serve warm alongside Panzanella salad.
3 – Grilled Vegetables with Balsamic Vinaigrette
I'd bet that most people don't know that grilled vegetables are a great side dish for Panzanella. The best part is, this recipe can be made in just about 15 minutes and it's also vegan-friendly.
To make the balsamic vinaigrette: whisk together olive oil with vinegar plus salt/pepper to taste; then add some minced garlic cloves as desired too.
Finally, pour over your favorite veggies as zucchini slices cut into rounds or half-moons, or asparagus spears, or cherry tomatoes.
To grill the vegetables: Heat a skillet over medium-high to high and coat with olive oil.
Add veggies in batches, cooking for about two minutes on each side until tender. Serve warm alongside Panzanella salad.
4 – Roasted Fennel, Red Onion, and Olive Tapenade on Crostini
The first time I tried this recipe is when I was in Italy, and it's a great appetizer or side dish.
Slice baguette into rounds about one-inch thick; brush with olive oil on both sides. Sprinkle lightly (or heavily) salt/pepper to taste;
Then toast the bread slices until golden brown all over before serving. You can use pita chips for this recipe too if you like.
The tapenade is so easy that even kids will enjoy making their crostini at home. Just mix some chopped olives, capers, garlic cloves, red pepper flakes plus anchovies.
Add enough extra virgin olive oil as desired. Serve alongside roasted fennel chunks from an oven tray.
5 – Sautéed Zucchini Ribbons with Lemon, Thyme, and Pine Nuts
Another green vegetable that is perfect for the summertime. This recipe can be served as a side dish or an appetizer to complement any meal you are preparing this season.
It's also great because it's so versatile—you could use zukes in place of pasta if desired! The lemon juice gives these ribbony strips such fresh flavor while thymy goodness makes them feel light on your stomach too.
6 – Tomato Basil Soup (With or Without Grilled Cheese)
This soup is perfect on its own, but it's also delicious with some crusty bread and melted butter. If you're feeling extra adventurous, try adding fresh mozzarella cubes into this tomato basil broth.
The best part about making soups at home? You can customize them however you want.
So if tomatoes aren't doing anything for you feel free to add carrots instead of zucchini—or even both!. It's all up to you.
7 – Mushroom Risotto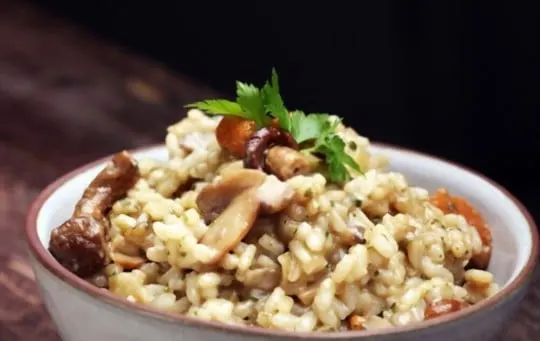 It's a classic Italian dish that's perfect for a light dinner. Risotto is made from rice, water or broth and vegetables (usually onions,) butter, salt, pepper.
It can be served with any type of meat—or without. But it pairs especially well when paired with Panzanella!
The bread soaks up all the juices in this salad while mushrooms add savory flavor to risottos.
So if you're looking for something to serve your guests on Thanksgiving day. Try out some mushroom risotto. You won't regret it.
8 – Butternut Squash Risotto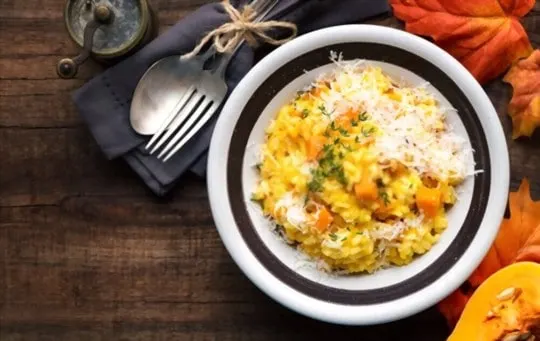 Yes! Another risotto recipe! This one is made with butternut squash and it's a great way to use up the last of your fall harvest.
It can be served as an appetizer or main dish, so you'll have plenty OF options when serving this risotto with Panzanella.
The flavors are perfect together. Especially, if you're looking for something to surprise your guest or family.
If butternut squash isn't available in your area, feel free to substitute pumpkin OR acorn squashes for equal amounts or even zucchini.
But don't forget about mushrooms: they're A classic Italian ingredient that pairs well with any type of meat.
Conclusion
In conclusion, Panzarella is the best way to use up leftover bread and vegetables from the summer harvest season while enjoying fall produce at its peak flavor.
The flavors are perfect together and it's easy enough for anyone in the family or guests at your dinner party.
There is no wrong way of serving Panzanella, so feel free to experiment with different ingredients like squash or pumpkin squashes mushrooms and zucchini.
The possibilities are endless when you're looking for something new to try.
About The Author