Has it ever happened to you that you have gotten halfway through cooking your favorite Garlic Bread before you realized that you are completely out of the most important ingredient, minced garlic?
If you're anything like me, you have cried a small tear and finished cooking anyways.
But if you feel as strongly about your Garlic Bread as I do, then this is an article for you.
If you lack time to make a quick run to the grocery store, then you must identify what are the best substitutes for minced garlic beforehand to save your dish.
Minced garlic is the most important ingredient in Garlic Bread, so you must spend time to choose a perfect substitute.
If you are planning on cooking this for your family members or loved ones, then you have to consider their preference as well.
What Is Minced Garlic?
Minced garlic refers to finely chopped pieces of garlic which imparts a greater flavor and aroma to a dish.
Mincing is primarily a food preparation technique in which the food ingredients are finely divided into smaller pieces than chopped or diced foods.
To prepare minced garlic, a clove of garlic is first crushed and given a rough chop.
Then, place a knife on a chopping board and by using a rocking motion the garlic is chopped with a knife until finely minced.
This distributes the flavor more evenly in a dish and is great in marinades and sauces.
In general, minced garlic is always preferred over whole crushed or chopped pieces of garlic since it has a greater flavor and aroma.
5 Best Substitutes for Minced Garlic
1 – Garlic Powder
Though garlic powder is made from dehydrated garlic, its flavor is a lot different from that of fresh garlic.
It has a mildly roasted flavor imparted due to the dehydrating process.
Despite the less biting and slightly sweetish taste, it makes a decent substitute for minced garlic.
While using this substitute you need to remember that garlic powder is added at the end of the cooking process.
If you are wondering how much garlic powder you need to use as a substitute for every clove of minced garlic, then here is all you need to know.
Almost all culinary experts recommend using 1/8 tablespoon of minced garlic as substitution for every clove of garlic.
One garlic clove = 1/8 tbsp. of garlic powder .
2 – Peppercorns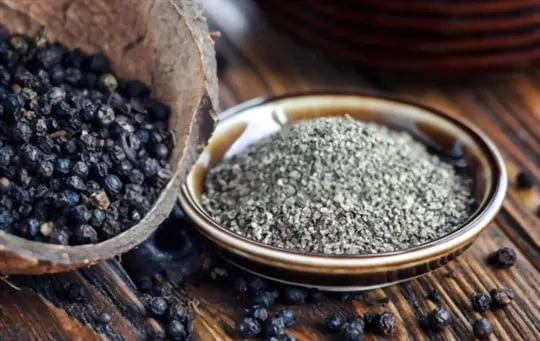 Though nothing can taste exactly like minced garlic, but using peppercorns will help you replace some of the flavor and fragrance that would otherwise be missing from the dish.
Start with a small amount and workup until you are happy with the outcome.
According to Robin Miller, pink, white and green peppercorns have the same pungent quality that garlic imparts to any dish.
You can even blend two variants to achieve desired results.
For a hitting a sharp note of minced garlic, slightly increase the quantity of peppercorns you would otherwise use regularly in any dish.
3 – Garlic Salt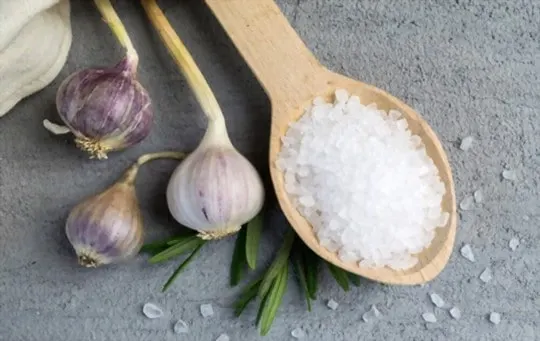 Garlic salt helps you achieve the same sharp and concentrated flavor that fresh minced garlic imparts to a recipe.
As it already has some garlic, it makes to use it in your recipe to mimic the garlicky taste.
However, you need to be careful with the amount you use.
You need to keep in mind that garlic powder already has salt in it.
You should use 3 teaspoons of garlic salt for every one teaspoon of garlic powder.
However, you need to make sure to reduce the amount of salt that you use in your recipe.
Garlic salt works wonders if you are looking for minced garlic replacement while working with potatoes, or while making pasta.
1 tsp. minced garlic = 3 tsp. garlic salt.
4 – Asafetida Powder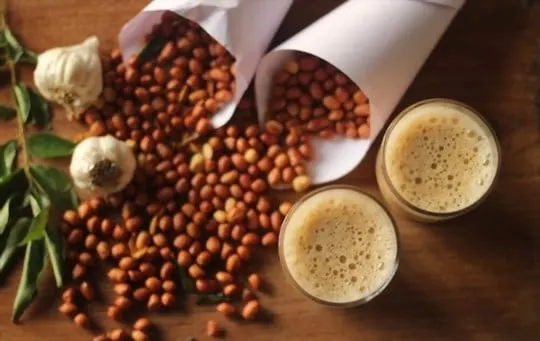 Asafetida power tends to have the same pungent smell like garlic.
This is the reason why it makes an excellent replacement for minced garlic while cooking.
Indians have been using asafetida in place of garlic for ages.
It makes a suitable substitute for minced garlic for recipes that involve sautéing.
The only difference is that you need to use asafetida powder in lesser quantity as it has higher pungency.
You can also reduce the quantity of asafetida powder while substituting it for garlic powder.
Usually, half teaspoon of asafetida powder can substitute for 2-minced garlic cloves.
2 minced garlic cloves = ½ tsp. asafetida powder.
5 – Garlic Chives
This is yet another great garlic substitute.
It has mild flavor that evokes the savory scent of garlic.
As both garlic and chives are part of the same plant family, it works really well as a replacement for minced garlic.
Garlic chive is the leafy portion of the garlic plant.
It has the same flavorful compounds that you can find in ordinary garlic.
However, it would impart your meal a fresher flavor.
Slice some chives finely to use it in the recipe.
Chives work well as a replacement for minced garlic while making mashed potatoes, garlic and other vegetable-based dishes.
Though it is not the perfect substitute, using the right ratio can drastically alter the results.
1 fresh minced garlic clove = 1 tbsp. minced chive .
Conclusion
Though there is no perfect replacement for minced garlic in a recipe, you can achieve almost similar flavor by using the alternatives.
You need to try to balance the ratio of the substitute you are using according to the recipe and your preferences to achieve best results.
You can use above mentioned alternative ingredients in dishes that require garlic flavor without having to worry about the health risks associated with consuming garlic regularly.
About The Author