One best advantage about foods is that there's always a substitute even if you run out of one.
Keto milk is a very healthy dairy-free diet that can satisfy most of your cravings.
So if you're thirsty for some cold and creamy drink or some delicious pudding, you can always count on this low-carb drink.
But even if you don't have keto milk in your kitchen, don't worry.
There are still other ingredients you can use in its place.
Hence, we have a list of the best substitutes for keto milk.
What Is Keto Milk?
Keto milk, as mentioned above, is a low-carb protein drink that helps provide plenty of healthy fats and protein with fewer carbohydrates.
If you want to eliminate carbs or dairy from your diet for health concerns or lose weight, keto milk can help you improve your overall well-being and allow you to reach your desired goals.
Keto milk can also easily be made from your kitchen using ingredients available at home, and it tastes like natural milk.
Whether you want a milkshake, coffee, tea, latte, pancakes or for cooking purposes, this versatile ingredient makes an excellent healthy option.
The 5 Best Substitutes For Keto Milk
So even if you don't have keto milk in your kitchen, there are 5 best substitutes you can use to satisfy your taste buds, and they too taste equally delicious.
The ingredients you can use as an alternative are almond milk, coconut milk, cashew milk, hemp milk, and walnut milk.
1 – Almond Milk
Almond milk is one of the most common substitutes for keto.
If you like the taste of this keto-friendly drink, opt for plain and unsweetened ones to keep the carbs low.
Almond milk is inexpensive and can be easily found in most grocery stores.
Moreover, it's also low in carbohydrates, protein, fat, and calories than most plant-based or traditional dairy products.
This popular milk is rich in Vitamin E, high in antioxidants, promotes bone health, and is a good magnesium source.
Plus, it contains 50% to 80% fewer calories than dairy products while still flavorsome.
2 – Coconut Milk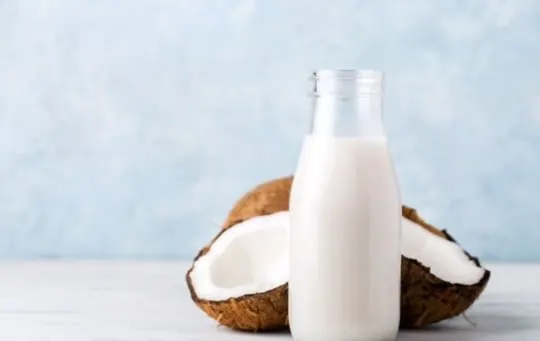 Coconut milk is another substitute that you can use as a keto-friendly drink.
Though low-fat coconut beverage works perfectly fine, you should look out for added preservatives like sugar.
However, don't confuse coconut water with milk.
Coconut milk is extracted by grating the meat of a mature coconut and is enriched with vitamins.
Coconut milk can also help reduce inflammation, lessen the stomach ulcer size, and allow the body to fight infections and viruses.
This versatile ingredient can enhance flavors to various recipes like soups, coffee, salad dressings, smoothies, sauces, etc., making an excellent option for a keto-friendly diet.
3 – Cashew Milk
Cashew milk is another popular option.
This plant-based milk is creamy, naturally sweet with a nutty taste and an exceptional dairy-free product.
Meanwhile, you can also use it in most recipes to substitute for milk providing a low-calorie option.
It's also an excellent choice for people with lactose intolerance and dairy allergies.
Plus, it has fewer calories than coconut milk.
Cashew milk provides tons of vitamins like Vitamin A, D, E, calcium and iron.
It can also help prevent osteoporosis and other issues related to calcium deficiency.
You can make your own healthy cashew milk at home by soaking the cashews overnight and blending them until you have a smooth texture.
4 – Hemp Milk
Hemp milk is a keto-friendly and carb-free plant-based dairy milk, and it's slightly nutty with a texture similar to cow's milk.
This drink is made from hemp seeds.
Hemp milk is best paired with fatty foods as it's low in fats.
Instead of having just plain hemp milk, you can try adding chocolate and vanilla flavors before blending for a nutritious drink.
One major advantage is it has low carbs compared to other keto milk substitutes.
Moreover, it provides plenty of health benefits and nutrients rich in minerals, proteins, and vitamins.
As an alternative, you can use it to replace milk in smoothies, tea, or coffee.
5 – Walnut Milk
Lastly, walnut milk, although less popular than almond or coconut, this drink is very high in Vitamin E and contains a good amount of Omega 3 fatty acids.
This low-carb drink might not be readily available in stores, so it's best to make one for yourself at home.
And if you don't know, the health benefits that you benefit from walnut milk are beyond comparison.
To make a drink out of this nut, all you're required to do is soak, blend, and add water and filter it using a muslin cloth and enjoy its rich taste.
Conclusion
With these five substitutes for keto milk, you don't have to panic even when you run out of one because you have several options.
Using these alternatives, you can benefit from plenty of nutritional ingredients, and the best part is you can make them all at home.
Moreover, you can also use these substitutes sometimes to enjoy different flavors and reap all their health benefits.
Also, if you love experimenting with various ingredients, these healthy and nourishing options are all you need.