Have you ever wondered what the best low-carb vegetable substitutes for potatoes are?
With the health and diet trends that have become increasingly popular these days, cooks and chefs alike have had to think of creative alternatives to favorite carbohydrate-rich dishes.
For those looking to reduce their potato consumption, there are several low-carb vegetables that can make excellent replacements.
In this article, we will explore how to use and cook with these nutritious substitutes, as well as list the five best options for replacing potatoes in your favorite recipes.
Why Consider Serving Low-carb Vegetables instead of Potatoes?
When it comes to replacing potatoes in many of our favorite meals, low-carb vegetables are a great alternative.
Not only do these veggies provide the same satisfaction as a starchy potato, but they are filled with vitamins and minerals, keeping us healthy and full of energy throughout the day.
For instance, Brussels sprouts have a sweet crunch, while cauliflower has a creamy texture that is incredibly versatile.
We can easily chop up any of these veggies and use them just like potatoes in various dishes such as roasted salads or hearty soups.
What's also great about these vegetables is that most can be cooked similarly safe than boiled.
Even if we are in a pinch, steaming or microwaving our vegetables will ensure we still get all the important nutrients.
Overall, when it comes to substituting potatoes with low-carb vegetables, consider all the delicious recipes you can make while staying healthy.
The 5 BEST Low-carb Substitutes for Potatoes
If you're looking for a low-carb substitute for potatoes, you've come to the right place.
Potatoes are an incredibly versatile food but can add up in terms of carbohydrates if you eat too much of them.
Fortunately, there are several delicious alternatives that can give you the same flavor and texture while providing fewer carbs.
Here are the five best low-carb substitutes for potatoes:
1 – Cauliflower Rice
Cauliflower rice has become increasingly popular in the culinary world, as it is a nutritious alternative to traditional rice that can be easily added to any dish.
This low-carb, flavorful staple is made from richly colored cauliflower florets that are pulsed in a food processor until finely and evenly chopped.
Not only does this vegetable-based side dish save calories, but its fluffy texture and mild flavor make it highly adaptable for different recipes.
Cauliflower rice can be served with a bit of salt and pepper or combined with vegetables, herbs, spices, and other seasonings for a savory twist.
Additionally, it can take the place of mashed potatoes as a lighter alternative while still delivering the same creamy consistency.
Whether you're trying to cut carbs or just looking for an easy recipe addition, cauliflower rice is sure to serve you well.
2 – Turnips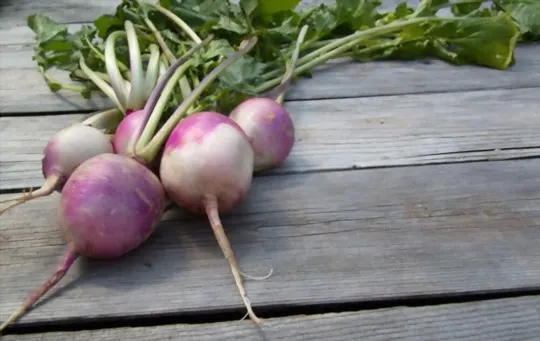 Turnips are an incredibly versatile vegetable, popping up in main courses, sides, and salads around the world.
Whether you're new to this root veggie or a longtime lover of its crunchy sweetness, turnips deserve more attention than they get.
They feature an edible root and leaves, making them one of fall's most celebrated vegetables.
When cooked properly, their sweet yet spicy taste can add a unique flavor to your menu – think a cross between cabbage and radishes.
Turnip roots have a crunchy texture that can be mashed like potatoes for a low-carb alternative.
Sauteed turnip greens make an excellent side to any dish and are packed with plant-based protein for healthy eating.
Add turnips to your weekly shopping list for some extra nutritive satisfaction – you won't be sorry.
3 – Celeriac
Celeriac is an intriguing vegetable that often goes overlooked on grocery store shelves.
Celeriac, also known as celery root, has a knobby exterior and creamy flesh inside.
It is a type of celery with a unique flavor that sets it apart.
While its taste and texture are similar to a potato, it offers surprisingly low-carb benefits.
Celeriac can be peeled, boiled, and mashed like potatoes or added raw to salads and coleslaws for additional crunch.
If you're looking for a delicious way to reduce your carbohydrate intake without sacrificing flavor, give celeriac a try.
4 – Broccoli
Broccoli is one of those mysterious vegetables that can be both a delight and a perplexing challenge to prepare.
Its crunchy texture and green flavor invite so many possibilities with how it can be prepared, ranging from simply steaming or roasting and paired with butter to creating stir fries with Asian flavors.
The flavor falls somewhere between nutty sweet and lightly spicy, allowing for plenty of flexibility in incorporating this ingredient into dishes.
As a low-carb substitute for potatoes, broccoli can provide great nourishment in casserole dishes or act as interesting bedding for meats like chicken breast or grilled salmon.
For those trying to spend their carb count wisely, broccoli can be included in many different dishes, adding both a unique taste and nutritional value.
5 – Rutabaga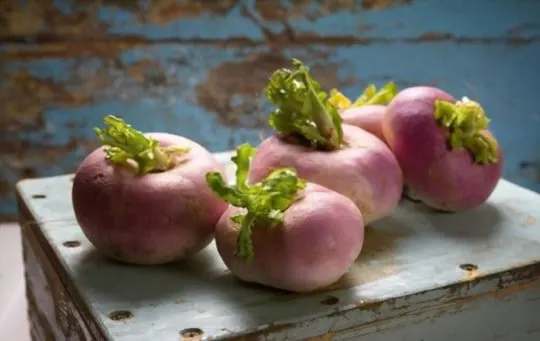 The rutabaga has always been a bit of an enigma in the culinary world.
It's not as widely known or consumed as a potato, but this root vegetable packs a flavor punch.
As a member of the cabbage family, it shares many traits with turnips, with its mild-sweet taste and crunchy texture.
While potatoes are one of the staples for many dishes, rutabagas can be used to substitute them for lower-carb options.
Roast up some diced rutabaga with salt and pepper, or shred them to use instead of hash browns.
Make sure to cook them until they are soft, as this will help bring out the natural sweetness.
Rutabagas can also be used to make a creamy soup or mashed side dish – just be sure to season well for maximum flavor.
Conclusion
In conclusion, there are many delicious low-carb substitutes for potatoes.
From cauliflower rice to rutabagas, these vegetables can easily be incorporated into your cooking routine and offer a variety of flavors and textures.
Be sure to experiment with different combinations, and don't be afraid to get creative.
With so much nutrition packed into each one, you're sure to find something you like while still maintaining a low-carb diet.
So go ahead and give these vegetables a try.