Red Wine Vinegar goes extremely well with heartier flavors such as vegetables, beef, and pork.
They also go well with marinades and salad dressings. This ingredient is heavily used in Mediterranean cuisines.
It is known for its unique and tasty tangy flavor. The Red Wine Vinegar is a widely used option for the vinaigrettes.
What are the best substitutes for red wine vinegar? They are Sherry Vinegar, White Wine Vinegar, Balsamic Vinegar, Apple Cider Vinegar, and combining White Vinegar and Red Wine.
What Is Red Wine Vinegar?
Red Wine Vinegar consists of vinegar that is created using red wine.
You will require a "Live Starter Type of Substance" or "Mother" for making your red wine vinegar.
Here, the "Mother" is inserted in a water mixture and red wine by using a glass container.
It pairs with oxygen for transforming the wine into vinegar via the process of alcoholic fermentation.
Here, the red wine is allowed to ferment until it develops a sour taste. The longer you age it, the better it will taste.
Most folks also use red wine vinegar for preparing their food with pickles and dressings.
It is also used for sauces in mustard, mayonnaise, and ketchup.
Red wine vinegar also possesses zero carbs with just three calories or less, making it healthy and diet-friendly.
5 Best Substitutes for Red Wine Vinegar
Here are the top five alternatives for you:
1 – Balsamic Vinegar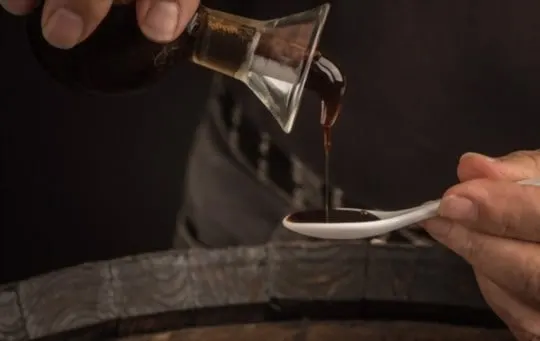 A very common substitute for red wine vinegar would be Balsamic Vinegar.
You can find this ingredient in just about any household.
Balsamic vinegar is made by fermenting grape juice, and it also contains certain undertones of cherry, molasses, and figs.
It is sweeter, darker, and thicker in comparison to red wine vinegar.
So, you do need to be cautious with the level of sweetness in your meals.
With this vinegar, you can add that tangy taste to your dishes.
Substitute Ratio – The ratio of balsamic vinegar should be 1:1 for your red wine vinegar.
2 – White Wine Vinegar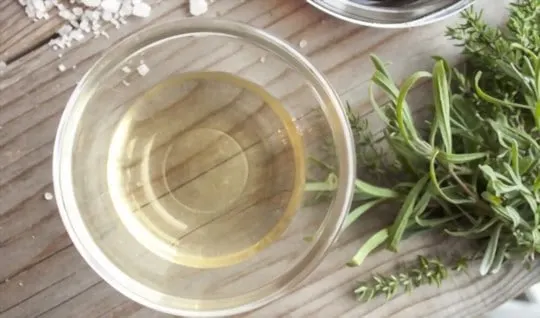 Yes, White Wine Vinegar has a slightly mellow, less astringent, and brighter characteristic than red wine vinegar.
But it does share strong similarities when it comes to their fruity palate and acidity level.
Most people can't tell them apart in taste for the most part.
This ingredient works well in brining, braising chicken, cucumber salad vinaigrette, and making bearnaise sauce.
White Wine Vinegar is created by fermenting a variety of grains and fruits in alcohol and bacteria.
White Wine Vinegar does possess a long shelf-life. Plus, it helps in food digestion and weight loss.
Substitute Ratio – Since it shares similar acidity levels, you can substitute it for a 1:1 ratio.
3 – Apple Cider Vinegar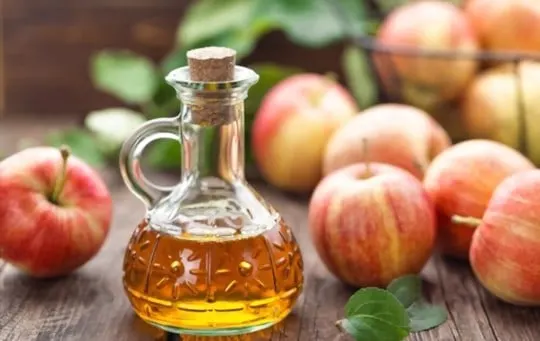 Now, this substitute is made using fermented apples. The process involves squeezing out the juice from the apples.
During fermenting the apples, both yeast and bacteria are added to convert the sugar into alcohol.
Next, the alcohol is turned into vinegar through the use of acidic bacteria.
This vinegar comes with a sour flavor, and it also has very low calories.
Plus, Apple Cider Vinegar gives that zesty flavoring to your meals, and it features a brown-gold color.
Apple Cider Vinegar also has health benefits because many people use it to improve their heart health, reduce cholesterol levels or shed weight.
And you can even use it to help in digesting your food.
Substitute Ratio – With Apple Cider Vinegar, you can use the same amount as the Red Wine Vinegar.
4 – Sherry Vinegar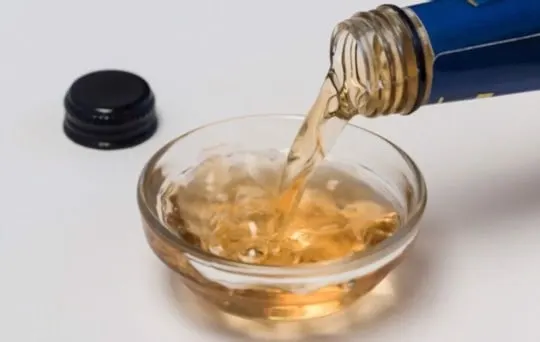 Sherry Vinegar brings that hint of tartness to your marinades and vinaigrettes accompanied by additional sweetness, which isn't present in red wine vinegar.
This vinegar goes quite well in dressing or marinade for your beef or chicken recipes.
This vinegar is quite sweet, so we would advise you to tone down on the other sweeteners (if available) in your recipe.
It is heavily used in Spanish cuisines, and it undergoes six months of aging inside an oak barrel before it reaches 7⁰ of acidity.
Its rich flavors do a great job of enhancing your casseroles, soups, and stews.
Plus, it assists in weight loss and reduces your blood sugar level.
Substitute Ratio – You can use ½ a cup of your Sherry Vinegar for substituting the red wine vinegar.
5 – White Vinegar & Red Wine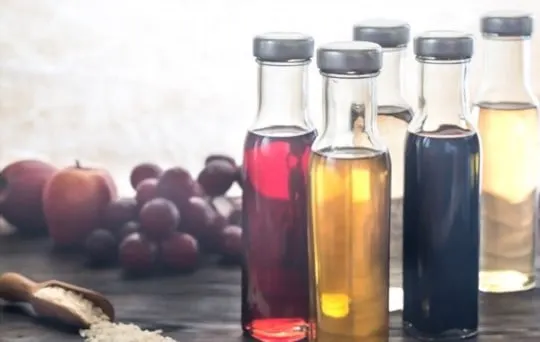 Lastly, you can use the hack of mixing red wine and white vinegar to create a Red Wine Vinegar clone.
Here, you can use a "Red Wine to White Vinegar" ratio of 1:3.
Start mixing 3tsps of white vinegar and 1tsp of red wine and allow the mixture to rest for some hours.
Then you can let them meld together and adjust it later to your taste.
You can use it in your salad dressings, caramelized onions, and sauteed mushrooms.
Substitute Ratio – We would advise you to use a 50/50 blend for an equal measurement to your Red Wine Vinegar.
Conclusion
Red Wine Vinegar comes from oxidizing red wine.
You will tell a red wine vinegar apart from white wine vinegar by its pinkish color.
This vinegar contains probiotics, acetic acid, and anti glycemic effects to reduce spikes in blood sugar and enhance digestion.