With a range of creamy texture and delicate flavour, cream of chicken is a must-have ingredient in many recipes.
But have you ever wondered how to use it or what would be the best substitute if you don't have it at hand?
It can be quite a challenge to recreate the same creamy texture while making sure your dish still tastes delicious.
Fortunately, there are several great alternatives that offer similar consistency and deliciousness that can be easily substituted for cream of chicken.
Let's explore the five best substitutes for cream of chicken and how to use them in your cooking.
What is Cream of Chicken?
Cream of chicken is a condensed soup made from a roux, milk and chicken broth.
This creamy, savory base is often used in recipes to add richness and flavor.
It is popular in casseroles, soups and even pasta dishes.
Cream of chicken soup has been on the shelves of grocery stores since 1934, when it was first introduced by the Campbell Soup Company.
When using cream of chicken soup for cooking applications, the simplest way to utilize it is to mix with equal parts water or milk and heat until desired consistency is reached – either as a sauce or soup base.
For lesser amounts of liquid – such as what's needed for most recipes – use one can of cream soup with 1/2 cup water or milk, stirring often while bringing mixture to desired thickness.
If substituting another ingredient in place of cream of chicken soup – such as yogurt or sour cream – use 1/2-3/4 cup depending on taste preference.
The 5 BEST Substitutes for Cream of Chicken
If you are looking for a way to add flavor, moisture, and texture to your dish without using cream of chicken, there are plenty of substitutes that can help.
Here is a list of five of the best substitutes for cream of chicken that will add flavor and texture to your recipes without adding too much fat or calories.
1 – Cream of Mushroom Soup
Cream of mushroom soup is a popular substitute for cream of chicken soup because it has a similarly creamy texture and flavor.
It's also made with broth, mushrooms and cream, although the addition of other ingredients like onions and herbs gives it a stronger more distinctive flavor.
Many people prefer to use vegetable broth instead of chicken stock when making their own version of this soup so they can reduce the amount of fat, calories and sodium in their dishes.
As with cream of chicken soup, you can use cream of mushroom soup in recipes without necessarily changing the flavor too drastically — just be wary that adding mushrooms to some dishes may give them an unexpected taste.
2 – Any Creamy Soup
Any creamy soup you have lying around can be used as a substitute for cream of chicken.
Dairy-free or vegan creamy soups work great and are a delicious choice as well.
You can also try using cream-style soups, like mushroom or celery, as well as broth-based soups with additional ingredients added to thicken them up, like potatoes or pureed vegetables.
Just make sure to adjust the seasonings accordingly and simmer until it reaches the desired thickness.
A good proportion is usually one part cream of chicken soup to two parts of any other creamy soup you choose.
3 – Heavy Cream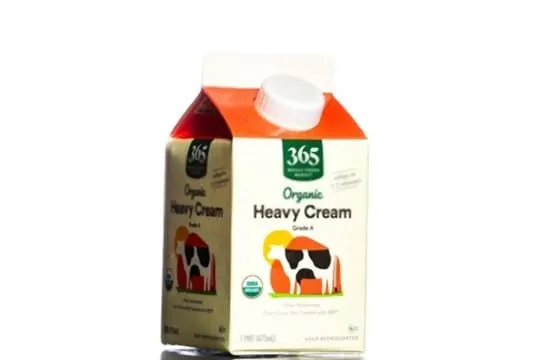 Heavy cream is a thick liquid made from the fatty parts of cow's milk.
It contains at least 36% milk fat, which gives it its rich, creamy texture.
Heavy cream can be used in place of Cream of Chicken Soup in recipes calling for a creamy base, like casseroles and soups.
To substitute heavy cream for Cream of Chicken Soup, mix together one cup of heavy cream and one cup of chicken broth or stock.
This will give you the same amount of liquid as one can (10 3/4 ounces) of Cream of Chicken Soup.
As a thickener, you may also add two tablespoons all-purpose flour to the mixture before adding it to your dish to provide it with a creamy texture that is similar to that created by the condensed soup.
4 – Full-Fat Sour Cream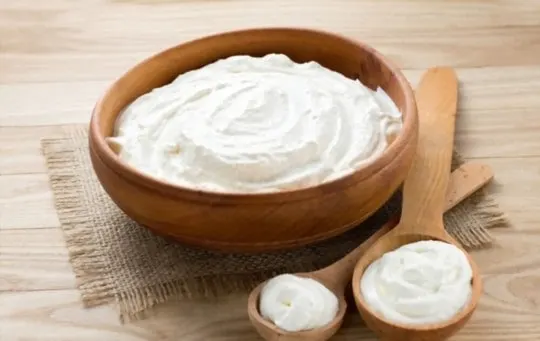 Full-fat sour cream makes a great substitute for cream of chicken in most cases.
Similar to the previous suggestion, the thickness of sour cream helps create the same creamy consistency that cream of chicken gives your dish.
The difference is that while the crema Mexicana adds a slight tanginess to soups and casseroles, full-fat sour cream instead leaves you with a more subtle flavor profile.
Just like with crema Mexicana, use equal amounts in your recipes as a replacement for cream of chicken.
5 – Sour Cream & Chicken Broth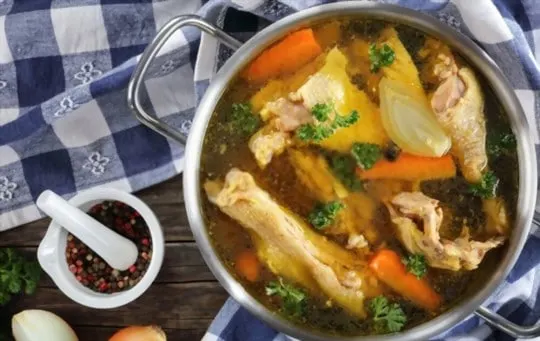 Sour cream and chicken broth is a combination that can easily replace the creamy texture of Cream of Chicken in many recipes.
The tartness of the sour cream cuts through any added sodium, while the chicken broth adds a delicate flavor and an element of creaminess.
Combined, the dish becomes a savory one with a great depth of flavor.
To make this substitute, mix equal parts sour cream and chicken broth until fully blended.
Conclusion
Ultimately, choosing a substitute for cream of chicken comes down to personal preference.
Cream of mushroom, heavy cream or milk, Greek yogurt, coconut milk and sour cream can all be suitable substitutions.
When substituting in recipes, remember that the flavors may change slightly and the texture may not be exactly the same as when you use cream of chicken.
Be sure to lower your expectations when it comes to texture and adjust the seasonings accordingly.
About The Author