Madeira is a flavourful and durable wine, and it is well-liked for its enduring nature.
Madeira is a fortified Portuguese wine made on the Islands of Madeira located on the coast of Africa.
The dry wine varieties are served before or between meals, and the sweet versions are called dessert wines.
The wine that is fermented and added with distilled spirits is called fortified wine.
Some other fortified wines are sherry, port, and vermouth wines.
The making process of Madeira is everlasting, which makes the wine long-lasting because it is oxidized through a special process before it is stored in barrels or bottles.
Madeira wine has a nutty and sweet flavour that makes it ideal for dessert.
Madeira was discovered by the Portuguese more than 500 years ago, but the process of making the wine has been improved through time to make its flavour rougher and rougher.
With such flavour, it is obvious that it would be best paired with various dishes.
However, Madeira wine is difficult to find in different countries because its production quantity is limited.
So what can you drink if you want to enjoy the unique flavours of the wine without actually purchasing it? Here are 5 options for the substitute wines available widely among different grocery stores and supermarkets.
What is Madeira Wine?
Madeira is a Portuguese fortified wine processed off the coast of Africa's Madeira Islands.
Madeira wine is made in a different style including dry wines that can be consumed directly, aperitif, and sweet wines, which are consumed with desserts.
The cheaper versions of Madeira wines are used for cooking as they are flavored with pepper and salt, but these cooking wines are not suitable to drink.
Madeira wine is the best option for cooking, but if you do not have Madeira wine at hand, then start thinking what are the substitutes for Madeira Wine?
Well, don't think anymore, here you can find the 5 best substitutes for Madeira Wine that helps you make your cooking extremely mouth-watering, you get the flavors and taste similar to Madeira wine.
5 Substitutes for Madeira Wine
These 5 substitutes for Madeira wine are the best options as they share the same flavors and taste as Madeira wine.
1 – Port Wine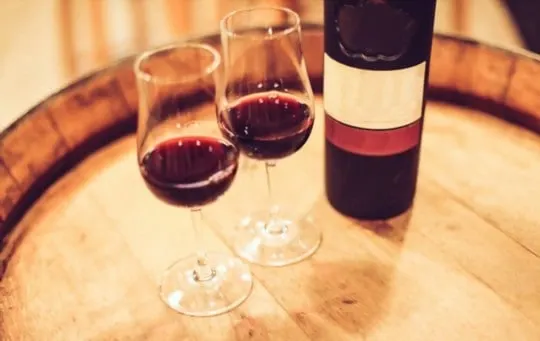 Port Wine is one of the best substitutes for Madeira Wine.
This seasoned liqueur is made similarly to Madeira wine that means Port wine is also a fortified wine (stimulated with grapes).
Port wine gives out outstanding flavor and aroma, and it is the best alternative for Madeira.
As per the experts' advice, choose aged, dry red tawny or white Port to get close to Madeira Wine.
This fortified Port wine has high ABV, and tastes sweet.
You can add different varieties of port wine to your recipe as it demands the flavors.
No matter what port wine you choose for your dish, you should know port wine add sweetness, so make sure to use accordingly to balance the flavors of your dish.
2 – Dark Sherry Wine
Dark Sherry wine is also a fortified wine and you can substitute Madeira wine with it.
The flavor of dark sherry looks like Madeira Wine, and it consists of dried fruit flavors which make the taste more concentrated and aromatic.
Dark sherry adds sweetness to the dish but the flavor is very strong which only needs small amount of this wine.
The only difference between Madeira and Sherry wine is that Sherry wine is made exclusively from white grapes.
Although, the color of the grapes is different still it serves as the best and perfect alternative for Madeira.
This wine is available in two main types including cream and Fino, both are sweet types, so you can use them as per your recipe requirements.
Cooking sherry wine is produced particularly to use it for cooking.
The cooking sherry wine is made a lower quality one as it contains preservatives and salt so that it can stay fresh for several months even after it is opened.
The cooking sherry wine contains extra salt, 180mg per serving that is why it is not suitable to drink.
3 – Marsala Wine
Marsala Wine is also a type of fortified wine and it is made from dried grapes in Sicily, Italy.
The flavor and the taste of Marsala Wine depends on the ingredients like yeast, alcohol, and grape variety used for making the wine.
Marsala wines comes with sweet or dry versions; make sure to check before buying which one you need for your dish.
If you need a sweet taste in your dish, then buy dry one otherwise get sweet one.
Marsala wine is more suitable for meat dishes because it has the same rich flavor of nuttiness, caramelization, and smokiness without overpowering the meats.
You can use this wine for all types of savory recipes especially ones with meat.
This wine is considered as a perfect alternative for Madeira Wine in sweet dishes because it has the same balance of sweet and acidic which are necessary in desserts making.
Moreover, this dessert wine can also produce distinct flavors in your dishes.
4 – Vermouth Wine
This is also a fortified wine that can be used as an alternative for Madeira Wine.
Vermouth is made from different types of grapes and definitely it tastes like Madeira Wine which definitely enhances your dish's flavor and taste.
Vermouth wine is suitable for preparing both sweet and savory dishes; you can add this alcohol in almost all types of dishes including brunch, appetizers, entrees, and desserts.
Vermouth wine has the same nutty and caramel flavors like Madeira Wine which add rich thickness to the dish.
However, this wine is not as sweet as Madeira, so you can use it in your recipe based on your requirement.
You can drink Vermouth Wine either straight or in a mixed cocktail; check before buying if this wine has an added flavor so you can get flavored Vermouth Wine if you need or drink it straight.
5 – Ice Wine
If you are looking for something sweet which can give richness to your dish, then try Ice Wine.
This wine has the natural sweetness so you don't need to add extra sugar in your recipes.
Ice Wine is made from grapes that are frozen while still on the vine; the cold temperature preserves the flavor and concentrates it to produce a very sweet tasting dessert wine with a thick consistency.
The taste of Madeira Wine is close to Ice Wine as both have similar flavor profile which includes dried fruit, nuts, and chocolate flavors.
You can use this wine in a recipe where you need a heavy sweetness like cakes and candies for instance.
Conclusion
Finding substitutes for Madeira wine is easy as there are plenty of fortified wines available in the market.
Fortified wines like Marsala and port are considered the best substitutes for Madeira.
However, when choosing the alternative wine for Madeira make sure to choose sweet or dry wine for better flavor and taste.
Also, choose the alternative wines as the recipe requires.
About The Author