It's creamy, delicious, healthy and a favorite of many people. Guess what; it's coconut milk.
This is a popular ingredient in many cuisines and recipes, and it has a rich, velvety taste that works well with other flavors.
Coconut milk is also an excellent substitute for dairy milk or cream in many recipes.
Thanks to its versatility and creamy texture, it's been used for hundreds of years in Southeast Asian cuisine.
If you have allergies to dairy, then it would be the perfect substitute for you.
But on the downside, some people have an allergy to or do not like coconut milk.
If you're one of those, then worry not because we have compiled 5 of the best substitutes for coconut milk.
Read on to know more.
What is Coconut Milk?
Coconut milk is an essential part of many cuisines, and you can use it in dessert recipes, curries, and many more.
However, some people don't know what it is or how to use it.
There are 2 variants of coconut milk: thick and thin.
People make thick ones from the flesh, while thin ones come from the water squeezed out of grated coconut meat.
Coconut milk is a healthy and nutritious alternative to animal-based products such as dairy and eggs that often cause allergies and other digestive problems.
You can also use it in vegan cooking for a rich texture without using dairy products like cream or cheese.
The 5 Best Substitutes for Coconut Milk
Coconut milk is a great ingredient in many cuisines and dishes.
However, not everyone can enjoy it because they are high in fat and saturated fat.
If you need an alternative for coconut milk and don't want to give up your favorite recipes, these five substitutes may be just what you're looking for.
1 – Almond Milk
Almond milk is created by mixing almonds in water and filtering off the lumps afterward.
You may also prepare it by combining almond butter with water.
It has a nice, nutty flavor and a velvety consistency similar to ordinary milk.
As a result, it is an essential alternative for vegans and others intolerant to or allergic to dairy.
According to Healthline.com, this milk also has genuine health benefits.
Commercial almond milk is available in a range of tastes and types.
Factory versions of it may include nutrients like calcium, vitamin E and D, etc., to increase the product's nutrient quality.
It is advisable to buy almond milk that doesn't include added sugar for health reasons.
You can substitute 1 cup of almond milk for 1 cup of coconut milk in any recipe.
2 – Soy Milk
You can exchange soy milk for coconut milk, but there are some differences in flavor and texture.
Although commercially bought soy milk is widely available and affordable, homemade ones are far superior.
It is entirely plant-based and has no saturated fat at all.
Soy milk is made by crushing soybeans and pressing the water out of the mix.
Soy milk came into the picture from around the nineteenth century in China, following the creation of the very first almond milk.
It has now become a vital ingredient of many foods, and it is used in a variety of Asian dishes, particularly Chinese cooking.
Due to its low sugar level, you may use soy milk to prepare various recipes.
You can make anything you want, from milkshakes to desserts to entire courses.
Suitable Ratio:
Like almond milk, you can usually substitute soy and coconut milk in a 1:1 ratio. .
3 – Rice Milk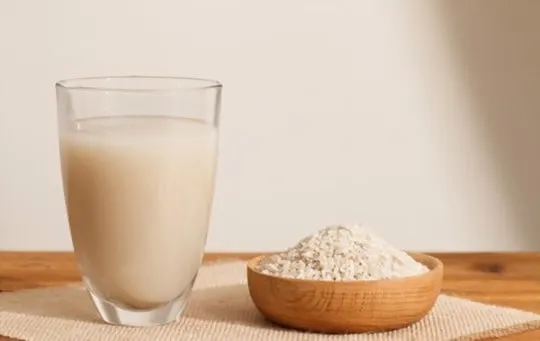 Rice milk is another option to use as a substitute for coconut milk because it has a similar consistency to nut milk.
However, it does not have the same richness as coconut milk because it doesn't contain fat or lactose content like other kinds of milk do.
This milk is an excellent choice to explore following the nut-based options for vegan or lactose intolerant folks.
This plant-based milk is produced from rice and is considered to have low fat, making it an excellent alternative for coconut milk.
It is thinner than cow's milk, but it contains higher carbs, and it also does not have the same amount of calcium or protein.
As a result, most commonly produced rice milk companies fortify it by adding calcium, protein, and vitamins.
Suitable ratio:
In most cases, we use a 1:1 ratio, but you can also substitute in a 1: ½ combination with coconut milk as the latter.
4 – Oat Milk
Oat milk has a mellow, buttery taste that works well in cereals, hot drinks, and by itself.
We soak the oats in water, mix, and then filter through a cheesecloth or perhaps a specific nut milk filter to make the milk.
The drink has a high nutrient content, particularly if it's supplemented.
It has more energy, carbohydrates, and fiber than most almonds, soy, or dairy but less protein.
Oat milk is frequently supplemented with vitamin D and calcium, which are beneficial to your joints.
It is generally harmless, even for ones who are gluten intolerant.
Suitable Ratio:
Again, it may be thick, but you can still substitute oat milk at a 1:1 ratio with coconut milk.
5 – Cashew Milk
Cashew milk is prepared in the same manner as almonds, but it has a stronger nutty taste.
We remove the cashews from the shells and roast them.
These are then immersed in treated water and mashed into a paste before combined.
The ultimate result is the liquid that is formed while pressing the pulp.
Because of its thick consistency, it is ideal for drinking or mixing with cereal.
You may also use it during baking and a range of other applications.
According to Healthline, this also has a wide range of nutrients and health benefits, making it yet another excellent alternative to coconut milk.
Suitable ratio:
You can use cashew milk in a 1:1 ratio with coconut milk for most recipes.
Conclusion
Coconut milk is a standard organic drink found in a wide range of recipes.
If you don't like the flavor or have none available, you can always have other options.
You may change most substitutes at a 1:1 ratio, but the taste may differ significantly.
Cashews, almonds, soybeans, rice, etc., are all great choices if you wish to find substitutes.