Have you ever wanted to pack your meals with the goodness and flavor of creamy cheese minus all the added dairy? Today, dairy-free cream cheese is revolutionizing the food game.
Whether you wish to dip, spread or cook with it, if you're looking for a delicious way to make your meals stand out while keeping them dairy free, then you need to try dairy-free cream cheese.
Not only is this amazing substitute packed full of flavor that hits the spot, but it also opens up an amazing world of culinary possibilities.
So, whether you want to find out how to use it for yourself or explore some delicious substitutions for classic recipes that usually call for cream cheese, chances are this revolutionary product can do it all.
What's Cream Cheese? Why Consider Vegan Cream Cheese?
Cream cheese is a soft, and creamy cheese spread that is often used as a sandwich topping, dip ingredient, or dessert filling.
It can come in various flavors like chives, herbs and spices, garlic, honey, and even smoked salmon.
But why consider vegan cream cheese? This delicious alternative uses plant-based ingredients instead of animal-derived ones and provides an earthy and nutty twist to your favorite recipes.
While the texture and taste may be slightly different from traditional cream cheese – it also comes with plenty of health benefits.
Vegan cream cheese not only contains enzymes that help support digestion but also contains healthy Omega 3 fatty acids, which are essential for cell growth.
You can enjoy this dairy-free version on toast for breakfast or use it for baking cakes; either way, the result will still be delicious.
The 5 BEST Dairy-free Substitutes for Cream Cheese
If you're looking for a non-dairy, vegan alternative to cream cheese, then you've come to the right place.
There are many delicious dairy-free cream cheese alternatives on the market today that won't leave you feeling deprived or missing out.
Here are five of the best dairy-free substitutes for cream cheese:
1 – Kite Hill Cream Cheese Alternative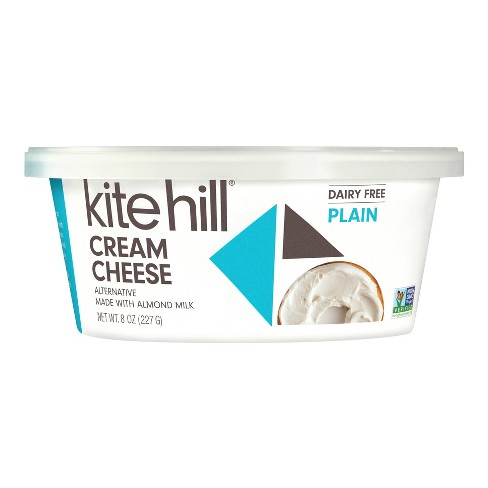 Kite Hill Cream Cheese Alternative is a game-changing addition to the world of vegan cream cheese.
An innovative vegan company, Kite Hill works with artisanal almond milk and cultures to create delicious dairy-free alternatives that are packed with flavor.
The texture is perfectly creamy and spreadable, just like traditional cream cheese.
You can use Kite Hill in your favorite recipes as a substitution for regular cream cheese – it melts or spreads just as well without giving up any flavor or texture.
My personal favorite is using it in sandwiches and bagels – it's become my go-to breakfast.
2 – Treeline Dairy-Free Cream Cheese
Treeline Dairy-Free Cream Cheese is a game changer for those looking for a delicious, dairy-free alternative to more traditional cream cheeses.
This vegan cream cheese has all the rich, creamy texture and savory goodness of its regular counterparts.
Treeline offers plain and scallion flavors that can be used in any dish you'd normally use cream cheese to make, from bagels to quesadillas.
The versatility of this product allows it to be easy to use as a replacement for traditional non-vegan-friendly cream cheeses.
Whether you're looking for a healthier alternative or just transitioning to a vegan lifestyle, Treeline Dairy-Free Cream Cheese is the perfect solution.
3 – Cashew Cream Cheese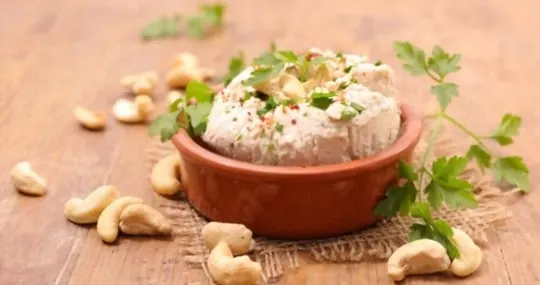 Cashew cream cheese is quickly becoming the go-to dairy-free cream cheese alternative – and for a good reason.
This cream cheese alternative is loaded with nutrients and has a delicious, creamy texture.
Its flavor is subtle yet adds an extra zing to any dish it's paired with.
Not to mention that cashew cream cheese also contains zero cholesterol and can be used as either a spread or as an ingredient in dishes such as salad dressings, veggie dips, cheesecakes, and more.
With more people opting for dairy-free options, this cheese substitute offers tremendous health benefits.
Not only that, but its versatility makes it the perfect choice for a variety of vegan recipes.
4 – Pureed Silken or Soft Tofu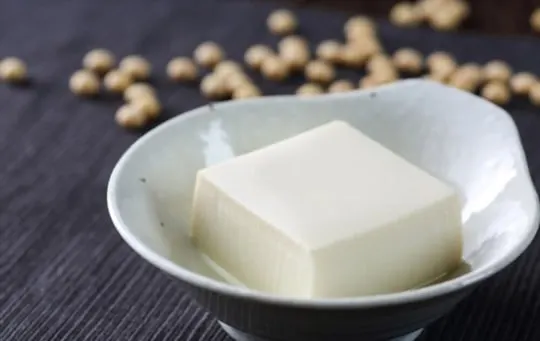 Pureed silken or soft tofu is an incredible ingredient suitable for so many different dishes.
It has a smooth texture and subtle flavor, making it ideal for use in creamy sauces, dips, and desserts.
For the vegan crowd, it makes the perfect dairy-free cream cheese substitute too.
To use this ingredient, you'll want to drain off any excess water before blending it in a food processor with seasonings of your choice.
If you are utilizing it as a cream cheese replacement, add olive oil, apple cider vinegar, and salt to contrast with its mild flavor.
With the ease of access and low cost, pureed silken or soft tofu should not be ignored.
5 – Tofutti Better than Cream Cheese
Tofutti Better than Cream Cheese is a revolutionary product that has revolutionized the dairy-free industry.
It's made with a combination of ingredients like soybean oil, tapioca, and natural cheeses that provide an incredibly smooth and creamy texture.
The taste has a mild tanginess that's similar to traditional cream cheese but not as rich or sharp.
Tofutti Better than Cream Cheese can be used in recipes any way you would normally use cream cheese in baking, cream sauces, salads, and sandwiches.
As a versatile replacement for dairy cream cheese, it can easily be substituted in any recipe while still providing the same consistency and flavor.
Perfect for vegan and lactose-intolerant households.
Conclusion
In conclusion, there are many dairy-free cream cheese substitutes on the market today.
Whether you're vegan, lactose intolerant, or just looking to replace traditional cream cheese in your recipes, these five best alternatives will ensure that your meals stay delicious and nutritious.
From Kite Hill's Almond Milk Cream Cheese to Treeline Dairy-Free Cream Cheese and Tofutti Better than Cream Cheese, there is something for everyone.
With these substitutes, you can enjoy all the flavor and texture of traditional cream cheese without compromising your health or dietary needs.