Have you ever wondered what it is about soybean oil that makes it such a popular cooking oil?
Its versatility and neutrality in flavor is one of the big factors, but its nutritive value, health benefits, and affordability add to its allure.
In recent years, more and more people have been turning to soybean oil in their recipes – but which substitutes can be used if soybean oil is unavailable?
From avocado oil to coconut oil, there are a variety of alternatives that bring tons of health benefits and unique flavors to the table.
With its neutral taste and health benefits, soybean oil is an excellent choice for those who want a nutritional oil with little impact on the flavor of their cooking.
What is Soybean Oil?
Soybean oil is a popular cooking oil often used in many types of cuisine.
It is a vegetable oil made from whole soybeans, which are soaked, then heated and ground into an extract.
The extract is then subjected to pressure extraction to separate the oil from the solids.
Soybean oil is multi-functional and can be used for salad dressings, frying, baking, and more.
As it is a plant-based product, it has the benefit of being free from trans fats and cholesterol – making it one of the healthier oils available.
Furthermore, soybean oil has a high smoke point; meaning that it can safely be used for deep-frying without producing dangerous chemicals or becoming too unstable.
When using soybean oil in different recipes or dishes, its flavor profile should always be kept in mind as this will have an effect on the overall taste.
Soybean oil has quite a subtle flavor that won't compete with other ingredients; however this also means that it won't add much flavor either.
As such you should always consider your other ingredients when using this type of oil; particularly when using it as part of a vinaigrette or marinade where multiple flavors are thrown together to make one cohesive dish.
The 5 Best Substitutes for Soybean Oil
Although soybean oil is widely available, many people are interested in finding suitable replacements to reduce their intake of this common allergen.
Fortunately, there are five great substitutes for soybean oil that come with their own unique flavor and health benefits.
Here is a look at the best substitute options for soybean oil:
1 – Canola Oil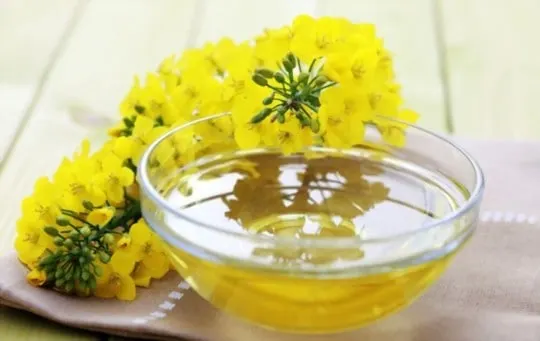 Canola oil is the top choice for a soybean oil substitute.
It is extracted from the seeds of canola plants, Brassica napus and Brassica rapa, and has a mild flavor with only a slight nuttiness.
This cooking oil is low in saturated fat and high in monounsaturated fats, making it a great choice for health conscious cooks looking to minimize their risk of heart disease.
Canola oil does have a higher smoke point than soybean oil so it's slightly better for high heat cooking methods such as sautéing, pan-frying, stir-frying and deep-frying.
However, unlike some other vegetable oils, canola oil does not have very long shelf life so it's best to store it in an airtight container in the fridge.
2 – Corn Oil
Corn oil is extracted from corn germ and has a light flavor and a high smoke point.
This makes it ideal for cooking, baking, deep-frying and sautéing.
It is an all-purpose oil that is often used as an alternative to olive oil and can also be used in set pan-fried dishes like stir-fry or crispy recipes.
It contains more saturated fat than soybean oil – monounsaturated fat, polyunsaturated fat and saturated fat – but has no trans fats.
It is high in omega 6 fatty acids which can have pro-inflammatory effects on the body when eaten in excess so it's important to consume this oil in moderation and pair it with anti-inflammatory foods such as fruits, vegetables, nuts and seeds.
3 – Coconut Oil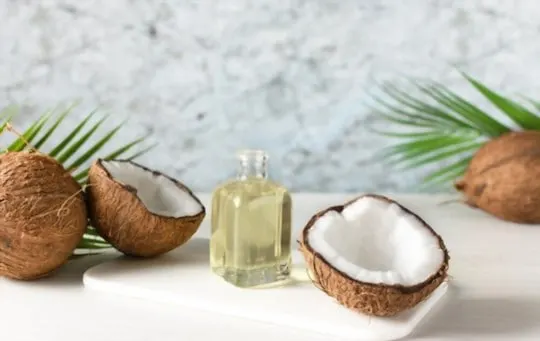 An increasingly popular choice, coconut oil can be a great alternative to soybean oil.
Although it has a similar smoke point (350°F, 177°C), it's not as flavor neutral as soybean oil.
It will impart a slight coconut flavor to your cooking and baking, but this can add depth of flavor and pair especially well with certain dishes.
Make sure you purchase organic, virgin coconut oil for cooking and baking needs as more processed oils may have less nutritional value.
Coconut oil is also known for its potential health benefits such as improved cholesterol levels and heart health, anti-inflammatory properties, and vitamin E content.
4 – Avocado Oil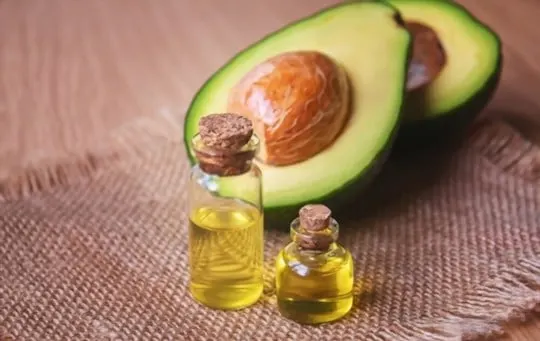 Avocado oil is similar to olive oil in that it's extracted from the pulp of an avocado fruit.
By comparison, soybean oil is derived from soybeans.
Avocado oil has a very light flavor and a higher smoke point than olive oil, which makes it better for high-heat cooking.
This makes it a great alternative to using soybean oil for stir fry, sautéing, and baking.
It's also very popular with home cooks due to its health benefits; studies have shown that avocado oil is great for helping lower cholesterol levels and promoting heart health.
Plus, it's rich in antioxidants and Omega-3 fatty acids making it even healthier than soybean oils.
5 – Olive Oil
Olive oil is the most popular substitute choice for soybean oil and it's easy to see why: like soybean oil, olive oil is both versatile and widely available.
The oil also has its own health benefits: It's rich in monounsaturated fatty acids, which are good for heart health, and its antioxidant properties will keep any dish tasting fresher for longer.
Olive oil will give your dish its own distinct flavor, so if you're making something that calls for a more neutral-tasting replacement, then this might not be the best option.
But if you're looking to introduce an extra layer of flavor to your dish then olive oil might be just what you need.
Conclusion
In conclusion, soybean oil has been a popular choice in cooking and health products for years due to its health benefits and versatility.
However, for those looking for an alternative oil due to an allergy or dietary restrictions, there are a few good substitutes that can be used.
These include other vegetable oils such as olive oil, coconut oil, avocado oil and olive oil.
Ultimately, the best choice of substitute will depend on the food you're cooking and your dietary needs; however no matter which you choose, each alternative offers its own unique nutritional benefits and flavor.