Neufchatel cheese is a type of white, soft cheese that originated in France and was created centuries ago.
It has a creamy texture and flavor, making it an excellent choice for use in many different dishes.
But have you ever wondered how to cook it and what the best choices are when substituting this cheese? Let's explore both topics so you can make the most out of your recipes.
We'll look at the techniques for using Neufchatel Cheese as well as discuss five top-choice substitutes.
So, don't worry if the coveted Neufchatel Cheese isn't available – there are plenty of options that can help you turn your dish into a French classic.
What's Neufchatel Cheese?
Neufchatel cheese is a soft, French-style cheese made from unpasteurized cow's milk and cream.
It has a mild flavor with a slightly salty aftertaste and a damp and crumbly texture that becomes firmer when aged.
While it may be similar in appearance to cream cheese, the two are actually quite different.
Neufchatel cheese has a higher fat content, which produces its unique texture and flavor.
While some find it too rich for their tastes, this cheese pairs wonderfully with red grapes or angel food cake as part of an elegant dessert platter.
Alternatively, it can be added to scrambled eggs or mashed potatoes for an extra boost of creamy goodness.
For one of the fastest and easiest appetizers around, spread some Neufchatel cheese on crackers paired with your favorite jam or chutney—it simply cannot be beaten.
The 5 BEST Substitutes for Neufchatel Cheese
If you've ever been in a situation where you're making a recipe that requires Neufchatel cheese only to realize you don't have any on hand, don't despair.
There are plenty of substitutes for Neufchatel cheese which will work just as well.
We've put together a list of the five best substitutes for Neufchatel cheese that you can easily find in your local grocery store.
1 – Ricotta Cheese
Ricotta cheese is one of the most astonishing ingredients used in a variety of Italian dishes.
This Italian delicacy made from whey is well-known for its creamy texture and a mild taste.
Its unique combination of sweetness and saltiness can make it a great addition to any dish.
Ricotta has a fine, moist texture which makes it excellent for baking applications as it helps to create light dishes with a nice crust.
Ricotta also works well as an alternative to higher-calorie Neufchatel cheese as it has less fat content – perfect for homemade lasagna and other baked pasta recipes.
When substituting for Neufchatel cheese, simply follow the recipe instructions and reduce the amount slightly, as ricotta tends to be more watery than Neufchatel cheese.
With its versatility, richness, and distinctive taste, this extraordinary ingredient adds character to any delicious meal.
2 – Cream Cheese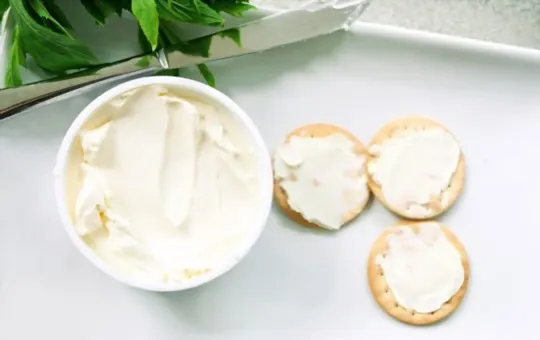 Cream cheese is a soft, spreadable cheese that is an essential ingredient in many recipes.
Whether you are baking cakes, making sauces, or whipping into frostings, it adds a creamy texture with its mild and tangy flavor to make any dish delicious.
Cream cheese is usually lighter than most regular cheeses yet firmer than ricotta, so the consistency makes it ideal for both smooth spreads and more solid dishes like lasagnas.
Substituting cream cheese for Neufchatel cheese is a great way to keep the same cool and smooth texture without sacrificing flavor, as even though they have similar compositions, Neufchatel's fat content is slightly higher, so it can lend a stronger taste to your recipes.
With its unique properties and endless possibilities, cream cheese will remain to be a go-to ingredient for restaurant chefs as well as home cooks alike.
3 – Cottage Cheese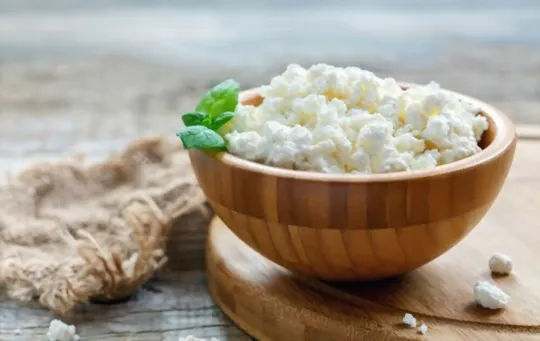 Cottage cheese is a versatile food that can show up at just about any meal.
Its crumbly texture and mild, slightly tangy flavor make it a favorite of many health-conscious eaters.
From salads to omelets, it adds a special something without overpowering whatever dish it's added to.
To use cottage cheese as a delicious substitute for Neufchatel cheese, simply process the cottage cheese in a food processor or blender until it reaches a smooth and creamy consistency; depending on your preference, you can also add a little sour cream or mayonnaise for added creaminess.
Whether you choose to keep it simple or get creative with various spices, adding cottage cheese to your dishes is sure to make them extra delicious in no time.
4 – Mascarpone Cheese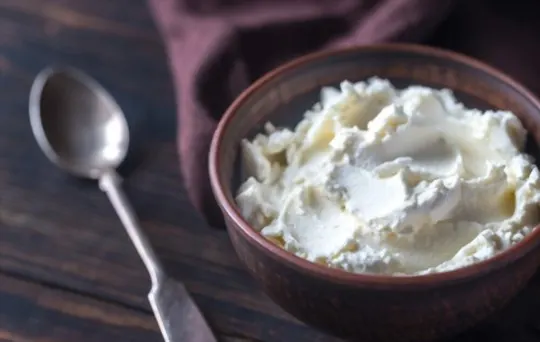 Mascarpone cheese is a cream cheese-like substance making a great addition to various dishes.
Originating in Northern Italy, this rich and flavorful cheese has a velvety texture that adds extra creamy smoothness to sauces, desserts, and more.
Its mild taste complements sweet flavors exceptionally well while being subtle enough not to overpower savory recipes like lasagna.
For those looking for a delicious alternative to the traditional Neufchatel cheese, mascarpone makes an excellent substitution.
Due to its high-fat content, it creates a luxurious texture that sets it apart from other cheeses – plus, you can use significantly less than if utilizing Neufchatel.
So if you're looking for something new for your next culinary delight or just an interesting way of spicing up some old favorites, give mascarpone cheese a try; you won't be disappointed.
5 – Boursin Cheese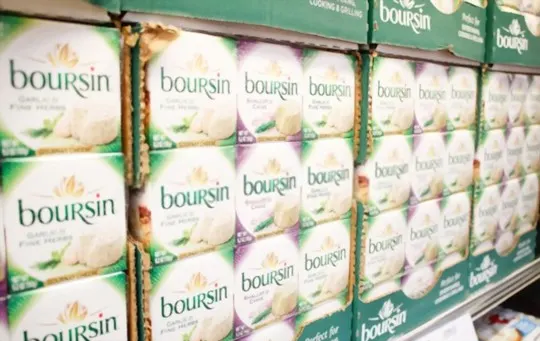 Boursin cheese is an incredibly unique gourmet cheese option that offers an interesting flavor that is perfect for mixing into recipes or enjoying alone.
Most commonly, Boursin cheese is made using a triple cream blend of cow's milk and garlic, parsley, and chives mixed in with other seasonings like shallot and pepper.
Those who have tried it often describe the taste as rich and creamy with a kick of garlic and herbs.
With a slightly softer texture than Neufchatel cheese when spread on crackers, Boursin cheese can be used as a substitute in many recipes that call for Neufchatel as well.
Those who already use Boursin cheese regularly swear by its versatility for creative cooking.
Whether it's being used to add flavor to macaroni and cheese or incorporated into a quiche mix, its irresistible flavor will be sure to please even the pickiest of eaters.
Conclusion
In conclusion, Neufchatel cheese is a versatile ingredient that can be used in many dishes to add flavor and texture.
But if you're looking for an alternative or just want to try something new, there are plenty of delicious options available such as cream cheese, cottage cheese, mascarpone cheese, and Boursin cheese.
So next time you're in the kitchen, don't be afraid to switch it up and experiment with some of these tasty cheese substitutes.