Gumbo is a soup dish that can be served as an appetizer, entrée, or side.
This hearty and spicy Louisiana Cajun specialty has been around for centuries.
Gumbo consists of vegetables such as onions, celery, bell peppers, okra, and tomatoes (among many others) in a thick roux-based sauce.
But what do you serve with gumbo?
That question is often overlooked when preparing for a gumbo dinner.
This article will provide ten side dishes that are delicious and perfect for serving alongside your favorite gumbo recipe.
What To Serve With Gumbo? 10 BEST Side Dishes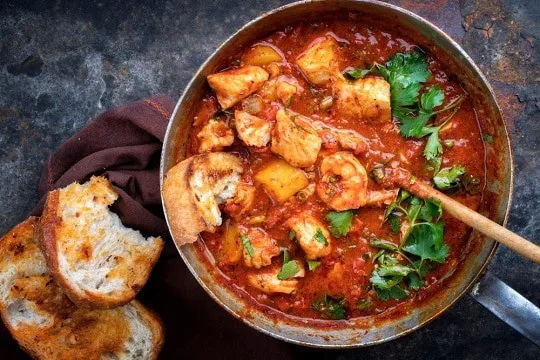 What is your favorite thing about gumbo? I'll bet you're thinking the spicy, flavorful broth or maybe those big chunks of tender meat.
And it's so good with a side dish to go along like rice and bread.
So what better way than serving up some delicious sides to compliment your favorite gumbo recipe? It will be an easy addition that everyone loves – from gourmands to kids alike.
1 – Cajun Fries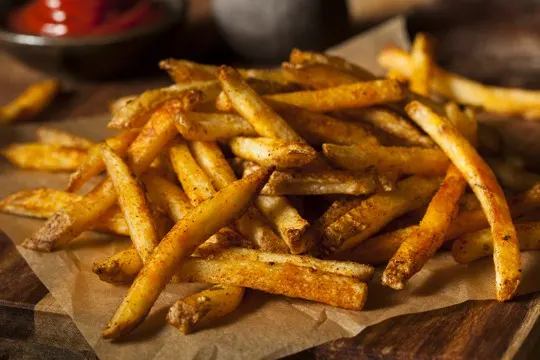 The Cajun fries and gumbo go hand in hand to give you the perfect balance of flavor and texture.
The fries are fried in a spicy, smoky seasoning that will leave you wanting more (and maybe some water).
First, cut potatoes into fry shapes and soak them in a mixture of cold water, salt, sugar, baking soda, black pepper.
Next, add some vegetable oil to the pan with a bit of butter added for flavor and let it heat up until you see bubbles forming on the surface.
Next, place the fries in the pan so they cannot touch one another, lower your heat to medium-high, and cover them with aluminum foil.
They will be done after about 15 minutes or when they turn golden brown.
And don't forget that Cajun seasoning – this is what makes these fries from good to great.
2 – Fried Okra
If cajun fries are on the menu, fried okra is another no-brainer.
The crispy bits add just enough sweetness and crunch to balance out all that spice in gumbo.
Okra's taste may not appeal to many people at first glance since it does have a slimy texture.
However, the most popular types of okra are fern varieties you'll find in your local grocery store produce section.
These vegetables take on any flavor added during cooking–making them versatile for use whether they're going into soup or hot sauce dishes like gumbos.
This dish can be time-consuming because it needs about 30 minutes of prep work before frying them for a few minutes on each side in hot oil.
But once you've done the hard part (the slicing), they're easy to make and perfect as an appetizer or starter course with dinner.
3 – Cajun Cornbread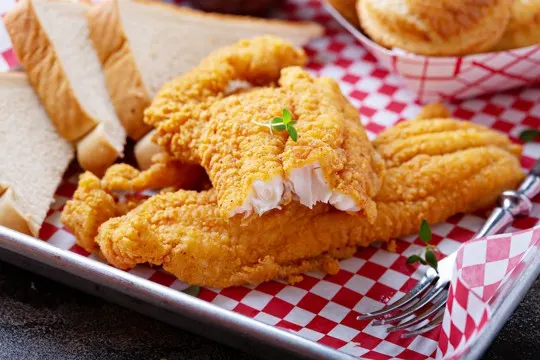 A lot of Louisiana dishes are served with jambalaya, but the most famous is gumbo.
This dish consists mainly of a rich and dark roux (a sauce made from oil or fat) that simmers for hours with vegetables like celery, bell peppers, onions, red beans, and okra.
A cajun cornbread should be used as a side dish because it balances out the richness in flavors while adding texture to your meal.
It has a low enough profile to stay behind and support the roux and other ingredients in gumbo while still tasting delicious on its own.
It is sweet and savory with a bit of spice from the cayenne pepper.
The moistness of this bread makes it perfect for dipping into your favorite gumbo.
4 – Fried Rice
If you're looking for a great way to spice up your gumbo, look no further than some hot and tasty fried rice.
It's as simple as heating oil in the skillet and tossing in all of those ingredients: eggs, soy sauce, garlic powder or minced garlic, some vegetable oil (canola is an excellent all-purpose choice), rice, and either chopped onions or frozen peas.
A few minutes later, you'll have your fried rice ready to go on the side.
What could be easier? And as a bonus, it's healthy too.
Just make sure that you don't break them when flipping those eggs and let them start to scramble.
If that happens, scoop the eggs out of the pan while they're still in big chunks.
And if you want to mix things up with your fried rice, try adding some shredded chicken or chopped ham along with those vegetables.
The possibilities are endless.
5 – Louisiana Crawfish Etouffee
Nothing can't compete with a good bowl of gumbo, but the side dishes can make or break your meal.
What you serve with it will depend on what kind you're making and whether they'll be served together in one dish like étouffée (or separately).
The best way to get delicious etouffee is by starting with fresh crawfish tails from Louisiana cooked over medium-high heat for about five minutes until their shells turn bright red.
Afterward, it would be best if you drained off the excess water before being added back into the pot along with other ingredients such as onions, peppers, garlic cloves, celery stalks, and okra.
At this point, low heat should be maintained for at least an hour while stirring occasionally.
Etouffee can come without meat depending on what ingredients are used, making for an excellent vegetarian option when hosting friends who have dietary restrictions or preferences.
6 – Baked Beans with Onion and Bacon Bits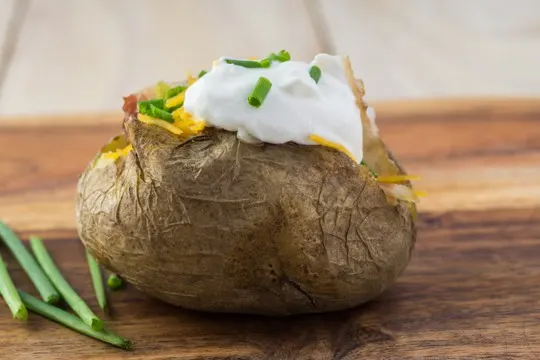 There are many reasons why baked beans with onion and bacon bits are a great side dish to serve with gumbo.
First, it has the perfect combination of sweet and salty that compliments many dishes.
It also provides some texture, so you don't have just one type of food in your meal.
The ingredients are simple, but the ways they combine can be surprising.
You can make this side dish with canned beans, dried beans that have been soaked overnight in water or even using a slow cooker recipe.
No matter what type of baked beans you use, they'll be delicious when mixed with some onion and bacon bits.
For the best results, cook your bacon first before adding to the simmering pot containing your favorite variety of baked beans.
If cooking from scratch, start by sauteeing chopped onions in olive oil until they are translucent, then add them to the baking pan along with salt and pepper for flavor.
7 – Tasso Scalloped Potatoes
Tasso Scalloped Potatoes are hearty, flavorful, and a great complement to any gumbo.
In addition to being easy-to-prepare, Tasso Scalloped Potatoes can also be made ahead of time in advance so that you have one less thing on your mind when cooking up this French Quarter favorite.
The potatoes help to lighten the texture of this rich and flavorful soup or stew while providing an alternative flavor to rice sometimes does.
Tasso is also known as Cajun bacon; however, it tastes very different from your typical pork belly treat that many Americans might enjoy on their morning eggs benedict.
Tassy's has more spice in its seasoning mix, making the meat taste much more robust, too- perfect alongside cayenne pepper-laden gumbo.
8 – Shrimp Remoulade
The dish might sound unfamiliar, but it's a Cajun classic – and is the perfect way to spice up your gumbo repertoire.
Remoulade or "mayonnaise salad" originated in France as an hors d'oeuvre spread on slices of bread; nowadays, you can find remoulade served with shrimp, crab cakes, fried fish, or even raw oysters.
This dish requires very few ingredients: mayonnaise (homemade), Worcestershire sauce, hot sauce like Tabasco pepper sauce or Louisiana-style Crystal Hot Sauce, celery salt, and lemon juice to taste.
The flavor will depend mainly upon the type of hot sauces used.
The key is balance and variety so try adding cornbread muffins as an appetizer and some pecan pie made from scratch while waiting on dinner.
9 – Hush Puppies
There are some misconceptions about how to spell this dish.
They are not "hushpuppies," and they're not primarily for puppies.
They originated in the Southern region of America, where cooking with cornmeal is every day.
The name comes from their resemblance to a dog's bed that has been cut open and filled with soft scraps or rags (generally old socks).
When cooked properly, these little cakes will have an outer crust that encloses a moist interior–just like your favorite canine bed.
To make them fluffy, add eggs before frying.
For this type of cooking, it's important not to overcook hushpuppies because they will become dense if cooked too long; so instead, keep stirring until golden brown, then remove from heat and serve immediately while still hot.
10 – Corn Bread Muffins
Authenticity is critical when it comes to gumbo.
To add authenticity, serve cornbread muffins as a side dish.
They're the perfect combination of fluffy and light with just enough savory seasoning to compliment any hearty, spicy meal like this Cajun classic.
I recommend starting by mixing your dry ingredients in one bowl- flour, sugar, baking powder & salt – then adding eggs, buttermilk, and melted butter before stirring it all up until thoroughly combined.
Then pour everything into greased mini loaf pans and bake at 350°F until golden brown on top, which usually takes around 30 minutes.
If time is tight, you can even make these muffins in advance and freeze them for later use.
Conclusion
Gumbo is a dish that has been served in Louisiana for centuries.
Traditionally, it combines smoked sausage with local fresh vegetables and seafood-based broth to create a complex flavor profile.
But, of course, an actual authentic dish would not be complete without side dishes on the table.
We've compiled ten sides that go great with some gumbos above.
Consider trying these side dishes when serving your next bowl of gumbo at home or out at your favorite restaurant.