Crystal Pepsi is a soft drink introduced by PepsiCo, sold in the United States in Boulder, Colorado, and Canada in 1992 and 1994. PepsiCo sold Crystal Pepsi in six-packs.
It became the new favorite soda of everyone since its launch. After some time, the company decided to stop making Crystal Pepsi due to low sales.
It came back to the market and relaunched in 2015 due to an online petition's massive success.
Unlike the usual brown color of Pepsi drinks, Crystal Pepsi is transparent and colorless. It has a softer taste with a hint of lemon.
What is Crystal Pepsi?
Crystal Pepsi is clear and has no color whatsoever. If you smell both regular Pepsi and Crystal Pepsi together, it smells the same.
But, if you compare Crystal Pepsi's taste with regular Pepsi, you will notice that Crystal Pepsi has a more delicate flavor with a sweet, bubbly touch.
Crystal Pepsi is also a bit fruity-flavored with a candy touch in the end.
If you take in the flavor with the taste, you will notice that Crystal Pepsi is also somewhat lighter than regular Pepsi.
Crystal Pepsi is pure vegan and contains no animal products.
For many people, Crystal Pepsi is not a soda but nostalgia. It was nostalgia for them when PepsiCo first launched the drink during their childhood, and because of it, many people like to re-buy the Crystal Pepsi bottles for childhood memories.
Now, Crystal Pepsi bottles are considered collector's items and can fetch you more than $ 5 a bottle online. Some sell Crystal Pepsi on eBay for up to $ 35 a bottle.
Give it a try if you can find Crystal Pepsi in your area and you're curious.
It's not that terrible to the point where you're going to waste your money and pour it down the drain, but it's also not perfect enough to buy more than one 20-oz bottle.
What Does Crystal Pepsi Taste Like? Does Crystal Pepsi Taste Good?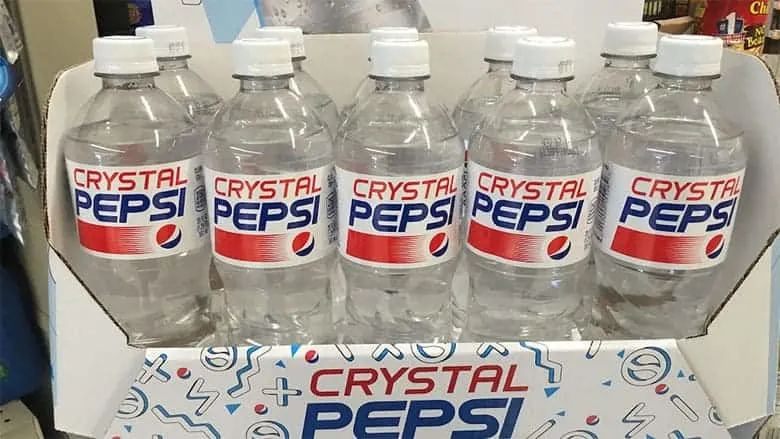 According to consumers, Crystal Pepsi feels smooth going down. It is refreshing and unique.
It is like a regular Pepsi and lemon mixture.
Regular Pepsi is a sweet and brown color with a fizzy caramel taste, but Crystal Pepsi has a citrus note touch.
It gives you the image of something 'pure' because of its transparency.
Not only that, compared to regular Pepsi, Crystal Pepsi has a lower percentage of calorie count. People consider it a healthier choice than regular Pepsi.
Since it is clear in color, it is a suitable choice for blending with alcohol for cocktails.
Nick O'Malley from Mass Live, Massachusetts, describes that Crystal Pepsi tastes almost like regular Pepsi with some minor differences.
He says that Crystal Pepsi is less sweet, clear and has a touch of lemon to it. It has a refreshing taste like a beer, but it is soda.
Check out his review with a video here.
Tony Merevick at Thrillist describes the smell of Crystal Pepsi as "a lot like the dark cola that you're used to, except for maybe the slightest hint of citrus and pine that we may or may not be imagining."
He further explains that the taste of Crystal Pepsi stands on its own as a cola.
Check out his full review here.
Crystal Pepsi has 250 counts of calories per serving. It has low sodium and has 0% of fat.
It has 69 grams of carbohydrates and 69 grams of sugars. It is good to drink Crystal Pepsi during breakfast.
How to Drink Crystal Pepsi?
All soda tastes better when it is chilled. Crystal Pepsi also tastes good when it is chilled.
But, the best part about Crystal Pepsi is that even at room temperature, they're good to drink.
Consumers who drink Crystal Pepsi prefer to drink it with whiskey. It is a popular favorite.
Chad Eschman from Vinepair, N Y C curates 3 top drinks with Crystal Pepsi. They are
1. The Wildest Cherry. Ingredients are Vodka and Crystal Pepsi
2. Turtle Power. Ingredients are White Rum and Crystal Pepsi
3. Krystal Kalimotxo. Ingredients are White Wine and Crystal Pepsi
You can find the full blend with servings here.
Tom from Antifoodie describes that Crystal Pepsi with Captain Morgan(a brand of flavored Rum) was quite different than mixing with regular Pepsi.
He further says that after waiting a couple of minutes, he took another sip, and this time it wasn't nearly as bad.
Everything seemed to have combined nicely and it was actually pretty enjoyable."
Even though many reviewers are unsure whether Crystal Pepsi is okay or not, one thing is sure. Everyone wants to give it a try because of its uniqueness.
We advise our readers to try it out too.
Conclusion
You will get your money's worth. According to PepsiCo, Crystal Pepsi is still available from Amazon, Target, and Walmart. It has made a successful comeback.
You can buy it here on Amazon. You can also get it here on Lick & Chew Sweet Supplies.
It has even developed a cult following over the years, with a #BringBackCrystalPepsi movement gaining steam online.
Check out the article by NBC New York here.
About The Author