The right temperature can easily make or break the taste of beer or any drink. And a mini fridge is a great way to achieve this.
Convenient and easy to use, they are the ultimate appliance to have a constant supply of chilled beer.
These mini fridges have ergonomic designs, and they fit snugly into the smallest of spaces. They also consume less energy than a regular sized fridge.
They come in a variety of sizes and shapes as well.
In this NewAir AB-1200 beverage cooler and refrigerator review, we will dig deep about the features as well as its pros and cons.
NewAir AB-1200 126-Can Beverage Cooler Review
This is a big brother of the New Air AB-1200. This freestanding cooler fits perfectly in any room. It is equipped with a seven custom thermostat setting, and its compressor cooling is very impressive, which can bring down the temperature to 34 degrees F.
The AB -1200 has enough room to store 126 cans of standard size. There are five removable chrome racks and a storage bin where you can chill large wine bottles.
You can also remove the racks and create more space if you want to store more bottles instead of cans. This unit has stunning looks so that it will match with any home décor beautifully.
For user convenience, NewAir has also thoughtfully added an LED light on the AB-1200. This product measures19 inches deep and 18.25 inches wide.
Pros
Holds a large number of cans, 126 to be precise.
The cooling technology is excellent.
Seven thermostat settings.
Interior LED lighting.
Customizable chrome rack.
Cons
There is no freezer.
Can only cool drinks.
Quite expensive.
Key Features And Benefits
This NewAir AB-1200 comes packed with features which makes it a standout from other mini beer fridges. So let's find out.
1 – Capacity
The large capacity is the first thing that strikes you about this refrigerator. Holding up to 126 cans, it is one of the mini fridges which hold the maximum number of cans.
Every inch of the 3.5 cubic foot interior is utilized very judiciously. It can comfortably hold 21 six pack of any beverage of your choice, which is impressive. Whether it is a game season or you are hosting a party, you will never run out of drinks.
2 – Performance
The heart of the cooling technology is the compressor. Running at 110 volts, the loudest noise it produces is 35db. You will not even notice that the fridge is up and running.
With a temperature range between 34 and 64 degrees F, you can confidently have a steady supply of cold beverages at your disposal. The AB-1200 works perfectly at keeping your drinks at the right temperature.
You can also adjust the temperature settings according to your preference using the seven custom thermostat. The thermostat settings need to be adjusted manually, though.
It has a straightforward plug and play, which makes using the fridge effortless.
3 – Design
The black stainless steel design lends a cool contemporary aesthetic to this mini fridge. You will appreciate its sleek look that will blend perfectly with any color scheme at home. Its freestanding design also allows it to be placed anywhere, whether it is in the office, a tiny apartment, a mini-bar or a man cave.
The fridge has a slight sloping at the top, so expect some adjustments. You will not be able to turn this fridge into a multipurpose one for snacks and so on.
We loved the chrome racks which can be removed and customized. You can take them out all at once or a single rack, and reshuffle them to fit cans, juices pouches, and bottles of any size. The chrome racks are five in number.
Another great design you will find very useful is the interior LED lighting. It is an excellent feature, especially when you need to use the fridge at night, or it is placed in a room with dim light. Thoughtful and smart designs like this one make the AB-1200 stand out from others in the same category.
The glass doors are double-paned, which offers excellent insulation. You can decide what you want to drink before you even open the door. A cool addition to the door is the recessed and reversible handle which allows you to open it in either direction.
Some other features worth mentioning are the metal gate at the bottom to prevent the cans from falling out and the drip pan at the back of the fridge, which needs occasional emptying. The overall materials used in the construction of the refrigerator are high-quality and are built to last.
4 – Additional Information
This mini fridge has a rear vent, so it is not recommended fixing it to a counter or wall. The auto defrost feature renders the fridge zero maintenance, which is another bonus.
It is a single zone type of fridge. It weighs 62.85 lbs and has a dimension of 18.40 inches in depth, 18.90 inches width and 32.40 inches in height.
If you have any issues with the fridge, you have a thirty-day window for the return policy.
The Verdict
The AB-1200 does an excellent job of keeping your drinks and beverages chilled at all times.
The smart and ergonomic design makes this mini fridge very versatile.
The sleek and minimalist aesthetics also makes it easily fit into any style or décor of the interiors.
About The Author
NewAir AB-1200 126-Can Beverage Cooler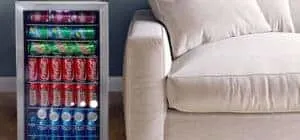 If you plan to use this mini fridge as a multipurpose one, you will be better off looking for another. It is primarily built to accommodate drinks, so keep that in mind if you decide to purchase this fridge.
Product Brand: NewAir
Product Currency: USD
Product In-Stock: InStock