This time of year the Fall weather is in full force and it's hard not to crave something warm and comforting like Chicken Pot Pie.
One of the best things about chicken pot pie is that it's so versatile. From creamy potato gratin to crispy oven-fried potatoes, there are many dishes you can serve with this dish as a side or for dessert!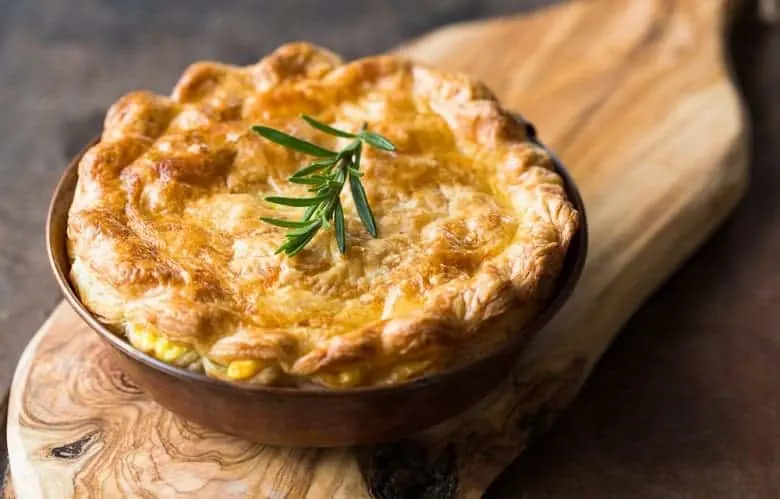 What to Serve with Chicken Pot Pie? 11 BEST Side Dishes
Options include Corn, Salad, or even some Mashed Potato Casserole – whatever your taste buds desire they will be pleased by these combinations.
In order to provide a complete and interesting meal for your guests, it's important that you select side dishes that will go well with the entrée.
Luckily, chicken pot pie is robust enough of an entree so there are plenty of other options when picking outsides!
Milder vegetables such as peas or carrots work great because they pair nicely without overpowering the dish at hand.
1 – Simple Salad with Lemon Dressing
The chicken pot pie is delicious, but it's lacking in roughage. Add some fiber to your meal with a spinach salad on the side!
It may not seem like much at first glance, but this light and crisp green dish provides you with all of those vitamins that help keep things moving along smoothly…and deliciously too!
2 – Roasted Veggies
It's a brilliant way to bulk up your meal without overpowering your entrée.
Whether you want carrots, potatoes, bell peppers, or cauliflower- there are plenty of options!
But here is my champion recipe: roasted broccoli topped with Parmesan cheese; it has so many great qualities and tastes delicious too.
Roasted veggies go really well with chicken pot pie, but it's just as tasty on pretty much any other entrée.
You can prepare broccoli by coating florets in olive oil and sprinkling them with parmesan cheese before baking them for 10 minutes at 350 degrees Fahrenheit.
3 – Mashed Sweet Potatoes
Mashed sweet potatoes can be a great side dish for chicken pot pie. They have the perfect flavor to complement this savory meal and are super easy to make!
Try adding cinnamon, nutmeg or even brown sugar when you're mashing them up with butter in order to give it more of an autumnal taste that your family will love – especially during these colder months.
4 – Glazed Carrots and Parsnips
It's a wonderful side dish for chicken pot pie.
In fact, they bring a lot of flavor to the table, but I think you'll find that your family will love them if not just because of their delicious taste then as well because they have all sorts of nutrients such as vitamin A which is good for eyesight, vitamin C to keep those immune systems up-to-date and helpful phytochemicals in these carrots like carotenoids.
The best part about this recipe is it's so easy!
5 – Corn on the Cob
If you are in search of an easy side dish that complements your chicken pot pie, then this side dish is perfect for you.
It only takes 10 minutes to prepare and will leave a mouth-watering flavor on the tongue.
For a fresh and healthy vegetable, try cooking corn on the cob. The perfect dish for any occasion!
Here are simple instructions to make your own delicious ear of sweet corn:
Boil them in water for around 10 minutes or microwave them at full power- whichever method you prefer.
To take things up a notch, add some butter after boiling– just enough so that when you peel back every last layer from each kernel with ease, there's still plenty left over for more yummy goodness!
6 – Brussel Sprouts and Bacon
Roasted Brussels sprouts are a delicious, light, and crunchy side dish! Pair with bacon for an extra flavor boost.
Not only do they taste greatly mixed in with your chicken pot pie but their vibrant colors will add more vibrancy to the plate as well.
7 – Cauliflower Mac and cheese
I love mac and cheese, but sometimes it can be a little heavy. This lighter alternative goes well with chicken pot pie!
You'll still get all the yummy flavors from your favorite comfort food minus those pesky carbs that make you feel sluggish afterward!
8 – Applesauce
Have you ever made a chicken pot pie? If so, then you know that it needs something to balance the spices with.
I've found that applesauce does this perfectly! It gives your taste buds just the right amount of sweetness while cutting through those spicy casserole flavors as nothing else can.
Plus, there are some great flavor pairings in an apple and carrot dish: think about how they might work for these healthy dinners too!
9 – Fruit Salad
Try serving some light fruit salad for your dessert course. A delicious fruit salad is a great idea to serve with your chicken pot pie.
Sometimes you can just get a plate of sliced apples, pears, and kiwis with honey drizzled on top or fresh maple syrup to really liven it up!
10 – Crudite
It's time to get started with your meal! To start the course, I recommend a light appetizer.
Chicken pot pie is super rich but a plate of crisp raw veggies will cut through that savory flavor just right.
Just slice up some carrots and celery, cucumbers for crunchiness, and broccoli or cauliflower if you're in the mood for something green.
It doesn't have to be complicated either-just arrange them on an elegant platter along with yogurt dip as my special touch at this point because it really makes all those vegetables taste better.
11 – Baked Asparagus
Maybe next time you have a pot pie craving, try adding in some asparagus! It's just the thing to round out that classic combination.
Also, it brings an amazing flavor and texture combo – crunchy on top of creamy goodness? Yes please!
Conclusion
You can never go wrong with the classics! These side dishes are a great way to spruce up your chicken pot pie for any occasion.
They're easy and quick to make, so you won't be spending hours in a hot kitchen like some people do on Thanksgiving day.
About The Author