Swapping out ground beef for vegan alternatives may seem daunting and overwhelming, but it doesn't have to be.
With so many different options available at our fingertips, it can actually be quite fun to explore new ways of cooking your favorite dishes without the use of meat.
Whether you're looking for something that mimics the texture of ground beef or completely different flavors, we have the perfect recipes that are sure to satisfy even the most difficult critic.
From classic tacos to chili, discover how easy and delicious it is to switch up the way you cook with vegan alternatives for ground beef.
Why Making the Switch Beneficial?
One of the primary benefits of switching from ground beef to vegetarian alternatives is that it can provide a healthier diet.
Meat products are often high in saturated fats and can contribute to negative health outcomes such as heart disease, stroke, and obesity.
Vegetarian-friendly options are typically lower in saturated fats and offer more fiber, vitamins, minerals and antioxidants.
They can also help reduce the risk of certain forms of cancer.
The 5 Best Vegetarian Substitutes for Ground Beef
A growing number of people are looking for healthier and more sustainable alternatives to traditional beef that are also vegetarian-friendly.
The good news is there are a variety of plant-based products on the market now that can be used as substitutes for ground beef in meals.
The five most popular among conscious eaters:
1 – Lentils
Lentils are quickly becoming a go-to option for folks looking to swap ground beef in recipes.
Lentils come in two forms — a French styled green lentil and the red split lentil.
Red split lentils disintegrate during cooking, making them an ideal substitution for ground beef, while green lentils hold their shape despite longer cooking, making them a great option for dishes such as shepherds or moussaka pies, instead of skillet dishes like tacos, chili or sloppy joes.
Lentils are an excellent source of fiber and protein that can be incorporated into many dishes ranging from breakfast hashes to dinner casseroles.
The nutrients present in these legumes have also been associated with improved heart health, balancing blood sugar and lowering cholesterol levels.
Additionally, when purchasing dry lentils, you are benefiting from a more affordable option than ground beef — earthy flavors of dried herbs complimenting the nutty flavor profile of cooked legumes is second to none.
2 – Firm Tofu
Tofu is one of the most versatile, affordable and nutritious vegetarian ingredients you can find in any store.
It is made from soybeans and has a firm texture that breaks apart easily, making it perfect for ground beef substitutes.
Firm or extra-firm tofu works best for this purpose as it holds its shape after cooking, even when crumbled.
As with all forms of tofu, firm tofu is low in fat, cholesterol and calories—but packs a protein punch unlike any other food.
Tofu also absorbs flavors really well making it really good as a meat substitute on its own or combined with other products to provide even more texture and flavor.
To use firm tofu as a ground beef substitute in your favorite recipes, start by draining off the excess water and crumbling into small pieces that look like ground beef.
Then season to taste and add to dishes the same way you would with ground beef.
You may have to cook the dish for slightly longer than usual – about 5 minutes extra – as extremely low-fat ingredients tend to take longer to absorb flavors when cooked compared to animal proteins like beef or chicken.
3 – Cauliflower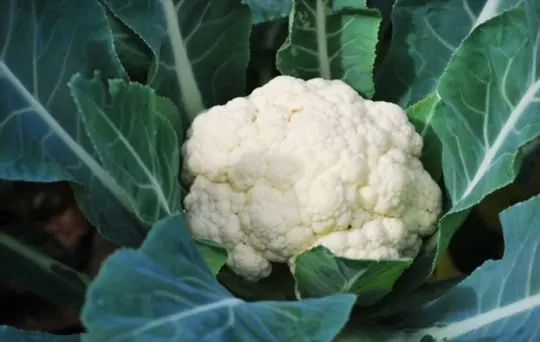 Cauliflower is an incredibly versatile vegetable that not only works in dishes that don't require a ground beef substitute, but can also be used as one.
To do so, cook the cauliflower until it's soft and mash it until it's of a similar consistency to ground beef.
This vegan-friendly option is great for burgers, tacos, and sloppy joes.
With some seasonings added to the mix like garlic powder, chili powder and paprika you will have yourself a flavorful and healthy finishing touch for some of your favorite dishes.
4 – Mushrooms
Mushrooms are the most popular alternative to ground beef and are great for making veggie burgers, tacos, and more.
Not only do they contribute a meaty texture and umami flavor, but mushrooms also give your dish a boost of fiber.
White mushrooms are the most commonly used in meatless dishes but different varieties have different flavors, so feel free to experiment with other types of mushrooms like shiitake or portobello.
You can also buy pre-prepared jarred mushrooms if you don't want to chop your own.
When using mushrooms as a replacement for ground beef, keep in mind that they have significantly less fat than regular ground beef so you may need to add some fat or olive oil for better flavor and texture.
5 – Seitan
Seitan, sometimes called wheat gluten, is one of the oldest vegetarian alternatives to meat.
It's made from wheat flour, shelf-stable and very high in protein — containing almost 25 grams per 3-ounce serving.
Seitan has a little more chewy texture than ground beef and is a lot higher in sodium.
It can also be blended with mushrooms or other grains for different flavors.
Be sure to check the label for added ingredients if you're looking for a vegan option.
Seitan can be found fresh as well as frozen and comes in both uncooked strips or pre-cooked varieties like crumbles or grounds.
It can be used as a substitute for ground beef in many dishes including tacos and burgers, stir fries and chili con "carne" — without the meat.
Conclusion
Switching to vegetarian options can be a great way to make healthier food choices and reduce your ecological footprint.
With so many delicious and healthful vegetarian ground beef substitutes on the market, it's easy to switch up your family's meals.
From lentils and mushrooms to TVP and tofu, there are plenty of options available for you to try.
Explore the world of vegetarian ground beef substitutes today – you may be surprised at just how tasty these healthier alternatives can be.