A pinch of rich red chili powder can spice up any dish that may taste bland.
Whether you like it subtle or hot, you can find a variety of products.
But as with all kitchen ingredients, you may not have chili powder at home sometimes.
What to do if you need it badly? Of course, look for substitutes.
There are many ingredients that you can use when it is not available.
So, we will see which items make the five best substitutes for chili powder.
What is Chili Powder?
Chili powder is a seasoning with one or several types of peppers, oregano, cumin, garlic, salt, and onion.
Some varieties may also include paprika, cloves, and cinnamon.
The most commonly used peppers are cayenne and the dried form of poblano pepper called ancho.
It is responsible for the deep maroon shade distinct from the bright red peppers.
Besides adding a spicy flavor to food, chili powder, and chili peppers also have major nutrients like iron, vitamin A and dietary fiber.
You can use Chili powder to season meat, sprinkle onto salads and vegetables, blend with minced beef for fillings and add it into sauces.
5 Best Substitute for Chili Powder
Whenever you need to add flavor and spice to your dish but can't find any chili powder at home, you can try out the following ingredients as a substitute for it.
1 – Cayenne Pepper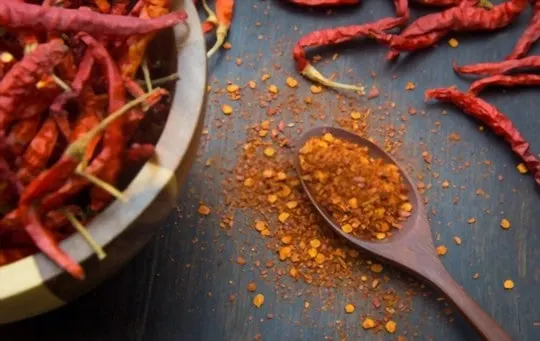 Apart from ancho, cayenne is another type of pepper that chili powder contains.
It is, therefore, a suitable alternative to it. But a bottle of cayenne pepper has only a dried powdered version devoid of any other ingredient.
So, it is not wise to ration it equally with chili powder.
After grinding them together, add some cumin, garlic, and salt to get an almost similar flavor to chili powder.
If you don't have packaged stuff, you can crush dried cayenne pepper along with fresh or dried garlic, cumin, salt, and even some lime together.
The combination will work great, and you can have that extra kick in your dish.
One interesting fact about the beautiful red pepper is that a substance in cayenne called capsaicin may help relieve headaches.
Suitable ratio:
• 1 teaspoon chili powder=1/8 of a teaspoon of cayenne pepper powder (add more as necessary).
2 – Paprika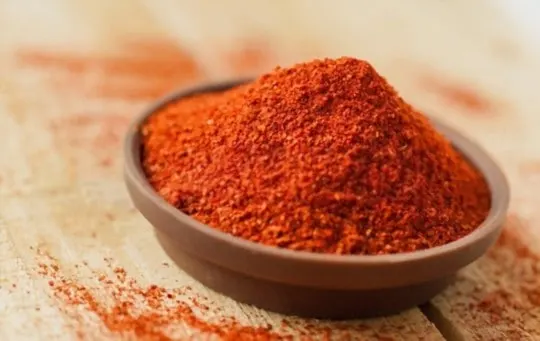 The red variety of paprika is also an apt substitute for chili powder.
Paprika is made of dried red peppers, but there are different kinds.
Some are hot and spicy, while others are sweet, and some are mild in flavor.
Paprika is a suitable replacement not only because it tastes and looks similar, but it is ideal for health too.
It has plenty of micronutrients and beneficial compounds like protein, fiber, iron, and vitamins A, E, and B6.
There are three types of paprika; regular, Hungarian, and Spanish.
The standard type is mild, not too hot, or sweet. Hungarian variety is again subdivided into several types.
Some are pretty sweet, while others are hot. Spanish variety may also be spicy or mild but with a smoky taste.
The measurement of paprika for chili powder will depend on what type of the former variety that you have.
Suitable ratio:
• 1 teaspoon of chili powder=1 teaspoon of mild paprika (regular type).
• 1 teaspoon of chili powder=1/2 teaspoon of spicy paprika (start with ¼ of a teaspoon to stay on the safe side).
3 – Cumin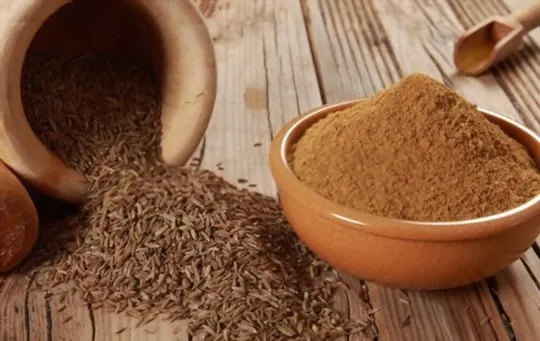 Indeed, not a surprise to see cumin here because it is present in chili powder too.
It is mild but flavorful. When you run out of your favorite chili powder brand, you can add some cumin powder.
Cumin is a popular spice in many cultures, including Indian, African, Mexican, and Asian cuisines.
Besides, people have also been using cumin for medicinal purposes.
It is supposedly helpful in weight loss, prevents memory loss, lowers cholesterol levels, and prevents diabetes.
So, it is undoubtedly a good option when chili powder is not there.
It also includes some paprika for color, garlic for more flavor, and cayenne if you want it hot.
Suitable ratio:
• 1 teaspoon chili powder= 2 teaspoon cumin.
• 1 teaspoon chili powder = 1 teaspoon cumin (with some ingredients that give heat).
4 – Ancho Chile Powder
Ancho powder is also one of the ingredients in most chili pepper brands.
It is milder in taste but has a very dark and rich color because of dried poblano peppers which have a darker shade.
Chili powders containing ancho are also darker than those that don't have it.
So, it will be an excellent choice to use when the other is not available.
Using ancho powder will give a smoky and earthy flavor and some heat but not hot like cayenne pepper.
So, if you want more spiciness, include some items that give heat.
You can use this chili powder version in various ways, like seasoning meat, making sauce, and sprinkling on multiple dishes.
Suitable ratio:
• 1 teaspoon chili powder (which has cayenne) =1 ½ teaspoon ancho powder (plain).
• 1 teaspoon chili powder (ancho)= 1 teaspoon ancho powder.
• 1 teaspoon chili powder (cayenne + ancho) =1 teaspoon ancho powder (with other spicy ingredients) Add more if needed.
5 – Dried Chile Peppers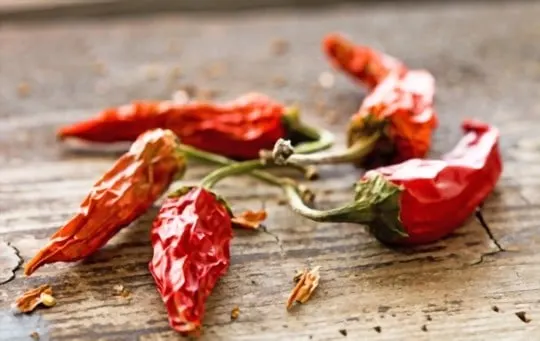 If you can use ancho and cayenne, why can't you use other dried chile pepper? There are so many to choose from such as pequin, cascabel, chiles de arbol, guajillo and others.
All are red when dried, but some are spicy while others are not so hot.
But the flavors are similar to chili powder, and so each chile powder will work fine.
It is even better if you have readymade variety in bottles because you don't have to do much.
However, if you have only the dried peppers, you can mince them. Remove the seeds from the dried pods and grind them in an appliance.
You can also make a paste with the powdered form if you want.
Suitable ratio.
• 1 teaspoon chili powder=1 teaspoon dried chile powder (less spicy).
• 1 teaspoon chili powder=1/4 or ½ teaspoon dried chile powder (extra hot).
Always start with less quantity.
Conclusion
These five items should stand in for chili powder quite ideally.
There are also some special mentions that you can opt for if you don't have any of these ingredients.
These are taco seasoning, cajun seasoning, dried pepper flakes, Chipotle pepper powder, harissa (Middle Eastern and African cuisine), black pepper, and oregano.
However, don't add a significant quantity into any dish at once, no matter what you use.
Start with a small portion and keep on tasting and adding if needed.
You will then have an aromatic, spicy, and delicious dish when it is done.
About The Author