Have you ever heard of the Italian dish called Veal Piccata?
Piccata is a type of Italian food that many people find intriguing.
There are many complicated dishes you can make from scratch, but not everyone has time for that.
What about those days when you don't have it in you to get creative with your cooking? This is where the concept of Piccata comes into play.
Veal piccata is not an appetizing name for a food, and many people do not think veal when they hear the word "Piccata".
Veal piccata contains thin slices of veal that are breaded and then sautéed to add flavor.
If you add ingredients such as lemon juice, white wine, and a few spices, your food will taste delicious in no time.
Some people find cooking with veal intimidating, but piccata is a dish that you can quickly and easily without spending too much money.
Even if you do not have any experience cooking with veal, making Veal Piccata is an excellent idea because you will ultimately control what goes into your food.
The best part about veal Piccata is that it can be served with a wide range of side dishes, and there are many delicious options to choose from.
These include fresh vegetables such as cauliflower, mushrooms, and spinach.
In this article, we will list eight side dishes that go perfectly with Veal Piccata.
Why Consider Serving Side Dishes for Veal Piccata?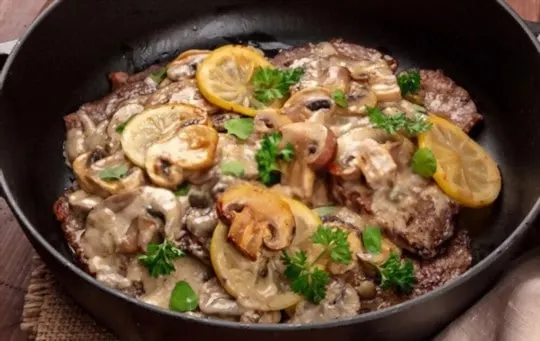 Would you like to serve a dish that will taste wonderful and take minimal effort? If so, consider serving veal piccata as one of the dishes at your next dinner party.
This simple recipe is made from only a few ingredients, making it easy to prepare and cook, even for not professional chefs.
In addition, the side dishes that would work well with this meal are very common.
Since veal piccata is made with very few ingredients, the flavor of the sauce is essential.
Therefore, it would be best to serve something that will complement or enhance this flavor in one way or another.
For example, fresh tomatoes may not taste good with veal piccata because they can overpower the sauce's flavor.
However, a green salad with a light, creamy dressing will provide a nice contrast to the flavors of the veal and sauce.
What to Serve with Veal Piccata – 8 BEST Side Dishes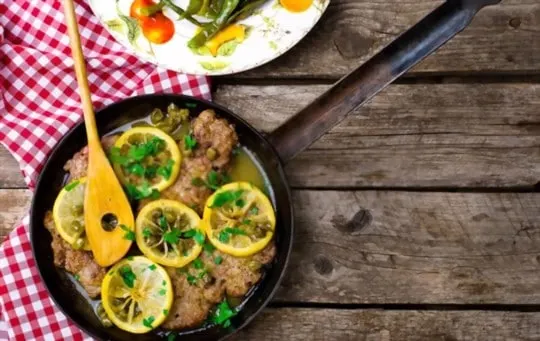 Here are eight side dishes that would work very well with veal piccata:
1 – Caesar Salad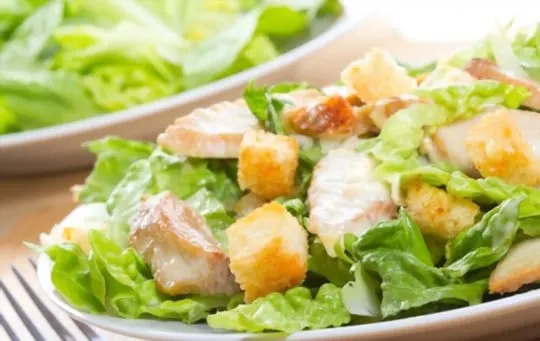 A Caesar salad made with romaine lettuce, parmesan cheese, croutons, and creamy dressing would go very well with the flavors in the veal piccata.
This salad is also packed with nutrients that are important for maintaining a healthy body.
Many different ingredients can be included in a typical Caesar salad.
The dressing is the most critical component, as it is what brings all of the ingredients together.
Caesar salad dressing is made from a base of mayonnaise, eggs, lemon juice, Worcestershire sauce, garlic powder, and Parmesan cheese.
To add an extra zing to the dressing, red pepper flakes are often included as well.
You can even add anchovies to the sauce for a more pungent taste.
2 – Fettuccini Alfredo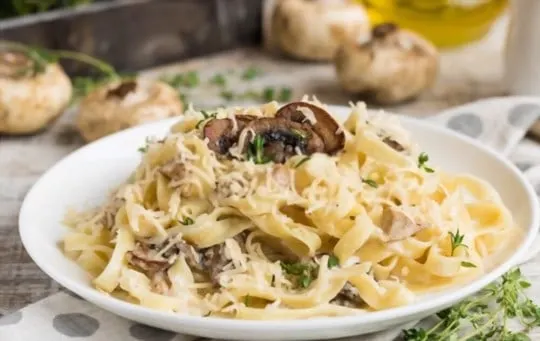 An Italian favorite, fettuccini alfredo, is a creamy pasta dish that goes perfect with the veal piccata.
The dish's sauce is made by combining butter, heavy cream, and Parmesan cheese in a saucepan on medium-low heat.
While the sauce cooks, the mixture should be constantly stirred.
It is crucial to start this dish with good-quality pasta since it will carry the sauce well on its own.
The fettuccini noodles should be cooked first, drained, and then added back into the pan along with the butter sauce.
If you plan on adding meat to this dish, chicken is an excellent choice as it enhances the flavors in the alfredo sauce.
3 – Roasted Vegetables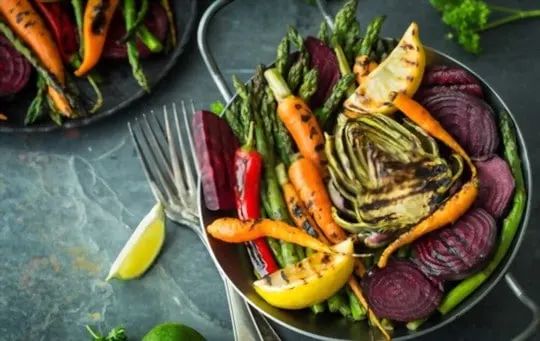 A side of roasted vegetables would be an excellent choice to serve with the veal piccata because it can balance all of the flavors used in making the dish.
The vegetables are cooked at high temperatures for around thirty minutes.
They are then seasoned and served hot.
The vegetables commonly used to prepare this dish include zucchini, eggplant, summer squash, and bell peppers.
Widely available vegetables can also be included.
A red or yellow onion that has been chopped into wedges often goes well with the other veggies.
4 – Green Beans Almondine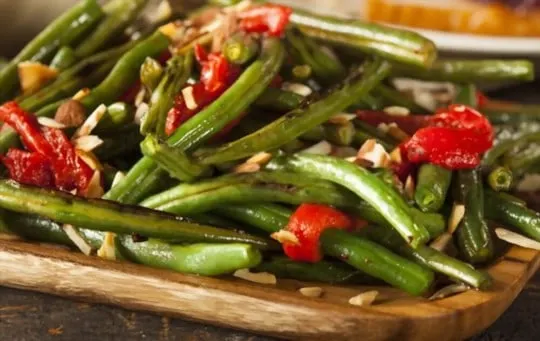 Green beans almondine is a dish that is made by sauteing green beans in butter and garlic.
Toasted almonds are then added for flavor along with salt, pepper, and lemon juice.
Sauteed vegetables are often served with veal piccata since it contrasts the creamy flavors of the sauce.
The sauce of this dish pairs well with the sauce of veal piccata.
Green beans almondine is also a healthy dish that can provide essential vitamins and minerals, which are essential for maintaining good health.
5 – Polenta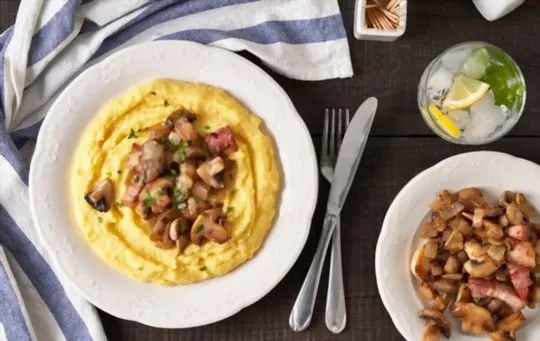 Polenta is a dish that consists of cornmeal cooked in boiling water with milk and butter.
This type of dish pairs well with veal piccata because it can be served similarly.
Polenta has a soft texture, and a mild flavor blends nicely with other ingredients surrounding it.
Vegetables can be added to the dish or served topped with chicken or veal piccata sauce.
6 – Spinach and Tomato Quiche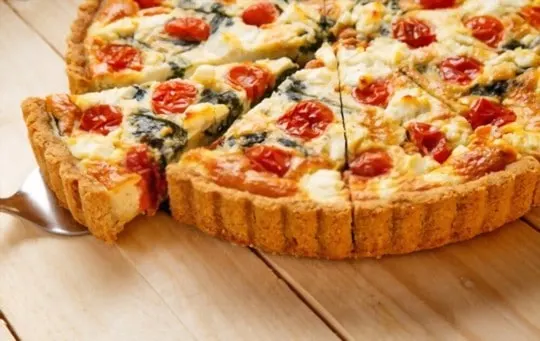 A different spin on a classic quiche, spinach, and tomato quiche is a flavorful dish that works well aside.
It includes cheese, eggs, milk, salt, and pepper in its ingredients.
Quiche is often served as an entree, but it works well as a side dish since it can be eaten with other food—the spinach and tomato pair nicely together due to the similar flavors of both items.
Quiche has a creamy texture that goes well with veal piccata sauce.
7 – Wild Rice Pilaf
Wild rice pilaf is a side dish that can provide an exciting contrast to veal piccata.
The ingredients of this dish include wild rice, various seasonings, and a light broth.
This dish includes many different items, so it provides a lot of nutritional value for the amount consumed.
It has a rich flavor that can balance out the sauce of veal piccata.
The distinct flavors of the rice make it a great side dish for any meal.
It's even delicious with the addition of chicken.
8 – Baked Potatoes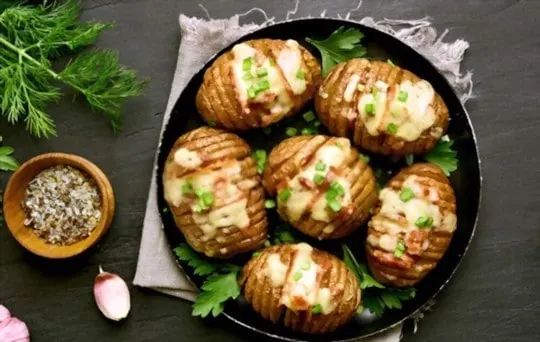 The final choice for a good side dish to serve with veal piccata is a baked potato.
It can be served plain, or it can be topped with various items.
The best part of this dish is that it can go with almost anything.
Potatoes are hearty enough to stand up to the sauce used in veal piccata, and they pair nicely together.
If desired, other ingredients such as cheese or sour cream can be added to provide contrast.
Baked potatoes also have a great texture which prevents them from falling apart when combined with the creamy sauce.
Conclusion
In conclusion, veal piccata is a dish that is excellent as an entree or as a side, depending on preference.
When paired with a suitable side dish, it can provide an enjoyable experience for all taste buds.
As mentioned above, all of these dishes are tasty choices that can go well with veal piccata.
Some work great as a main course, while others pair nicely as an aside.
Each one has different benefits to consider when choosing which to serve.
About The Author