Polenta is a North Italian dish; we make it from ground corn.
It is usually eaten like porridge or left to harden so that the Polenta can be fried or baked.
The Polenta was a peasant's meal. It became the staple food for most of the poor and commoners in Europe and North America.
Polenta is commonly yellow, and the color differs from what kind of grain we use.
Corn, as we know it, is the primary grain used to make Polenta.
But before the availability of maize, chickpeas, millet, or buckwheat were used to make Polenta.
What does Polenta taste like? Read more to find out!
What is Polenta?
The term polenta originated from the Latin word meaning "peeled barley" and links to the word 'pollen' which means "fine flour."
Polenta is made by grinding corn into fine flour and is sweet in flavour.
We can cook the Polenta texture to be creamy and thick or allowed to harden, and we can slice it the way we want.
We can eat it in place of pasta or rice. You can even use the flour to coat chicken for a challenging, crunchy crust.
Polenta can also be used as a substitute for flour while baking cakes and other baked goodies.
It is healthier than flour, and cakes that use Polenta are moist and have an excellent texture.
What Does Polenta Taste Like? Does Polenta Taste Good?
Since Polenta is ground corn, it tastes somewhat like corn. It is like cornmeal with a difference, though.
It is starchy and has the texture of any oatmeal. They have a sweet taste when cooked, and the better cornmeal you start with, the better it will taste.
Polenta is a source of calories, fat, protein, and fibre. It does not produce cholesterol and is a relatively healthy food source.
Polenta is coarsely ground than cornmeal and thus has a better crunchy consistency than most oatmeal's.
We can use Polenta as stuffing into bacon and cream stuffing.
It is delicious when you add this to a chicken, flavoured with herbs and lemon with caramelized garlic. It is also very nutritional.
Polenta is also a better alternative to potatoes because it does not have a strong flavour.
So we can use it in many recipes and a variety of food. It is a source of fibre and protein in our diets.
Since we eat fibre to keep the digestive system in good shape, Polenta can be one such food to provide you with the fibre you need.
Polenta also contains Vitamin A, which is essential for the lungs, heart, and kidney's proper functioning.
Polenta also has iron, magnesium, and zinc, referred to as essential minerals for the body.
The quantity of these minerals is not large, but it still provides enough for the body. It helps to have a healthy and balanced diet.
How to Prepare and Cook Polenta?
We can use Polenta for various dishes in cooking, like in savoury recipes. Pour the Polenta into boiling water and stir.
We can eat it as is, or you can let it set on a tray, slice and eat it or bake it.
To add some flavour to your Polenta, you can add milk to the pan while boiling the mix.
You can add a slab of butter and some grated parmesan. If you want the smooth texture for your Polenta, you need to keep the spoon always moving.
Here is a recipe to try at home:
Polenta with roasted mushrooms and thyme– Roast mushrooms with thyme sprigs and garlic, adding salt and pepper, and Polenta always goes well together. Try out the recipe, and you will love it if you love oatmeals.
The Polenta was a lower class dish, and they depended on it for their daily nutritional intake.
More like your porridge, Polenta can be eaten as breakfast or as snacks depending on the Polenta version you like.
For the working class in Italy, Polenta was a simple yet satisfying dish.
Polenta has been remembered and cooked to this day and is still a staple dish in Italy.
Conclusion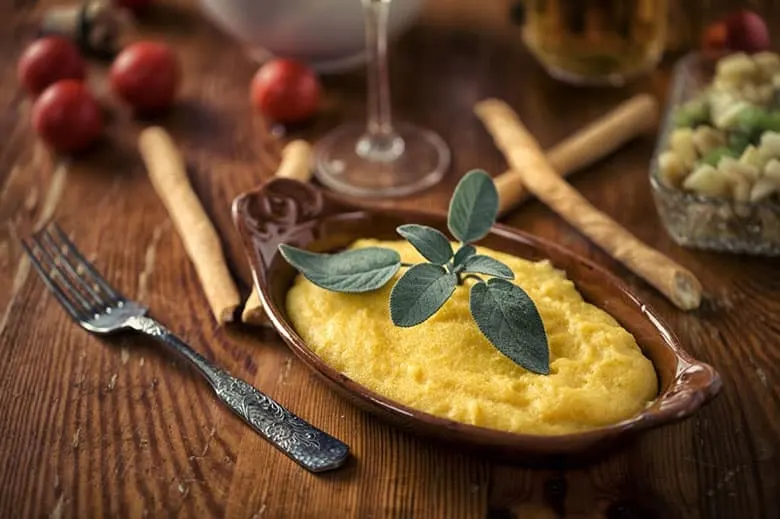 Polenta is low in calories and fat and is the right choice for people who want to lose weight or maintain a balanced weight.
We can consume it in its traditional recipe or prepare the Polenta like the recipes shared above.
For a healthy life, let us replace calorie food with Polenta and other alternatives.
About The Author