Have you ever wondered what Tempura flour is and how to use it in the kitchen?
It's a type of finely milled wheat flour used mostly for frying, but it can also be used as a thickening agent for soup or gravy.
The unique blend of wheat, salt, and other ingredients gives Tempura Flour its light and crispy texture.
Although it may sound tricky to substitute, there are a few substitutions that are great alternatives to using Tempura Flour including cornstarch, all-purpose flour, rice flour, or even arrowroot flour to achieve similar results.
Learning how to cook with Tempura Flour and exploring the best substitutes can open up a world of possibilities when cooking delicious dishes at home.
What's Tempura Flour?
Tempura flour is a type of wheat flour used for deep-frying which makes the food exceptionally light and crispy.
Its origin dates back to the 16th century when Portuguese traders introduced it to Japan in their quest for bigger and better flavors.
Characterized by its fluffy and crunchy texture, tempura flour is ideal for tempura-style cooking where it lets vegetables, seafood, and other ingredients absorb less oil than typical deep-frying methods.
As more than just an ingredient, tempura flour offers a new way to enhance flavor and create a unique sensory experience.
To use it effectively, simply coat your ingredients in tempura flour batter with water then cook until golden brown.
You won't regret giving this unique flour a try.
The 5 Best Substitutes for Tempura Flour
If you're looking for a light and crispy fried dish, tempura is a perfect choice.
Unfortunately, some may find this style of cooking difficult due to its reliance on tempura flour.
To make it easier, here are five of the best substitutes for tempura flour.
1 – All Purpose Flour
All-purpose flour is an essential staple that can be used for a multitude of purposes.
With a subtle taste and light texture, it's no surprise that this flour is so versatile.
You can use all-purpose flour to make cakes, muffins, bread, and even savory dishes like crispy tempura vegetables.
To substitute all-purpose flour for tempura flour, start by mixing it with some cornstarch.
Then add baking powder, salt, and water to create the perfect tempura batter.
With such a wide range of applications, all-purpose flour should be a kitchen cupboard must-have for everyone.
2 – Rice Flour
Rice flour is a great ingredient to have in your pantry as it can be used for so many things.
It has a subtle nutty flavor and a fine texture, which makes it perfect for stir-fries, soups, sauces, and even baked goods.
What's more, its gluten-free nature is extremely beneficial for those with intolerances and allergies.
Additionally, you can use rice flour as an alternative to tempura flour if you're looking to make an identical dish with a few twists.
All that needs to be done is then to substitute the tempura flour with equal parts rice flour; this will help retain the same flavor but crunch.
Other variations of the ratio between tempura and rice flour can then help create different textures.
3 – Potato Starch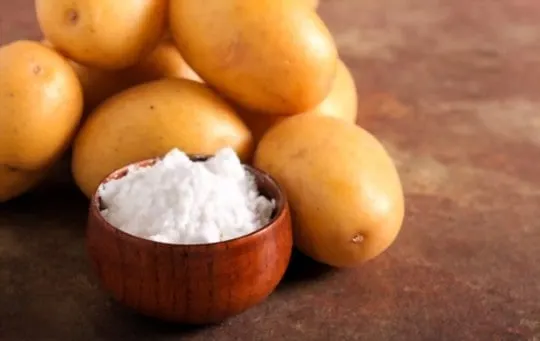 Potato starch is a carbohydrate ingredient popular in Asian cooking, having a flavorless and light yet slightly gritty texture.
Although similar to cornstarch, potato starch has more protein and consequently more elastic properties.
It also has twice the thickening power of cornstarch when compared with equal amounts of water.
Potato starch gives tempura that characteristic light, and crispness that could not be achieved using wheat flour alone.
To substitute potato starches for tempura flour, simply increase the amount by one-third.
This helps to stop the batter from dripping off the food and ensures a light, tempura-style coating after cooking.
4 – Cornstarch
Cornstarch is an indispensable part of many pantries.
It lends a light, delicate texture to everything from sauces to fried foods and can even be used as a thickening agent for stews and other liquids.
The taste of cornstarch is pretty neutral and dissolves completely when mixed with liquid, so it won't alter the flavor of your dishes too drastically.
If you need a substitution for tempura flour, cornstarch should do the trick.
Just mix equal parts water and cornstarch together until you get a paste-like consistency, then dip your ingredients into it for crunchy batter-covered snacks.
This substitution will fry up golden and crispy every time.
5 – Arrowroot Flour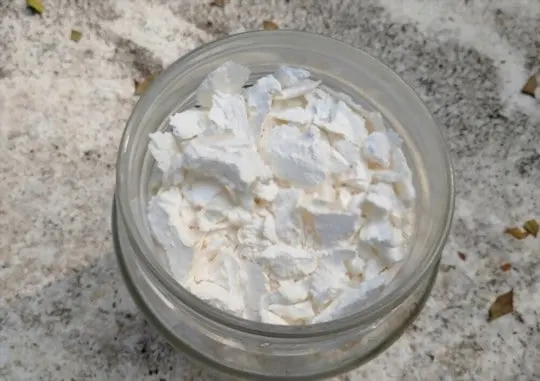 Arrowroot flour is a natural starch derived from the tubers of several species of Maranta genera – tropical plants native to South and Central America.
It is light-colored in comparison with other flours, providing a neutral taste and light, fluffy texture.
This unique combination makes arrowroot flour perfect for use as an ingredient in savory dishes like tempura.
To substitute it for traditional tempura flour, simply combine equal parts of arrowroot with regular all-purpose flour.
This will result in a perfect tempura that is sure to please.
Conclusion
In conclusion, there are many great substitutes for traditional tempura flour that can be used to create the same light and crunchy texture.
Whether you're looking for a gluten-free option or something with a more neutral taste, all-purpose flour, rice flour, potato starch, cornstarch, and arrowroot flour can all provide equally tasty results.
About The Author