Swiss Chard has colorful and bright stems, which makes it one of the most attractive vegetables.
Countries such as Italy and South Africa tend to have the most productive of these greens.
This leafy vegetable can be sauteed or steamed, and it pairs well with quiches, soups, frittatas, stews, and casseroles.
You can try interesting recipes like the "Creamed Swiss Chard with Bacon" and "Roasted Swiss Chard Stems".
What are the best substitutes for Swiss Chard? They are Mature Spinach, Collard Greens, Beet Greens, Mustard Greens, and Black Kale.
What is Swiss Chard?
A Swiss Chard refers to a green leafy veggie, which is related to spinach and beets.
Its leaf blade possesses a red or greenish color, and its leaf stalks feature a white, red, or bright yellow.
The leaves of this vegetable are very nutritious and pair well with a healthy diet.
This vegetable is packed with Vitamins K, A, and C, including potassium, iron, and magnesium.
The stems of this plant will take longer to cook compared to the leaves.
Also, its leaves have a pleasantly bitter taste, and the stems have sweet undertones.
Swiss Chard tends to appear a lot in both American and Mediterranean dishes.
Also, the name of this plant has nothing to do with Switzerland.
Plus, this vegetable is also found in Turkish and Egyptian cuisines.
5 Best Substitutes for Swiss Chard
Here are some of the best alternatives for Swiss Chard:
1 – Mature Spinach
The leaves from mature spinach are by far the closest alternative to a Swiss Chard.
We won't suggest you use baby spinach since it doesn't have that bitterness and crunch like Swiss Chard.
The nutritional profile of Mature Spinach is also similar to that of a Swiss Chard.
Most people can't tell the difference between the two when cooked.
Mature spinach possesses a mild taste and lacks earthy flavors.
Here, both the stems and leaves of this vegetable are edible like Swiss Chard.
Substitute Ratio – You can use the same amount as the Swiss Chard because they are very similar in taste.
2 – Collard Greens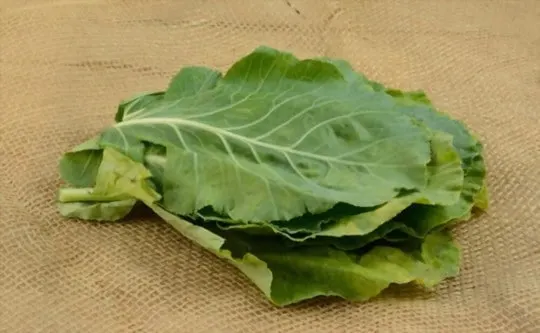 This nutritious and popular leafy green looks quite similar to broccoli and cabbage.
When it comes to its taste, it is almost the same as mustard greens and Kale, making it a great alternative for Swiss Chard.
Collard Greens possess leaves that are large like chards with the texture of a cabbage leaf.
However, it doesn't completely taste like a cabbage.
It does have those nutty and bitter flavors, which are quite similar to that of a Swiss Chard.
Collard greens are widely eaten in South American and East African countries.
But you can only eat its leaves as the stems are too hard to be edible.
Substitute Ratio – Since both the leaves of Collard Greens and Swiss Chard are bitter, they can work with equal servings in your dish.
3 – Beet Greens
Dark leafy type of greens tends to garner the most similarities with Swiss Chard in terms of appearance.
But Beet greens feature a nutty and creamy type of flavor whenever you cook them.
They go well in stir-fries and salads, especially when you don't have any Swiss Chard at home.
Most people aren't aware of this vegetable.
But beet greens tend to possess a fruity and powerful sweetness that is a little stronger than Swiss Chard.
Beet Greens works out well with sauces and purees.
Substitute Ratio – Even though it has a crispy texture like Swiss Chard, you should only use for ½ of the Swiss Chard amount needed in the recipe.
The extreme sweetness and nuttiness will overpower your dish.
4 – Mustard Greens
Mustard greens also go by the names of Chinese, Oriental, Vegetable, or Indian Mustard.
This vegetable also features a bitter and sharp taste, especially when you eat it raw.
It does slightly match the Swiss Chard's flavor profile.
You can choose to boil, stir-fry, or steam your mustard greens.
The leaves also possess an earthy and peppery taste.
Plus, they contain a rich source of vitamins and compliments your health well.
Substitute Ratio – Since it can be peppery and a little too earthy, you should add about ¾ of the amount required for the Swiss Chard in the recipe.
5 – Black Kale
When it comes to Kale, we have a multitude of options to choose from.
But Black Kale is the most popular one, and it also goes by the names of Lacinato Kale, Tuscan Kale, and Dinosaur Kale.
The leaves of this vegetable are dark green and almost black-like.
The texture of its leaves has a bumpy look, which is similar to that of crinkled paper or lizard skin.
Black Kale also doesn't come with curly leaves, which most common kale plants have.
It is sweeter and nuttier compared to the normal Kale and is quite similar to Swiss Chard.
Substitute Ratio – It is fine to use the same amount as the Swiss Richard in the recipe.
But if you don't want it to be a little too sweet, then you can add about ¾ of the required Swiss Chard amount.
Conclusion
Swiss Chard comes in numerous variations, and you will be able to find it in cream, yellow, red, or orange colors.
One great thing about the Swiss Chard would be how everything is edible, making it usable in an array of dishes.
You can include it in your salads, sandwiches, pizzas, quiches, pasta, and risotto.