Are you familiar with navy beans? They're an incredibly versatile legume that can be used for a variety of dishes.
It's not only a great source of protein but also fiber and minerals, making it a very nutritious choice.
The downside is that navy beans require soaking and cooking time, so if you're a busy person who doesn't have the time to give these little gems the attention they deserve, what substitutes can you use? Fear not.
In this article, we'll tell you how to cook and use them, as well as our five favorite navy bean alternatives.
So get ready – there's no need to despair when it comes to finding ways to incorporate this nutrient-packed legume into your diet.
What are Navy Beans?
Navy beans, also known as haricot beans, are small white legume which is incredibly nutritious and versatile.
These beans have a mild flavor and creamy texture, making them the perfect addition to a variety of cooking styles.
They are often used in baked beans and soups but can also be added to salads and casseroles, roasted for an earthy nutty flavor, or boiled with ham hocks for an authentic down-home recipe.
Navy Beans require soaking overnight before they can be cooked.
To prepare, simply simmer them in boiling water until softened, anywhere from 30 minutes to two days, depending on how brittle or hard the beans were before the cooking began.
Add them to chili or your favorite soup recipes for a fiber-rich power boost that is easy to cook up and enjoy.
The 5 BEST Substitutes for Navy Beans
If you're in the mood for a delicious bean dish but don't have navy beans on hand, fear not.
There are plenty of other legumes you can use to create a tasty and nutritious meal.
Here are five of the best substitute options for navy beans:
1 – Cannellini Beans
Cannellini beans are a type of white bean that offers a versatile and delicious ingredient to many recipes.
Generally described as having an earthy flavor, this heart-healthy legume also has a creamy texture when cooked, which makes it the perfect addition to soups, salads, sauces, and beyond.
As they hold their shape well when cooked, they can be used as a substitute for navy beans in various dishes – especially on their own as part of a meal.
Their mild flavor also makes them good in dishes where other stronger flavors dominate.
Cannellini beans can be used both dried or canned – great for those who need an ingredient quickly without much fuss.
2 – Great Northern Beans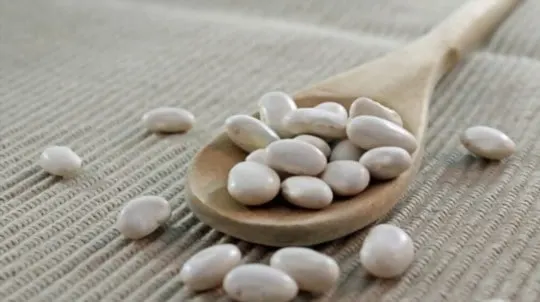 Great Northern Beans are an extremely versatile, small white bean that is perfect for making hearty soups, stews, and chilis.
Not only do they have a mild earthy flavor with a subtle nuttiness, but they also become extra creamy when cooked while still maintaining their shape.
As far as texture goes, they are slightly firmer than navy beans and can easily stand up to long cooking times without falling apart.
Great Northern Beans are an excellent substitute if you want a similar texture to navy beans but prefer a milder taste.
Utilizing them in dishes like cassoulet or baking them in a skillet with mashed garlic and rosemary is a great way to really take advantage of their flavor and texture.
3 – Kidney Beans
Kidney beans are an essential staple in many pantries, as they have a delicious, slightly nutty flavor and a tender texture.
This popular bean is also known for its deep burgundy color that adds incredible eye appeal to dishes.
Whether added whole, pureed, or mashed, kidney beans can be served warm or cold in a variety of salads, soups, and side dishes.
Moreover, these legumes are perfect for those trying to reduce their cholesterol because they contain no fat or sodium and are low in calories.
They can easily be substituted for navy beans in recipes such as baked beans for a change of pace.
Kidney beans truly have the power to transform any dish into something special.
4 – Flageolet Beans
Flageolet beans, also known as French horticultural beans or white haricot beans, are a popular variety of legumes renowned for their bright green hue and unique flavor.
These small green beans burst with delicate notes of sweetness, blended together with robust yet subtle grassy undertones that make them extremely compatible with many different dishes.
Despite their small size, they feature a hearty texture that enables them to easily absorb the surrounding flavors while still maintaining their shape.
Flageolets are often used as a healthy alternative to navy beans, making them an excellent stir-fry component or side dish to most proteins.
With the correct seasoning and marinade combination, Flageolet beans have the potential to be a star in any dish.
5 – Black Beans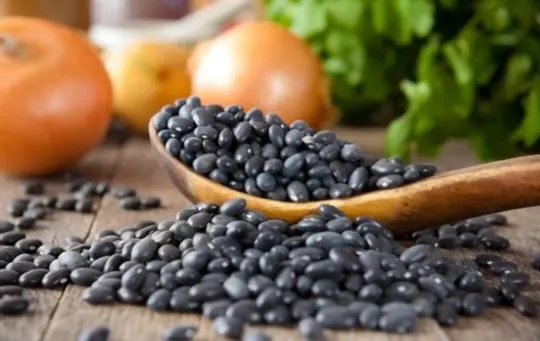 Black beans are one of the most versatile and nourishing pantry staples around.
Rich in dietary fiber, iron, calcium, and protein, these flavorful digestible little legumes contribute a deep flavor, scrumptious texture, and a meaty component to any dish.
When cooked with traditional spices or fresh vegetables, these legumes become mild yet distinctive in taste.
From fresh salads to hearty chili dishes, black beans also make for an excellent substitute for navy beans due to their similar size and shape.
To get the most out of your mealtime concoction, be sure to soak the beans overnight before cooking for a greater impact on both taste and nutrition.
Conclusion
In conclusion, there are plenty of excellent substitutes for navy beans – you just need to know where to look.
Whether you prefer a milder flavor, a heartier texture, or an aromatic variety, there's sure to be a perfect substitute in the legume family.
Cannellini beans, Great Northern Beans, Kidney beans, Flageolet beans, and black beans are just some of the excellent alternatives to navy beans.
With any luck, this article has helped you discover a new favorite legume for your pantry.
About The Author