Guanciale is perhaps one of the best ingredients you can use to take your sauces and dishes to another level.
A lot of recipes call for this ingredient.
Whether you're cooking spaghetti or sauces like Sugo all'amatriciana, you are going to need this cured meat which is very common in Italy.
However, not everyone can get a hold of this amazing cured meat, mostly because it's mostly available only in the Italian markets.
It's not impossible, but it is quite difficult to find Guanciale outside of Italy.
But, don't worry.
There are other common ingredients that can take the place of Guanciale.
What Is Guanciale?
Rich in flavor and common in Italian cuisine, Guanciale is a sort of cured meat.
Basically, it is the portion of the pork's cheeks, and thus, it has a very high level of fats.
When you cook anything using Guanciale, expect it to elevate the dish.
It goes without saying that Guanciale is a flavor bomb.
Guanciale has various types of spices on it. This includes pepper, thyme, and fennel.
Some producers even use garlic making it a great addition to any type of dish.
When you cook with this, the fats will melt away, leaving you with a delicious dish.
Unlike other cured meat products, Guanciale has a stronger flavor and taste.
The 5 Best Substitutes For Guanciale
Here are five of the best alternatives to use in place of Guanciale.
1 – Pancetta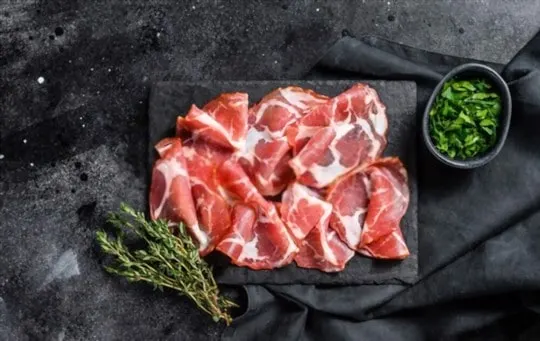 Pancetta acts as a great substitute for Guanciale.
Although both these cured meat come from different portions of the pig, the making process is still the same.
This gives both Pancetta and Guanciale similar tastes.
Pancetta comes from the pork belly, which is also high in fat concentration.
Guanciale is very difficult to source.
So, although the flavor and texture may not be as identical, it comes very close.
Moreover, Pancetta is easily available in almost every grocery store and supermarket.
Whether it's soup, sauce, or casserole, you can count on Pancetta to substitute Guanciale.
Substitute ratio- Here, you can use the ratio 2:1 since Pancetta does not really have that nice and strong pork aroma that Guancile does.
2 – Bacon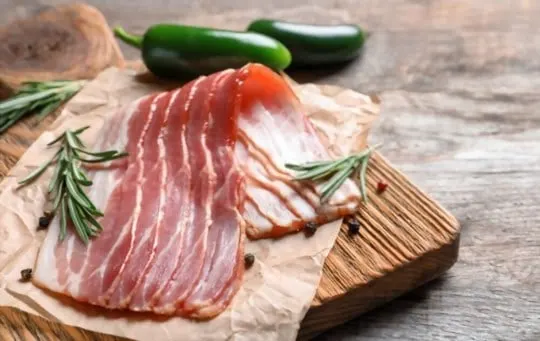 Easy to find and affordable, bacon is an amazing substitute for Guanciale.
Most people think that Guanciale is a type of smoked meat, but it is not.
Rather, it is cured. So, bacon is one of the best options to use as a replacement in any recipe that calls for Guanciale.
But remember to choose unsmoked bacon.
However, if all you have in your pantry is smoked bacon, that is also fine.
Just boil it in hot water for a minute or two to remove the smoky flavor.
The flavor is similar to Guanciale.
But remember, the pork aroma and the concentration of fats in bacon is less when compared to Guanciale.
Substitute ratio- If the recipe calls for one Guanciale, then you can use a few strips of bacon.
3 – Lardo
One of the few cured types of meat that comes close to Guanciale is the Lardo.
If your goal is to render fats and get the best pork flavor in your dish, you can always use Lardo in place of Guanciale.
Unlike most of the cured meat available in the market, Lardo offers the best pork flavor.
Lardo offers a buttery texture that works well with dishes like pizza or even bread.
Moreover, you will also be getting a herbaceous flavor.
Whether you're planning on eating it raw or cooked, you can easily do so.
Substitute ratio- With Lardo, you can use the same amount that you normally use for Guanciale.
4 – Salt Pork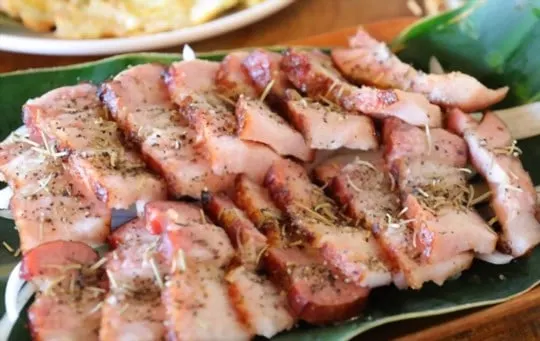 Another cured meat that you can use instead of Guanciale is Salt pork.
As the name suggests, the pork is salty, but not a lot.
If you're using it in dishes and soups, you can always rinse it to reduce the saltiness.
This cured meat comes from the belly portion of the pork, and so it is rich in pork fats.
Anyone can get a hold of salt pork easily. It's very common in supermarkets.
It is very much similar to bacon, but salt pork tends to have more concentration of fats which you can render down.
This will add amazing depths of flavor to any kind of sauce, soup, or dish.
Substitute ratio- You can use the ratio of 2:1 or 3:1 depending on how you like your dish to be since salt pork offers great amounts of fats and pork aroma.
5 – Pork Jowl
We also recommend using Pork Jowl if Guanciale is not available where you live.
Both the pork jowl and Guanciale come from the same portion of the pork, that is, the cheeks.
So, you will basically be getting the same type of fat concentration and flavor.
Cooking different types of sauces requires you to render the fats.
This is why pork jowl serves as an amazing substitute for Guanciale.
When compared to other types of cured meat, pork jowl has a better concentration of fats.
Just make sure to use less salt in your dish as pork jowl uses the salt-curing method.
Substitute ratio- If you want to use pork jowl instead of Guanciale, you can use the same amount as mentioned in the recipe for Guanciale.
Conclusion
Everybody loves pork, especially because not only is it tasty, but there are health benefits associated with it.
This is why pork products like Guanciale are very popular in many cuisines from all around the world.
This spicy and flavorful ingredient, however, is banned in certain countries.
But this does not mean you can't find replacements.
There are plenty of substitutes.