Pancetta provides a different taste to sauces, soups, stews, and other dishes.
Pancetta is Italian food with a salted meat flavor and is topped with culinary seasoning, and this Pancetta is parched by curing.
Many people call Pancetta Italian bacon, as both have the same taste and look the same.
Also, Pancetta and bacon, and for preparation, both use pork belly meat.
Pancetta is a perfect substitute for guanciale in traditional pasta recipes.
But, if you are out of Pancetta, then what are the best substitutes for Pancetta? Well, no worries, you can find the best substitutes for Pancetta as well (continue reading).
What is Pancetta?
Pancetta is cured salted pork or a type of salumi.
Pancetta is also allowed to age instead of cooking over heat directly or indirectly like other Italian salted cured meats.
If you are wondering what salt-cured meat means is, it means the meat is preserved with a lot of sea salt, seasonings, and spices for curing; all this treatment is required to keep the meat safe to eat even after many years.
Pancetta is part of pork belly cut in salumi, and it is a very flavorful, fatty part of the meat, which got very popular worldwide.
Pancetta is high-fat meat treated with extra care and made a popular product that conveys an exclusively strong flavor anywhere it is used.
However, choosing the best substitute for Pancetta is very important as you don't want to compromise on getting a similar flavor and taste.
Here you can find the five best substitutes for Pancetta that can help you enjoy your favorite dish with similar flavors and taste of your favorite Pancetta.
5 Best Substitutes for Pancetta
1 – Prosciutto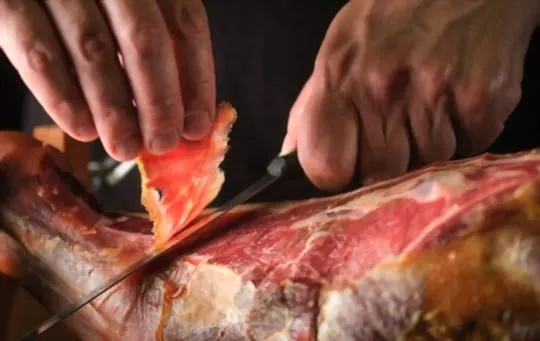 Prosciutto is one of the best substitutes for Pancetta that serves similar flavor and taste.
Prosciutto is also a popular and favorite Italian food that offers amazing taste and is very convenient to buy.
Prosciutto is dry-cured meat obtained from ham or pork, and the meat is sliced very finely, and it can be served raw or uncooked.
You can enjoy the meal with a glass of white or red wine and charcuterie spread.
Prosciutto goes well with sandwiches, and it is easy to make when you are in a hurry as it doesn't need a longer prep time.
Prosciutto is also the best choice to add to pizzas, risottos, pasta, and other dishes that give excellent flavor to the dish.
Try prosciutto as a substitute for Pancetta to get a similar taste, and it is easy to find in any local specialty shop.
2 – Salami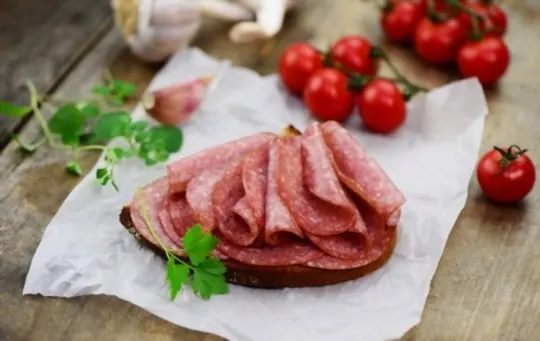 Salami is a popular Italian food that offers a familiar flavor of Pancetta and is one of the best substitutes for Pancetta.
Salami is cured meat where vegetables, spices, and other ingredients are added to enhance taste and flavor.
It is a very prevalent pork sausage, and it is very popular in European cuisines as it helps them survive the cold winter months.
Though salami is made of pork mostly, you can also find the meat fillings like veal and beef, as per the location and liking of the people.
Salami is stored by air-drying and ferment pork to extend its shelf life.
Salami is easy to preserve; you can keep it at room temperature for about 40 days, and still, you find it unspoiled.
Even if you do not have Pancetta at home, you can still enjoy your favorite Italian meat dish with this substitute.
You can add salami to pasta, pizzas, sandwiches, etc.
You can brace it with biscuits and a nice choice of cheese and relish your favorite dish with a glass of wine.
3 – Bacon
Bacon is the best substitute for Pancetta, and it is one of the most popular breakfast dishes that will not let you down with its familiar flavor and taste.
It is also one of the best choices as it also serves a similar aromatic and flavorful taste when you add it to any dish.
In the United States, people relish bacon a lot as it is their breakfast staple.
Bacon is an optimal choice to add to any dish; it is perfect for sandwiches, soup, pasta, and salad topping.
Also, bacon is a very affordable alternative that helps you enjoy your dishes thoroughly.
Bacon is available in all seasons, and you can find it in any grocery store.
Also, you can find it in different brands.
4 – Smoked Ham
Smoked ham is a very healthy and high-quality substitute for Pancetta, and you can enjoy the familiar aroma and taste of Pancetta.
You can add ham to any dish, and it gets its flavor from the smoke used in processing the meat.
Smoked ham is not processed with nitrites or chemicals that create an artificial red color in smoked meat.
Choosing smoked ham as an alternative for Pancetta is more apt as Pancetta is also a smoked ham cut into thin slices.
You can get a big slab of smoked ham and cut it into slices just like Pancetta.
When you plan to make sandwiches, opt for smoked ham, as it will provide flavors similar to what you get when Pancetta is added.
You can toast or grill up the bread and place the smoked ham slices; there, you have an amazing breakfast sandwich with a glass of coffee.
5 – Smoked Turkey
Smoked Turkey is another popular substitute for Pancetta, and it fits in perfectly as Pancetta is also smoked meat.
Smoked turkey is available all year round, so you won't have to skip your favorite Italian dishes for this substitute.
There are different ways of smoking the turkey; adding salt, pepper, vinegar, and other ingredients to enhance its flavor.
People who are not a fan of smoked ham can choose smoked turkey instead.
Smoked turkey is a big bird, and it is tender, savory, and provides an amazing smoky aroma and flavor.
You are sure to enjoy smoked turkey in the place of Pancetta as it gives better taste and flavor when added to your favorite Italian recipes.
You can find smoked turkey in the deli section of a grocery store, and it usually comes with different options like honey-glazed or maple-flavored.
You can also get ham from this section, so you have a variety to choose from for serving your guests.
Conclusion
Pancetta makes an everyday meal special and flavorful, and it braces perfectly with different seafood and meats.
Pancetta also provides a strong meaty flavor and gives a more complex and deeper taste to your dish.
You can add Pancetta to pasta, sandwiches, and salad, and it is a perfect substitute for bacon in smoked ham and turkey dishes.
Also, you do not have to spend a lot of money when buying Pancetta as there are affordable substitutes that provide similar flavor and taste.
About The Author