A whole grain mustard condiment can boost up the appetite at any time.
Whether you like sweet, spicy, tangy or bitter, you can enjoy it anyway.
But now and then, you may not have the delicious condiment when you crave it.
The good news about food is, you can substitute it with plenty of other items.
In this write-up, we will know about the 5 best substitute for whole grain mustard.
What is Whole Grain Mustard?
A plant indigenous to Europe, there are several types, and people use the seeds in many foods and condiments.
Mustard roughly crushed just right for making a paste is whole grain mustard.
While the seeds taste bitter with a strong, pungent flavor, additional ingredients like vinegar, honey, and other elements make it spicier, sweeter, tangy and more delicious.
You will find ready-made stuff on the market in different flavors.
So, you choose your favorite.
However, you can also make your preferred variety at home from mustard seeds.
Mustard has a considerable quantity of nutrients both in leaves and seeds.
Leaves contain vitamins, copper, and calcium.
The seeds are particularly rich in fiber, manganese, magnesium and selenium.
So, what to use when whole grain mustard is not available?
5 Best Substitutes for Whole Grain Mustard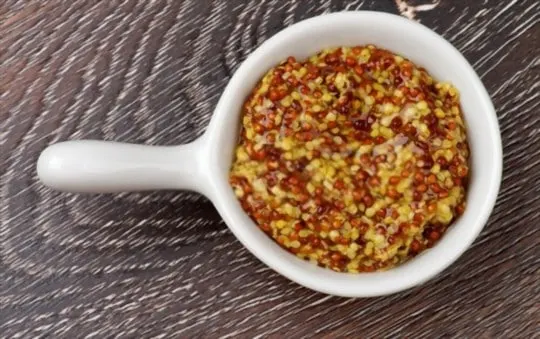 If you don't have whole grain mustard or want to switch it for a change, here are some options.
1 – Horseradish
Horseradish is a suitable substitute for whole mustard grain.
It is a root vegetable and also belongs to the mustard family.
It gives a similar bite and heat like that of whole grain mustard.
You can grate it and add some stuff like vinegar, honey and spices to make a dip, sauce or spread.
You can also find ready-made versions with creamy textures.
If you can't make or feel lazy to do it, choose one from among the many brands on the supermarket shelves.
Besides being a robust flavored vegetable, horseradish also offers several health benefits.
It may fight cell damage, boost respiratory health and also enable in reducing inflammation.
Suitable ratio:
1 teaspoon whole grain mustard = 1/2 teaspoon horseradish (you can add more if required).
2 – Wasabi Sauce
Wasabi can also be a suitable choice for whole grain mustard.
Being of the same family as mustard, you can get similar but a subtler flavor.
It is a popular ingredient in sushi and noodles in Japanese cuisine.
You can get plenty of ready-made products on the market, but the flavor is likely to vary because the contents are different.
Some varieties could be very overpowering.
If you don't want a powerful and intense flavor, you can make your version at home.
Mix ten ml wasabi powder and 15 ml water.
After a while, add about 125 ml mayonnaise and blend them well.
Use it as spread, dip or sauce and enjoy your own made paste.
Suitable ratio:
1 teaspoon whole grain mustard = 3/4 teaspoon wasabi (add more if needed) .
3 – Stone Ground Mustard and Celery Seeds
You can also use stone-ground mustard in place of whole grain mustard if you don't have it.
With stone ground variety, the mustard is roughly crushed.
So, you get a similar flavor.
The combination of stone ground mustard and celery seeds can give a flavor even more akin to whole grain mustard.
If you don't have the ready-made version, you can also create your condiment.
All you have to do is add some celery seeds to stone-ground mustard until you obtain the flavor you want.
However, begin the addition with small tiny amounts as long as the taste is not to your liking.
You can include vinegar, garlic, ginger, and honey if you prefer some sweetness.
The key is to keep on tasting until you have the right flavor.
Suitable ratio:
1 teaspoon whole grain mustard = 3/4 teaspoon stone ground mustard and celery seeds (add more only if necessary).
4 – Yellow Mustard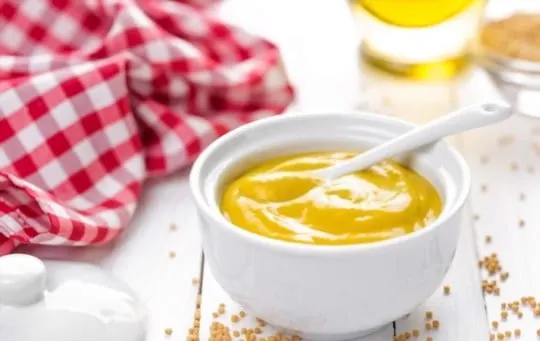 One of the most popular condiments in America, yellow mustard is also an excellent substitute for whole grain mustard.
If you like the fragrance of mustard but can't take the heat, the yellow mustard is ideal for a variety of dishes.
It is the mildest in flavor among all mustard products.
However, blended with water, vinegar and spices, yellow mustard tastes delicious and makes a wonderful sauce, dip or dressing.
Use it on barbeque meat, burgers, marinades and other dishes as desired.
If you want more heat, simply add some pepper powder.
Suitable ratio:
1 teaspoon whole grain mustard = 1 ½ teaspoon yellow mustard.
5 – Spicy Brown Mustard
If you want some punch and heat like whole grain mustard, spicy brown is a great option.
In contrast to yellow and other varieties, very little vinegar is used to soak the brown mustard seeds.
Hence, the sharp flavor remains.
Brown mustard is pungent and spicier than the yellow variety.
It is coarser in texture than the yellow one, as the skin is left in the paste.
It is also a versatile ingredient, and you can use it in many different ways.
Spices such as nutmeg, ginger and cinnamon blend well with spicy brown to give it a distinct flavor.
You can add it to meaty sandwiches, sausages, roast beef, pastrami and much more.
Suitable ratio:
1 teaspoon whole grain mustard = 1 teaspoon spicy brown mustard.
Conclusion
Most of us think of mustard only as a condiment.
But according to an expert, Harry Lalousis, mustard can increase flavor in both savory and sweet dishes.
So, even if you don't have whole grain mustard, try out the different varieties.
If you don't have any mustard, the wasabi and horseradish alternatives can also work just fine.