Are you curious about tempeh but unsure about where to start?
If a plant-based option is what you're looking for then tempeh could be the answer.
Tempeh uses whole fermented soybeans with added grains and has a nutty flavor.
It can be eaten raw or cooked in various ways such as grilling, roasting, or stir frying.
For those seeking substitutes to replace tempeh, it may depend on why the substitution is needed such as dietary restrictions or availability.
So if you are exploring new sources of plant protein, now is the time to give tempeh a try.
What's Tempeh?
Tempeh is a traditional food from Indonesia and a great vegan protein source.
It is made from fermented soybeans that have been combined with a variety of grains, such as wheat or barley, and sometimes vegetables.
This combination is then pressed into a cake-like form.
Tempeh has a nutty, slightly earthy flavor and can be cut into strips, cubes, or crumbled depending on how it will be used in recipes.
It is also high in fiber and contains numerous vitamins and minerals.
One of the advantages of tempeh is its versatility: it can be grilled, baked, steamed or fried in creative dishes like stir-fries, casseroles and soups.
With its firm texture, it stands up well to long cooking times making it an excellent choice for slow cooker meals or stews.
It can be used as an alternative to meat in tacos or layered with greens on sandwiches for an easy meatless meal.
And because tempeh is such a complete protein source — containing all nine essential amino acids — it makes any vegan dish more substantial.
The 5 BEST Substitutes for Tempeh
While tempeh is a delicious meat substitute, there are some other tasty alternatives that you can use in place of it.
Below are 5 options to try out if you're looking for an alternative to tempeh:
1 – Tofu
Tofu is one of the most potent replacements for tempeh due to its high protein content.
It absorbs the flavors of the marinades and dishes much like tempeh, making it a great option for everything from stir-fries and soups to vegan burgers.
Firm or extra-firm varieties work best when substituting tempeh, but depending on the recipe you may want to opt for silken tofu.
One important thing to note, however, is that tofu lacks that chewy texture that's so characteristic of tempeh, so you may want to consider adding an additional ingredient with a similar textural component, such as grilled eggplant or wheat gluten.
2 – Seitan
Seitan is a popular alternative to tempeh because it's made from wheat protein and also has a chewy texture.
It's perfect for vegan burgers, stir-frys, wraps, tacos and more.
Seitan has more of a neutral flavor than tempeh and can take on any spice or marinade added to it.
Seitan is quite high in proteins and can provide up to 70% of our daily value of iron.
It's not suitable for those who are gluten intolerant however, so be sure to check the label before purchasing.
3 – Lentils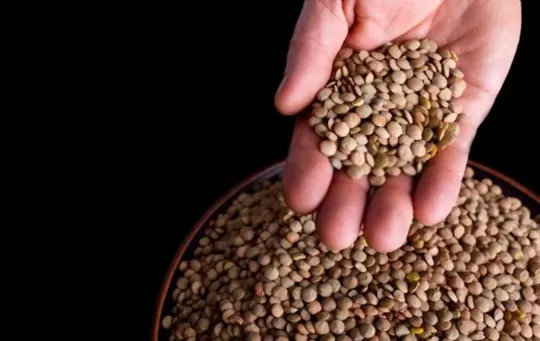 Lentils are an excellent source of plant-based protein, making them an ideal alternative to tempeh.
Unlike tempeh, which usually takes several days to prepare, lentils can be cooked in less than half an hour.
Additionally, lentils have a mild flavor that makes them a great addition to almost any dish.
To use lentils as a substitute for tempeh, cook them according to the package instructions and cut into small pieces or mash before use.
Lentils can be used in sandwiches, stews, salads and more.
4 – Chickpeas
Chickpeas, also known as garbanzo beans, are a great substitute for tempeh when you don't have enough time to prepare it.
Not only they're nutrient-dense and packed with fiber, but they are also full of protein and minerals like iron, magnesium and zinc.
Since chickpeas are not as firm or chewy as tempeh, you will need to mash them lightly before using them in recipes or adding them to salads.
In order to do so just add them in a food processor and pulse until the desired texture is achieved.
If you want an even healthier option than chickpeas, incorporating cooked edamame into your recipe can be a great way to boost the flavor and increase the protein content of your meal.
Edamame beans are also easy to cook.
Just soak them in water overnight and then boil for 10-15 minutes until fully cooked.
5 – Jackfruit
Jackfruit is a popular vegan substitute for pulled pork and is quickly becoming an increasingly popular alternative to tempeh.
It is readily available canned or fresh so you can enjoy it all year round.
Jackfruit has a mild flavor and does not have any gluten, making it a great substitution for those who can't have gluten in their diet.
The texture of jackfruit when cooked is similar to that of tempeh; however, it can be a bit firmer and more fibrous in texture.
It has a subtly sweet taste, which makes it great as a sandwich filler or as a vegan barbecue pulled pork substitute.
When selecting jackfruit, make sure to choose one with firm flesh that's free of bruising or odd smells—a ripe jackfruit should smell sweet and fragrant.
If you have an allergy to latex, be aware that eating ripe jackfruit may elicit an allergic reaction due to its proteins' similarities with latex proteins nuts—so beware if cross-reactivity applies to you.
Conclusion
Tempeh offers a rich, textured flavor profile to all sorts of recipes and is a great plant-based protein alternative.
However, if you're out of tempeh or can't find it at the store, there are five great substitutes that you can use.
From tofu to seitan and shiritaki noodles, any of these options can be used as a substitute for tempeh.
No matter which tempeh option you choose, make sure you experiment with seasonings and spices to best replicate the flavor you are trying to achieve.
Also keep in mind that depending on your recipe, some substitutes may have different absorbency rates; so adjust the cooking times accordingly.
Ultimately, with careful consideration, you should be able to find an excellent substitute for tempeh that will keep your meals delicious while accommodating different dietary preferences.