Are you considering giving vegan chicken substitutes a try?
With the sustainability of our planet on everyone's mind, replacing animal products with plant-based alternatives has never been so popular.
That said, navigating the plethora of options to cook and use vegan substitutes for chicken can be daunting; luckily, we are here to help.
In this article, you will learn how to cook and use a vegan substitute for chicken, as well as some of the best vegan substitutes.
Becoming vegan doesn't have to be all sacrifice; let's dive in.
Is Vegan Chicken Healthier than Normal Chicken?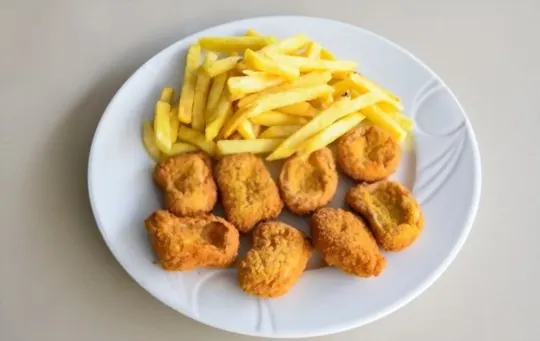 If you love the taste of chicken but prefer not to eat animal products, you may have wondered about vegan chicken as an alternative.
But is it actually healthier than regular chicken? Well, this depends on how you look at it.
Vegan chicken is typically made from plant-based proteins such as soy or pea protein and can sometimes contain processed ingredients.
On the other hand, an all-natural form of chicken provides essential proteins and contains no artificial flavors or preservatives.
Not only does vegan chicken offer fewer calories and fat when compared to poultry, but it also has less cholesterol – a major benefit for those who want to minimize their risk of developing heart disease.
However, it's important to note that vegan options usually don't provide any real flavor or texture; they tend to be more like meat substitutes rather than versions that mimic real poultry products.
If you want to give the vegan chicken a try, it's easy to incorporate into most recipes: just mix it with your favorite vegetables and spices, sear in a pan, or bake in the oven.
The 5 BEST Vegan Substitutes for Chicken
If you're looking for a delicious, plant-based alternative to chicken, you've come to the right place.
Here are five of the BEST vegan substitutes for chicken that will make your meals tasty and satisfying.
1 – Tempeh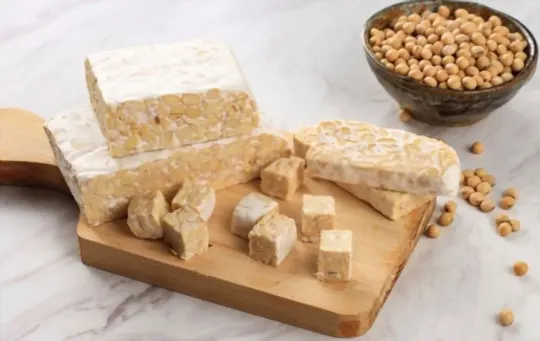 Have you ever heard of tempeh? This traditional Indonesian food is made from fermented, cooked soybeans that are then shaped into a block.
It has a dense yet springy texture and an earthy, nutty flavor that makes it surprisingly versatile.
Used in place of chicken or tofu, tempeh can make for an impressive vegan substitute because its unique formation holds together more easily when cooked.
Marinating it before cooking will bring out even more flavor.
It can be grilled, stir-fried, boiled, and incorporated into soups, salads, or sandwiches – just make sure to cut it very thin, so the tempeh cooks evenly.
With its rather perplexing traits and almost infinite uses in the kitchen, there's never been a better time to try tempeh.
2 – Seitan
Seitan is a vegan, wheat-based meat alternative that is gaining popularity among active vegetarians and vegans alike.
Its unique texture and malleable and chewy profile make it an ideal base to use in recipes from sandwiches to tacos or any type of entrée.
Many have described seitan as resembling pulled chicken in taste and texture – this is because of the way it absorbs flavors brilliantly when cooked with spices and herbs.
It's most commonly boiled or baked for a light crunch before adding in marinades or sauces for a delicious vegan twist on classic dishes.
Overall, seitan is becoming increasingly popular among foodies and vegan enthusiasts looking for something new to experiment with their cooking – the possibilities are truly endless.
3 – Cauliflower
Cauliflower, a beloved member of the Brassica family, has been perplexing home cooks for years.
Its firm texture and mildly sweet flavor can be addictive but also confusing as to how best to utilize it in a variety of dishes.
Fortunately, its versatility can make it an incredibly satisfying main meal ingredient – roasted cauliflower steaks are becoming increasingly popular due to their savory flavor profiles and remarkably substantial texture that can mimic chicken or steak, depending on your seasonings.
Gently boiled in salted water and chopped up into small florets is also another well-loved but completely vegan alternative for creating faux potato salads or adding delicious toppings for a pizzalike treat.
4 – Jackfruit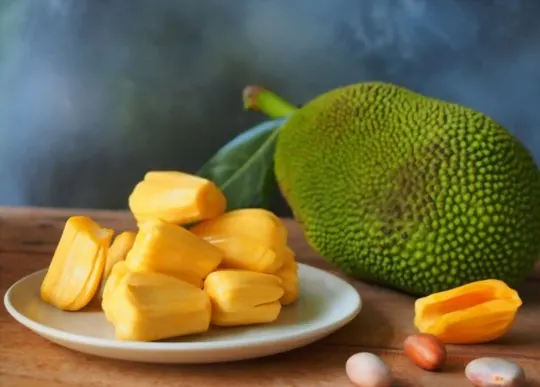 Few fruits elicit such fascination as the jackfruit.
Growing up to 35 kilograms, this tropical fruit from Southeast Asia is one of the largest in the world.
A unique combination of sweet, sour, and smoky notes, plus its meaty texture, has made it a popular substitution for chicken in vegan dishes.
With its intriguing range of flavors and textures, jackfruit is surprisingly easy to cook with.
To add a delicious twist to vegan curries or tacos, try substituting jackfruit by sautéing it with your favorite spices – it really unlocks its potential.
If you haven't tried jackfruit yet, take a bite out of this curious creation.
5 – Tofu
Tofu, often referred to as the "vegetable meat," is notoriously perplexing for many – what is it, exactly? A close look into this vegan source of protein shows that tofu is actually made from curdled soy milk, which has been pressed into soft blocks.
Its flavorless taste and spongy texture lend it to be a remarkable substitute for chicken in many dishes, depending on how you choose to prepare it.
To make your own stir-fry bowl with tofu, try searing the cubes in hot oil until golden brown before adding veggies and sauce.
For veggie tacos or salads, crumble the block into small chunks to mimic the size and shape of ground beef – perhaps one of its most popular usages as a sub.
However you choose to use it, there's no doubt that tofu is a versatile ingredient in meatless dishes.
Conclusion
In conclusion, there are a variety of vegan substitutes for chicken that can be used to create delicious and nutritious dishes.
Tempeh, seitan, cauliflower, jackfruit, and tofu all provide unique flavors and textures that make them excellent choices when looking to replace chicken in the kitchen.
Whether you're looking for something hearty or light, these vegan alternatives can be used to make a variety of dishes that are sure to please the whole family.