Kefir, or kephir, is a fermented drink made of milk. It is similar to thin yogurt.
According to Wikipedia, Kefir originated in the North Caucasus, Eastern Europe, and Russia.
Kefir is also known as drinkable yogurt. People describe it as a tangy, thick, and sour drink.
Milk kefir is grown with probiotics, or what is popularly known as kefir grains.
Probiotics vary from batch to batch, made with milk and for grains, and the bacteria and yeasts that are normally present in them are found in the composition of milk, peaches, and cereals.
Healthline states that kefir is a high source of probiotics and nutrients.
Milk kefir also has health benefits as it plays a role in preventing cancer and the treatment of bladder cancer.
Some researchers have stated that milk kefir may be one of the most promising foods in battling cancer. Milk kefir also aids in digestion and improved bone health.
Read more below to know how long kefir lasts.
How Long Does Kefir Last? Does Kefir Go Bad?
Like all fermented foods, it's hard to tell. But kefir usually maintains its freshness for up to a week past its expiry date.
Like any other dairy product, kefir has an expiry date on its label. It is often a sell date, which means the kefir can maintain the quality for a whole week.
The homemade kefir typically lasts for 1 to 2 days at normal room temperature.
The freshness duration of a kefir depends on different factors. If you open the kefir as soon as you buy it, it should last up to the date written on the label.
If you open it near the date on the label, it'll probably last for about five days. So it's best if you consume the kefir within 24 hours.
The taste of kefir becomes strong over time. For homemade kefir, the freshness should last for about two to three weeks if you store it under proper conditions.
You should note that kefir products will vary from batch to batch. Some people will also find it much sourer than others.
Once you've opened the kefir package, the shelf life does not really change.
But there's always a possibility of microbial contamination, causing the kefir to get spoiled.
It means that you can't be sure that the kefir you have opened two weeks before its date will last in perfect quality.
You've bought a few kefir bottles to try. The taste was okay but not outstanding.
Now you have the last bottle stored in the fridge, it's nearing the expiry date on the label, and you want to know if kefir goes bad.
To put it simply, yes. While kefir is basically fermented milk, you might have the notion that nothing can spoil it since it's already fermented. Unfortunately, that's not the case.
Like any other dairy product, kefir does do bad. While its shelf life might be longer than other milk products, it's not super long.
How To Tell If Kefir Is Bad?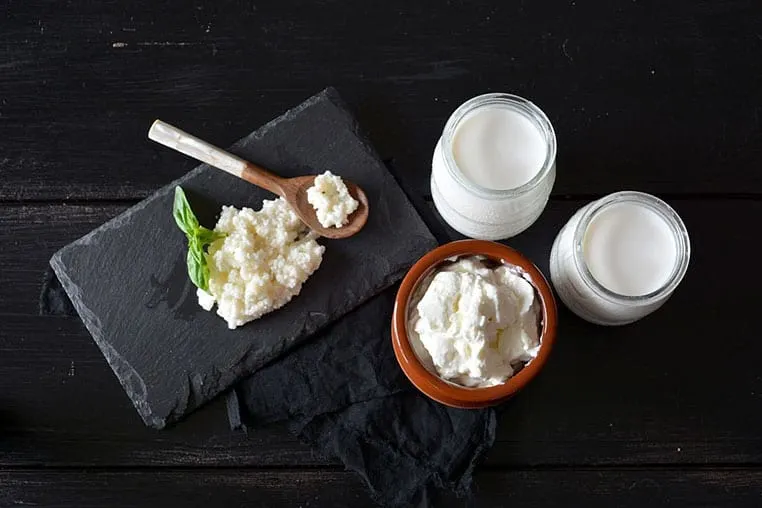 The signs to tell if kefir has gone bad are:
Change of color. The kefir might turn into off white, and you can notice it in plain sight.
The growth of mold on the surface is the most obvious sign. It might be noticeable, or with just a few orange and pink spots.
Sour smell. Kefir often smells a bit sour, But if the smell was mild after opening and now it's stingy, dispose of the milk.
Chunky feel. If it feels chunky and you're having difficulty in pouring the milk, it for sure has reached its date.
Noticeable separation of the liquids. If it looks like water and you notice solid chunks in the bottle, it has most probably been spoiled. It should have a texture similar to buttermilk.
You can give the kefir a taste if everything seems to be okay, and you didn't store the kefir for too long.
The key is to look for consistency.
Fresh store kefir has a creamy and uniform texture. Plain kefir tastes sweet. But there are other flavors kefir brands offer that come with unique tastes.
The texture, taste, and strength of the fizz may vary. These slight variations are natural and the product isn't bad by any means.
Conclusion
Kefir is a living product, and it varies in consistency, taste, and the level of fizz in every bottle.
They all have slightly different flavors, and a different taste doesn't mean it's gone bad.
If there's any sign of mold on the surface, the milk smells off and stinks, or the layers have separated, discard it immediately.
But if everything looks good except for the sour taste, it is safe for consumption.
Always keep your milk kefir refrigerated and its cap adequately sealed.