A Tomato Pie consists of a tomato dish whose origins trace back to the Southern part of the United States.
It is a pie shell that contains tomato fillings and is covered with delicious toppings of white sauce or mayonnaise and grated cheese.
Most folks prefer to eat this treat during the summer season.
The Italian bakeries used to sell this dish in South Philadelphia ever since the early 20th century.
It also goes by different names: church pie, red pie, square pie, granny pizza, and red pizza.
Many people prefer to make this pie in a square or rectangular shape like the Sicilian-Style Pizza.
There is also a sweet version of this dish called "Green Tomato Pie". Here, the ingredients include sugared and buttered green tomatoes.
The recipe dates back to 1877, and its taste is quite similar to that of a green apple pie.
Can you freeze tomato pie? Yes, you can freeze your tomato pie and reheat it later to eat it.
Some people like to freeze it to eat it the following day or even the coming week.
Although we won't necessarily suggest the idea of freezing it, you are welcome to do so if you wish to.
Does Freezing Affect Tomato Pie?
Yes, freezing your tomato pie will end up affecting its quality and taste as well.
The reason behind this would be how the pie's crust gets soggy inside the freezer.
The tomatoes tend to release excess liquid, especially when frozen and defrosted, causing the crust to absorb the liquid.
The desired flakiness of the tomato pie goes away because of the condensation.
And you can't expect to get back that perfect flaky texture by microwaving it or keeping the pie under room temperature.
We recommend you store your tomato pie in the fridge and eat it in the next couple of days.
But if you are still interested in freezing your tomato pie, we would advise you to use the waxy maize cornstarch instead of the regular one.
Why? Well, because this cornstarch will cause your tomato pie to release a lesser amount of moisture.
Freezing your tomato pie is a tricky job, and always best to eat it at the earliest.
How To Freeze Tomato Pie?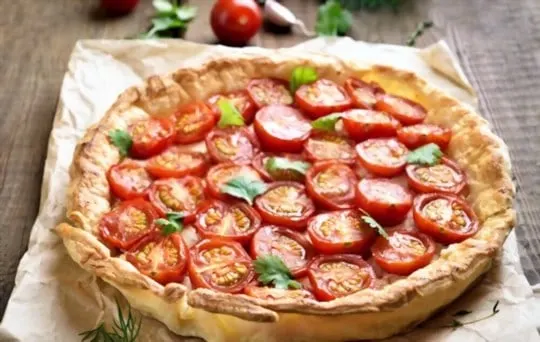 Freezing your tomato pie is an excellent way to preserve all the leftovers.
Let us guide you through the process with these critical steps:
The first thing that you need to do would be to let your tomato pie cool down. You can do so by keeping it on your kitchen counter. You should realize that it is hazardous to put hot stuff inside the freezer or the fridge in general.
Next, you need to start pre-freezing your pie for about 20-30 minutes without having to wrap or cover it. It will help prevent your cheese mix from beginning to separate or develop an odd texture.
Now, you need to wrap your tomato pie tightly by using aluminum foil.
Proceed to seal the pie by using plastic wrap.
Start placing the tomato pie in a container that's airtight and freezer-safe. Here, you can go for a double layer because it helps preserve your pie and prevents its texture from getting significantly affected.
Lastly, place your container inside the freezer. If you have large batches of the pie or leftovers, you can store them in multiple containers and stack them on top of each other. It will help you save space and manage things more conveniently.
Since freezing your tomato pie is a complex job, we would love to share some tips for you to receive optimal results.
You can always use a tomato paste or sauce in place of sliced or diced tomatoes. Why? Well, because they tend to freeze quickly, and you won't end up with a lackluster consistency.
It is wise to freeze the seasoning, crust, and tomatoes. You can always make your mayo/cheese mixture whenever you choose to reheat.
If you plan on freezing the whole tomato pie, ensure that you fulfill all the steps of pre-freezing.
Whenever you freeze your pie, don't forget to insert the double protection layer.
You can try a different alternative for mayonnaise as the topping mix. You have to realize that certain ingredients tend to freeze better compared to mayo.
Here's another trick for you; you can prepare the whole tomato pie without having to bake it. You can freeze the unbaked tomato pie by taking it out from the freezer and bake it when you wish to eat it.
You can keep your tomato pie in the freezer for over six months, and that is with proper care and management.
But if you resort to other freezing methods as present above, it is also possible to extend its life inside the freezer.
How To Thaw Frozen Tomato Pie?
To thaw your tomato pie, you need to reheat it.
Here's how you can do it:
1 – Using a Microwave.
If you have sliced your tomato pie into different pieces, you can start reheating them separately.
Proceed in unwrapping and separating the slices on a plate.
Put the pie slices inside your microwave and heat it for over a minute. You can increase the duration if it still hasn't gotten warm.
2 – Using an Oven.
First, you need to start unwrapping your pie and keep it on the kitchen counter. Here, you need to allow the room temperature to thaw it out first and put it inside the oven. It will help in preventing its top layer from affecting the textures and getting mushy.
Now, you need to reheat the pie inside the oven for over 10-30 minutes at 350⁰.
Caution.
Place the pie on top of a plate to prevent the condensation from dripping on the counter.
It is advisable not to go above the given temperature in reheating.
Conclusion
Tomato Pie isn't just tasty but also super easy to make.
So, when you make it, you probably won't have any leftovers to eat later.
However, if you do, then you can always freeze and thaw them without any hassle.
Since tomato pie contains tomatoes, you can expect it to have an array of health benefits.
It possesses the powerful antioxidant known as "Lycopene," responsible for reducing cancer and heart illness risks.
Plus, it will also give you vitamin c, vitamin k, potassium, and folate.
About The Author