Falernum is a Caribbean syrup that adds a unique tropical flavor to drinks and dishes.
It's an exotic taste, but do you know how to use it? And what are the best substitutes for it if you can't find it?
Whether you are looking to add an unexpected essence to your beverages or just want information on alternatives to its distinct flavor, we will show you all the creative ways you can use Falernum plus suggest five tantalizing substitutes.
Explore this sweet and flavorful syrup now – it promises to be an exciting journey.
What is Falernum?
Falernum is an incredibly versatile ingredient used in many delicious and creative cocktails.
Originating in the Caribbean, Falernum is a sweet-spiced syrup or liqueur that serves as a wonderful base for drinks like tiki punch, sour, and fizz.
This remarkable elixir traditionally has notes of lime and ginger that are complemented with almond flavorings and soothing hints of vanilla and clove.
The texture of Falernum is velvety smooth but it still provides your taste buds with a pleasant intensity.
You can enjoy it neat over ice or add some to your favorite daiquiri mix – either way you won't be disappointed.
Plus, its delightful aroma can elevate standard recipes into truly spectacular creations.
If you haven't tried using it yet then do yourself a favor and grab some – you won't regret it.
The 5 Best Substitutes for Falernum
While it's easy to find online and most liquor stores, there are plenty of substitutes that you can make using everyday ingredients.
For home bartenders who wish to make their own falernum substitutes for a variety of cocktails and drinks, the following five ingredients can be used:
1 – Orgeat
Orgeat is a sweet syrup primarily made from almonds, sugar, and rose water.
It is an essential ingredient in many popular tiki drinks like the Mai Tai, Zombie, and the aptly-named Orgeat Cocktail.
While orgeat provides a sweet almond flavor, it lacks the hints of ginger and allspice that are common to falernum.
The sweetness of orgeat makes a great pairing with citrus juices and flavors like orange Curaçao or passion fruit juice.
It can substitute for falernum as long as you consider adding some spices like clove or star anise to help highlight flavors similar to ginger and allspice found in falernum.
2 – Allspice Dram
Allspice dram, also known as pimento dram, is a unique liqueur made with allspice berries and other ingredients such as citrus zest, nutmeg, cinnamon and cloves.
The flavor of this liqueur is complex and simultaneously sweet and spicy.
Allspice dram works best when used in small amounts as an ingredient in other cocktails, punches or exotic recipes.
It can also be consumed neat or on the rocks to enjoy its full flavor profile.
While allspice dram can be hard to find in some places, it easily obtainable from online retailers or specialty stores.
One ounce of allspice dram is a suitable substitute for one ounce of falernum in most recipes.
3 – Grenadine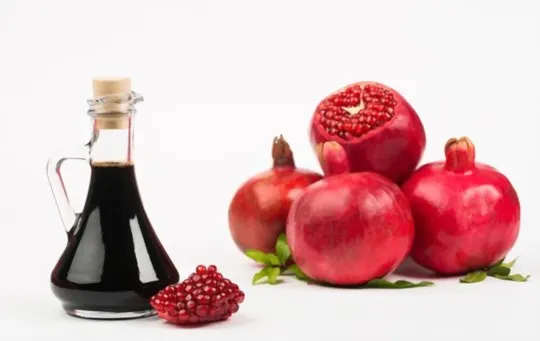 Grenadine is the most widely available and accessible substitute for falernum in mixed drinks.
It is a syrup made from pomegranates and sugar, and can typically be found in any well-stocked bar or even grocery store.
With a beautiful ruby red color and sweet flavor, it is a great addition to most cocktails featuring falernum.
When substituting grenadine for falernum, be careful to use only half the recommended amount of falernum, as grenadine is much sweeter than falernum.
If you choose to make homemade grenadine for your cocktail, it should be fairly simple with only two ingredients: pomegranate juice and granulated sugar.
4 – Horchata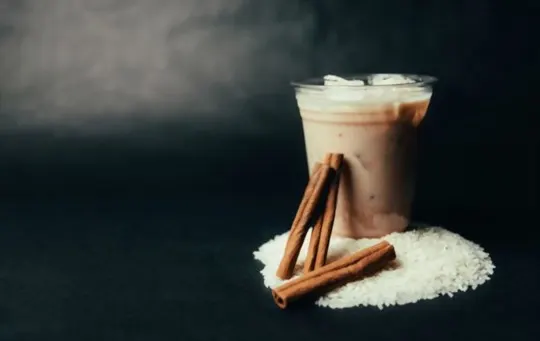 Horchata is a traditional Mexican drink dating back to the 16th century.
It is typically made from ground rice, almonds and cinnamon and sweetened with sugar or honey.
Horchata can be served as a cold, creamy beverage or used as an ingredient in cocktails.
Though not quite as sweet as falernum, horchata does provide an almond-cinnamon flavor that is suitable for drinks such as the "Painkiller" and "Clamshell.
".
To make your own horchata, mix 1 cup of ground rice with 2 cups of warm water and let sit overnight.
Strain the mixture into a blender with 1 cup of blanched almonds, 4 cups of water, 3 cinnamon sticks and ½ cup granulated sugar.
Blend until smooth and then strain through cheesecloth.
Add one tablespoon of pure vanilla extract (preferably Mexican) before serving over ice.
5 – Fassionola
Fassionola is a sweet syrup-like beverage similar to Falernum, often used in Caribbean and Polynesian drinks.
It is usually made with cane sugar, passion fruit and hibiscus that are blended together.
Fassionola can be found in most supermarkets or online, although some prefer to make their own versions.
This syrup has a strong and intense flavor profile that may require trial and error before you get the right cocktail balance.
It can also be used to sweeten iced tea or soda, as well as desserts or pancakes.
Conclusion
In conclusion, falernum is a sweet syrup that has a unique flavor profile of ginger, lime, almond, and spices.
It is often used in tropical cocktails and tiki drinks.
If you are looking for a substitute for falernum that can give your drinks a similar flavor profile and sweetness without competing with the other ingredients.
Experiment until you find one that suits your tastes.
Keep in mind that any of these substitutions should be used in moderation because each adds its own complex flavors to the cocktail.