Anyone who loves Mexican food most definitely loves Tortillas. With its soft feel and excellent taste, tortillas have won the hearts of Taco and Burrito lovers.
If you are reading this, then we know that you are concerned about the shelf life of tortillas and may have asked the question: does tortilla go bad. The answer is yes.
Sometimes, you buy in small quantities, and it finishes before the expiration date but, if you're considering buying in large amount or if they are homemade, you have to know the best way to preserve it.
Well, if you want to know the answers to your questions, we advise you to read on.
What Are Tortillas Anyway?
The tortilla is a Spanish word that means "small cake" of "small torta". It is a type of flat, unleavened bread mostly made of corn and sometimes even wheat.
The corn tortilla is the oldest form of tortillas and is still common in Mexico.
You have undoubtedly come across the wheat tortillas (also known as flour tortillas), as it is more common and used in preparing burritos, tacos, and some other Texas-Mexican foods.
Homemade tortillas are made with flour, salt, baking powder, lard/oil, and water (source). The tortilla dough is rolled into a flat, round shape and cooked in a skillet until it is golden.
Tortillas are used as the base for a good number of Mexican food such as tostadas, tacos, flautas, chilaquiles, enchiladas, etc.
They have also been used creatively as a pizza base, nachos chips, food wraps, or even casseroles.
How to Store Tortillas Properly?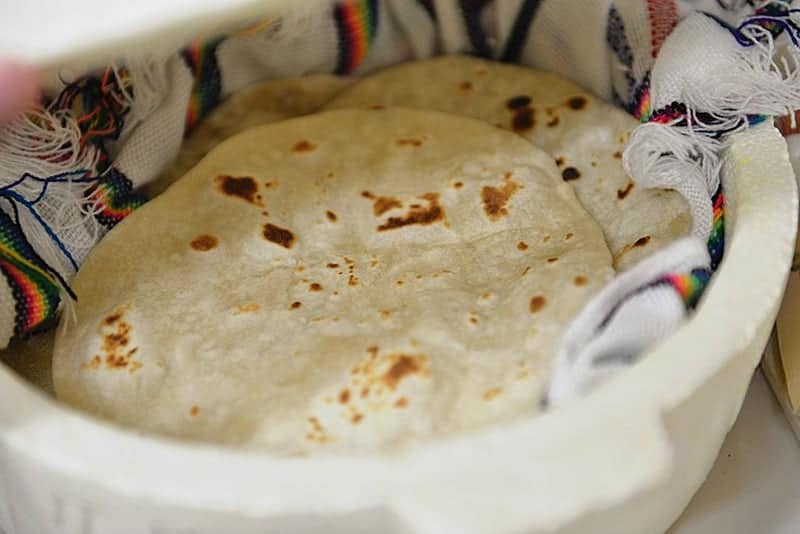 You may have whipped up a hot, steaming set of tortillas or purchased from a store, your next concern is how to preserve the leftovers for later use.
Tortillas are made to be soft and require an airtight method of storage to keep in the moisture.
When tortillas are bought from the store, a good number of them are kept in the refrigerator to prevent molds from forming. After refrigerating, you have to reheat to use them; this determines how pliable the tortillas are.
Reheating has to be done in pairs so that you don't have issues with flaking. Ensure that there is little or no space between the tortillas.
If there is space in between, the tortillas are bound to have crusts on the outer side as they steam. This causes less pliability.
When refrigerating homemade tortillas, you have to put the tortillas in a Ziploc bag, making sure that there is no air inside.
You may consider writing dates on the bag, to enable you to know how long you put them in the refrigerator.
Another way of increasing the shelf life of tortillas is by freezing it. Tortillas are frozen using a sealable bag and wax papers.
The essence of using wax papers is to stop the tortillas from freezing together into one huge chunk.
Frozen tortillas can last up to seven months past the written best by date.
A majority of people ask about how to reheat frozen tortillas. We encourage microwaving the frozen tortillas or oven heating.
Do Tortillas Go Bad? How Long Do Tortillas Last?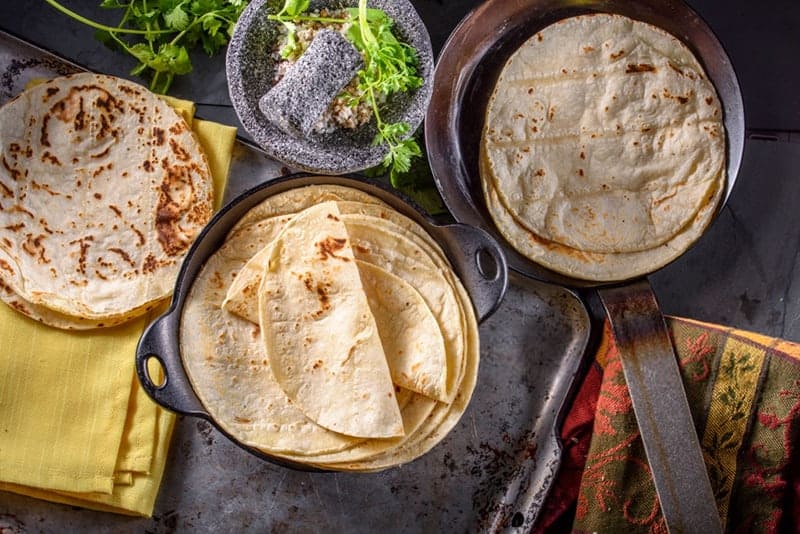 Contrary to popular beliefs, tortillas have expiry dates just like every edible food. Ideally, they can be consumed even after this written date has been surpassed if they are correctly stored.
Tortillas bought from stores and homemade tortillas have varying expiration dates. A store-bought tortilla comes with a best by date but most times can still be eaten a month after the date.
The shelf life of tortillas is dependent on how it was processed and the mode of storage.
A bag of unopened corn tortillas can be eaten one week past its expiration date if kept in a pantry, 3-4 weeks if refrigerated and 6-8 months if it is kept in a freezer.
However, prepared tortillas have a shorter lifespan than store-bought tortillas. If stored in a pantry, they tend to last only 2-3 days after it is made; if refrigerated, it stays for up to 5-7 days and 6-8 months if frozen.
Although some companies may indicate the date of expiration, you don't need to worry. These dates are there to indicate how long the manufacturer feels the product's quality would be intact to avoid food poisoning.
One thing to consider when enquiring about tortillas is the recipe used. If you have already used the tortillas to make a burrito or taco, then it is left for you to decide how long it will last as ingredients in prepared tortillas play a big role in how long it'll stay edible.
How to Tell if Tortillas Are Bad? Tortillas Shelf Life!
Telling a spoilt tortilla from edible ones, when it is in its early stage of spoilage is a bit tasking. This could be because some molds are white at first before they turn yellow.
Spoilt tortillas have bad tastes and smells, and may change color. At this point, the tortillas may lead to health issues and shouldn't be eaten.
Tortillas are generally soft when you buy it fresh. As it gets older, they begin to stiffen.
Sometimes, you could still eat it, but as soon as you start seeing molds on the surface, then it is time to throw it out.
Molds may be formed as a result of moisture on the flatbread. Sometimes, moisture may seep in through the Ziploc bags and lead to mold formation and microbial activities, especially on prepared tortillas.
Practicing health safety when it comes to food is very important. So whenever molds develop on tortillas, do not scrape off the bad part and eat the rest, as unseen microorganisms may still be acting on it.
Conclusion
All in all, tortillas go bad and if eaten, can lead to serious health issues.
Although the shelf life can be prolonged, it is crucial for you to know the ingredients used in the tortilla to store accordingly.
We also suggest that you should buy or prepare tortillas in small quantities to avoid wastage.
About The Author