Mussels are bivalves, a general name for clams and oysters.
Mussels are safe to eat raw or lightly cooked, but like all shellfish, they can be dangerous if not handled properly and contaminated with biotoxins from polluted water.
When you buy mussels, look over them carefully. Fresh mussels should be closed; if open, do not buy them.
The shells should be tightly closed, and the mussels should feel heavy for their size.
If they are open or if the shells appear cracked or broken, discard them.
Once you get the mussels home, store them in a covered container in a refrigerator.
Although they will remain alive for two or three days stored this way, it is preferable to cook them that day you purchase them.
So can you freeze mussels? The answer is yes.
You can freeze them to have on hand for another time. They can be frozen raw or cooked.
The method of freezing is not different; only the timing will vary slightly.
In this article, we will guide you through the freezing process by giving you step-by-step instructions.
Does Freezing Affect Mussels?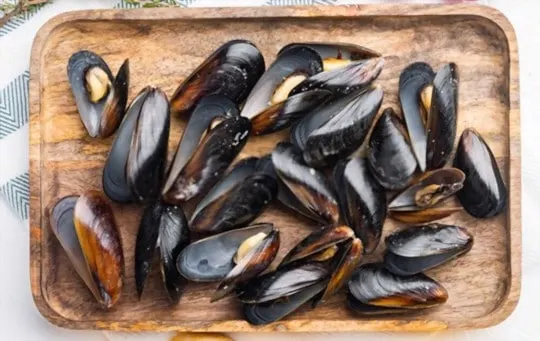 There is a concern that freezing may adversely affect the quality of mussels.
This does not necessarily mean fishy taste or tough texture because mussels freeze well and remain unchanged when cooked after thawing, unlike freezing other seafood products like crab meat.
Hence frozen raw mussel meats are acceptable to cook at any time as you would normally cook mussels.
Mussels are available for sale much lesser in the cold season.
As such, there is no need to get them when out of season if you can freeze your mussel purchase and have it during the off-season.
Freezing mussels is an economical idea because you will save money from buying frozen ones during the months they're not readily available.
How to Freeze Mussels?
Freezing mussels is as easy as cooking or boiling them.
It needs a little bit of pre-planning to ensure you have enough time to defrost the mussel meats if you intend to cook with frozen ones.
There are several ways in which you can freeze mussels.
The most common way of freezing mussels is by packaging raw, steamed, or boiled mussel meats and storing them in airtight containers.
How to Freeze Mussels Raw?
If you want to freeze raw mussel meats, follow the steps below:
Prepare a container for freezing the mussels. The container should have a tight-fitting lid and can be made of any material such as glass, plastic, or paper.
Place the unopened raw mussel meats in the container you prepared earlier. Leave sufficient space at the top of the container so that there will be room for the expansion of liquids when they are frozen.
Put the lid on and freeze. Check periodically until the mussels are well frozen, which usually takes about 2-3 hours.
Label the container with a permanent marker to indicate what is inside and when it was put in the freezer. For best results, use within three months of freezing.
How to Freeze Cooked Mussels?
Need to save a few bucks? Do you enjoy eating mussels? If yes, then freezing mussels is the best option for you.
You can learn how to freeze cooked mussels in a manner that they are tastier after freezing.
Follow the instructions below to freeze cooked mussels:
Let the mussels cool down to room temperature. They must be completely cooled before freezing.
Put the cooked mussels in an airtight container. Allow about one cup of space for expansion at the top of the container.
Put on a lid and label it with a permanent marker to indicate what is inside.
They will last a few months in the freezer. However, examine them periodically until they are well frozen and use them for best results within three months of freezing.
How to Thaw Frozen Mussels?
Thawing frozen mussels are easy.
You can thaw them by doing one of the following:
Placing them in the refrigerator overnight or allow defrosting in a warm water bath.
This can be done by placing the mussel container in a bowl of water.
You can change the water now and then to help defrost them more quickly.
You may also let them sit on the counter while waiting for natural thawing.
For cooked mussels, you can heat them in the microwave or stovetop when they are thawed.
Note that cooking times will vary slightly depending on how much was thawed and what defrosting method is used.
How to Cook Thawed Mussels?
After thawing frozen mussels, you can cook them like fresh ones or use the one that has already been cooked.
How to cook thawed mussels depends on how they were originally prepared.
However, it's best to boil them if you intend to consume them right after cooking.
Boiling is also a good method for preparing large amounts of mussels.
If you have only a few frozen mussel pieces, all you need to do is reheat them before eating or cooking.
Place the mussel meats in a pot with vinegar, butter, and herbs for best results.
Bring it to a boil, turn off the stove, and sit for a few minutes before serving.
This method is most effective for cooked mussels.
If you are reheating a larger amount of frozen mussel meats, it's important to ensure that they are heated all the way through, then place them in a pot with butter and herbs while still hot.
Another option is to pour the mussels on a baking sheet and put them in a preheated oven at 400 degrees F. for 15 minutes.
Add herbs and butter just before serving so they will not lose their flavor.
Conclusion
In conclusion, freezing mussels is a convenient way to save money and enjoy eating mussel meats.
It's simple, fun, and can be done in less than a day.
You should not freeze cooked mussels for long periods, so it's important that you use them within 2-3 months after freezing.
Also, thaw the mussel meats properly before cooking to ensure that they will be ready in no time.
Have you frozen your mussels? How did it go? Please share with us by leaving a comment below.