If you are into dietary supplements, you already know fish oil is the real deal! The oil has found cult-like popularity due to its multitude of potential health benefits.
The key driving force of fish oil is Omega-3 fatty acids, which are extremely vital for our health. There are two types of fats –the good ones and, well, the bad ones.
And, as you might have guessed, Omega-3 fatty acids fall under the former category.
Fish oil is crucial because our body does not produce Omega-3 fatty acids naturally. As such, we depend on external supplements to give us that extra boost.
Fish oil, as the name suggests, is the oil extracted from fish tissues. You can find them in abundance in oily fishes like Mackerel, Anchovies, and Tuna.
However, like any other dietary supplements, you have to stay cautious about their shelf life.
So, how long does fish oil last? Should you be concerned about bad fish oil?
Let's find out, shall we?
How Long Does Fish Oil Last? Does Fish Oil Go Bad?
Yes, fish oil will, indeed, go bad. And, if you continue using it, it may raise serious health concerns.
Fish oil is one of those things that can go rancid very quickly. The reason is that it contains high amounts of polyunsaturated omega-3 fatty acid, which is very sensitive to oxidation.
It contains a large number of reactive double bonds, which means they are very unstable. As a result, when they come in contact with oxygen, they tend to break down quite easily.
How quickly they break down may also depend on several factors. For instance, how the fish oil was processed or how you store it. The latter plays a more crucial role.
A recent study shows that expired fish oil can increase bad cholesterol levels in your body.
Luckily, you do not have to take such risks. The regular shelf life of fish oil is usually 1-2 years past its manufacturing date. However, that is just the maximum estimation.
In reality, fish oil can go ransack even before its expiry date. It all comes down to how you store it.
For instance, an unopened bottle can last up to 18 months. On the other hand, an opened bottle can last anywhere from 3-8 months depending on whether you refrigerate it or not.
How to Tell if Fish Oil is Bad?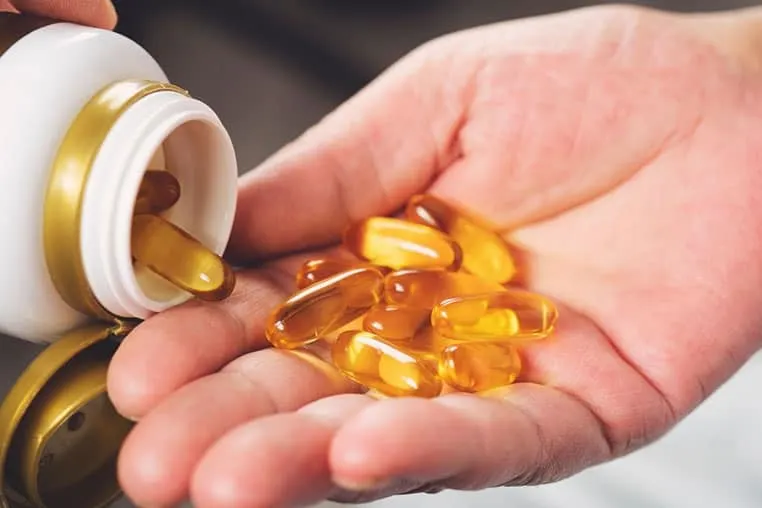 Rancid fish oil is something you do not want to mess with. It is always a good option to check its level of freshness before taking it. As you already know, expired fish oil may compromise certain aspects of your health.
So, if you want to avoid any unnecessary health complications, look for these signs:
Does it smell weird?
The smell is one of the first things that get affected when the fish oil expires. They have a distinctive fish odor to them when they are fresh. However, that may change over time.
During the process of oxidation, fish oils produce a by-product called lipid peroxide. That, in turn, gives it a foul smell and also compromises its potency.
Does it look off?
For the unversed, a fresh fish oil capsule has a light golden semi-transparent appearance. In addition, it also has a bouncy consistency, which means you cannot press it down completely.
However, that may change once the fish oil goes rancid. The effect of oxidization may make it appear murky, and it may also lose its springy form. Instead, they might become soft.
In any case, it is best if you stop using it, as both are good indications of expired fish oil.
Does it leave a bad taste?
Try taking the capsule along with a glass of water. Does it leave any unpleasant aftertaste? If the answer is yes, you should throw it out.
Normal (fresh) fish oil does not have any taste to it. So, the presence of a strong flavor suggests otherwise.
Conclusion
Fish oil comes with an impressive number of potential health benefits. The only problem is, they do not age very well.
Due to their unstable chemical composition, it is easy for them to lose their potency. Besides, expired fish oil may also raise some red flags concerning your health.
As such, we suggest you steer clear of taking any fish oil supplements that might be expired. Of course, you could always do that by checking for some obvious signs.
However, if you want to ensure optimum safety, our best advice would be to store them properly and avoid oxidation.
The best way to achieve that is to keep them in an airtight container at all times. Also, make sure to store them in a cool and dry place away from sunlight, as heat increases the rate of oxidation.
About The Author