Seafood Chowder is a dish that can be made in many different ways.
It's typically seafood, potatoes, onions, and vegetables boiled in broth or water with various seasonings.
Chicken stock or milk may also be added for extra flavor and richness.
The soup base is usually thickened by the starch from the potatoes to form a creamy consistency that adds cream to further enrich it.
One of the problems encountered with seafood chowder is its watery nature.
So how do you thicken seafood chowder? You can add various ingredients to it to give it a thicker consistency.
For example, cream or roux can be added to the soup to make it thicker.
A reduction may also work because as the liquid evaporates, the proteins in it will form a mesh on the bottom of your pan, from which you can just skim off to create a sauce or thickener.
In this article, we will discuss how to thicken seafood chowder with or without a roux.
Common Mistakes When Making Seafood Chowder
The seafood used depends on personal preference, but oysters, shrimp, and cod are all popular choices, while varieties of fish or shellfish may be combined.
The potatoes can also vary in size, with larger chunks needed for thicker soups and smaller potato pieces for thinner chowders.
Seafood chowder is not a dish that can be made quickly, and so it requires time for the flavors to develop, which is why it's wise to have everything ready before cooking.
There are numerous seafood chowder recipes out there, but how do you make seafood chowder? Here are some common mistakes often made when preparing this soup dish:
1 – The Potatoes Aren't Cut Properly
The potatoes you use for this dish can vary greatly in size, so it's important to cut the potatoes into medium-sized pieces.
A thick chowder will require larger chunks of potato, while a thinner soup will need smaller pieces.
If you're having problems cutting the potatoes, you could always use a mandolin to cut them for you.
2 – Not Simmering Long Enough
The cooking time depends greatly on your preference but simmering the soup long enough will allow all the flavors and ingredients to meld to produce a flavor that's both richer and more balanced.
A good rule of thumb is about 45 minutes or an hour for a thicker dish, while about 20 minutes or less is best for a thinner soup.
3 – Using Undersized Pot Or Pan
A proper-sized pot is needed to make seafood chowder so that you can easily mix all the ingredients together and prevent them from sticking in between the crevices.
A good rule of thumb when it comes to size is having about 2 quarts for every pound of potatoes.
4 – Avoid Overcrowding The Pot
Putting too much seafood, potatoes, or other ingredients into the pot will prevent them from cooking evenly.
If done properly, all the ingredients should be fully submerged to cook right through without being burnt on the side of the pan or overcooked on top.
5 – Too Much Cream or Milk
Adding milk to seafood chowder is optional, but it's important not to add too much if you do.
When the potatoes are added along with other ingredients, the mixture will naturally become thicker, which means that there will be no need for more than a bit of cream.
If you already have too many ingredients in your pot, adding milk or cream will only worsen.
6 – Using The Wrong Cheese
Cheese can be added to seafood chowder for flavor, but sharp cheddar cheese is the best choice because it goes well with seafood, while mild cheeses like mozzarella and Emmental won't work other ingredients due to their stronger flavor.
7 – Overcooking or Undercooking The Seafood
Seafood is very delicate and can easily be overcooked.
Adjust the heat of your stove accordingly, and if you don't have a thermometer, undercooking is better than overcooking.
When it comes to thickening seafood chowder, it's important to remove any particles that look burnt on the bottom of your pan.
Why is Your Seafood Chowder Watery?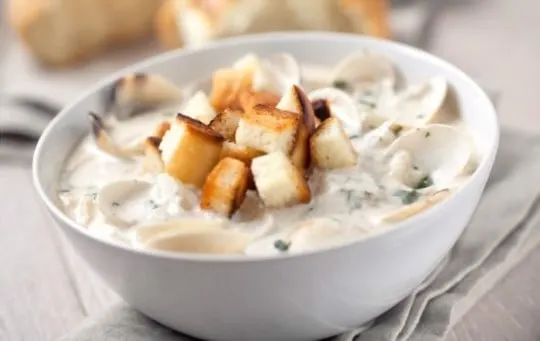 People have different reasons for adding milk to seafood chowders, such as personal preference or the recipe.
Milk makes this soup dish more creamy and thick which explains its popularity, especially with children.
Water is a natural ingredient used in cooking, but too much of it will dilute your soup so much that you'll end up with a watery soup.
When cooking seafood chowder, there should be a good balance between water and other ingredients so that all the flavors can come together without being too salty or bland.
So why is your chowder watery? It could be too much or too little.
If you want to make your own seafood chowder, it's important to follow the recipe so that all the ingredients complement each other.
The best way to tell if seafood chowder is too salty is by tasting it because some people have different preferences regarding saltiness.
As for the cream, you can always add more, but if your watery soup is too thin, you'll have to start all over again.
How to Thicken Seafood Chowder?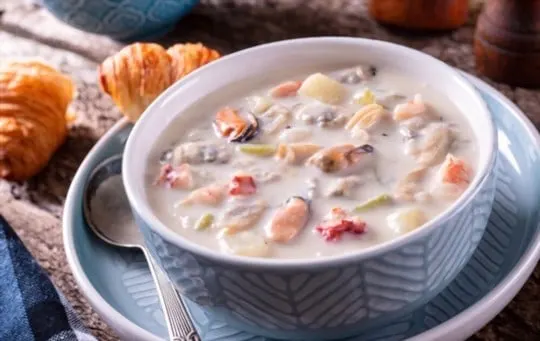 If you're having problems thickening your seafood chowder, here are ways on how to solve that problem easily:
1 – Add Extra Flour
This is the quickest and easiest way of thickening seafood chowder without adding cream or milk.
Simply add flour and whisk the mixture well until it's fully mixed with the rest of your ingredients.
Continue cooking for another 5 minutes before serving. If you have many ingredients in your pot, you might need to add more flour as needed.
2 – Add Cream or Milk
It's best to add milk to cooking because it can easily curdle if it gets cooked for too long.
If your soup is already done and you want it creamier, then simply stir in a bit of cream and then simmer the mixture for another 5 minutes.
3 – Use Cornstarch
To thicken your chowder with cornstarch, it's best to add it right after you take it off the stove.
First, make sure that all the ingredients have already been transferred from the pot into a bowl, and then add 2 tablespoons of cornstarch to the liquid.
Whisk well so that it's fully dissolved, and then transfer the whole pot back into a stove.
Cook for another 5 minutes before serving.
4 – Use Roux
If you want to thicken your chowder with a roux, it's best to make this ahead of time.
Mix equal amounts of flour and butter together in a bowl and pour the mixture into a pot while constantly mixing over medium heat until it turns slightly golden brown.
Then, whisk the mixture into your pot and simmer for another 5 minutes.
5 – Add More Ingredients
You can always add more ingredients to your seafood chowder to thicken it.
Some extra ingredients you can try are dumplings, rice, potatoes, or even pasta.
If you want to use these thickening ingredients, make sure they have already been cooked ahead of time.
6 – Use a Blender
If your chowder is already done and you want to thicken it, then use a blender instead.
Pour the contents of the pot into your blender until only 1/4 cup remains. If you're using a regular blender, add more water or milk.
Blend for 4 to 5 minutes so that it's smooth before transferring it back into the pot.
If you're using a food processor, simply remove the lid and then pulse for 2 minutes before transferring it back into the pot.
Conclusion
In conclusion, seafood chowder is a great dish for the family, and it's so easy to make, especially during the chilly winter months.
It's easy to see why this soup dish is so popular, especially with seafood lovers.
If you want to learn how to thicken your next seafood chowder, simply follow these tips and enjoy a warm bowl of delicious chowder that will leave your entire family craving for more.
The easiest way is to use a roux, but you can always use flour, cream, and milk if you don't have that.