If anybody mentions the term 'sports drink', we automatically assume its Gatorade, because why not?
Gatorade drinks have made its presence known in the shelves of every grocery store where athletes, students and even very tired mothers can be seen hovering about.
The brand is iconic in a way that it has eponymously 'The Thirst Quencher'.
Over the years, the non-drinkers of sports drinks have debated on sticking to water instead of spending money on an overly glamorized colored drink.
But Gatorade does more than just quench thirsts because it contains components which replace the elements that are lost from our body due to sweat and physical stress.
That's not the last of it, which we will find out the science behind the world's most popular sports drink.
What Is Gatorade anyway?
Gatorade is popularly known as 'the' sports drink where it is ever-present in all sports matches and it is also very well known in popular culture as well.
Aside from being extremely well-known, Gatorade is a drink that contains electrolytes which are mainly potassium and sodium.
For sports players or just generally people who exert physical strain, electrolytes are lost from sweating and overtime, a body will grow tired and dehydrated.
To avoid that, electrolytes in a sports drink provide fluid balance and that is what exactly what Gatorade does when you drink it.
Gatorade also contains carbohydrates in the form of sugar. The carbs will replenish the energy which is lost due to the physical activity.
The effect of Gatorade is talked about extensively in Darren Worrel's critically acclaimed book known as 'First in Thirst'.
Here, the author talks about research where Gatorade provides a 25W power while an athlete runs and exercises.
It is no doubt that Gatorade has received a lot of praise from athletes where they claim to perform better with Gatorade instead of water.
The website, Precision Hydration talks about the importance of hydration and how sports drinks are responsible for providing the necessary nutrients in this detailed report.
Here's a more detailed explanation on what do electrolytes actually do.
How to Store Gatorade Drinks Properly?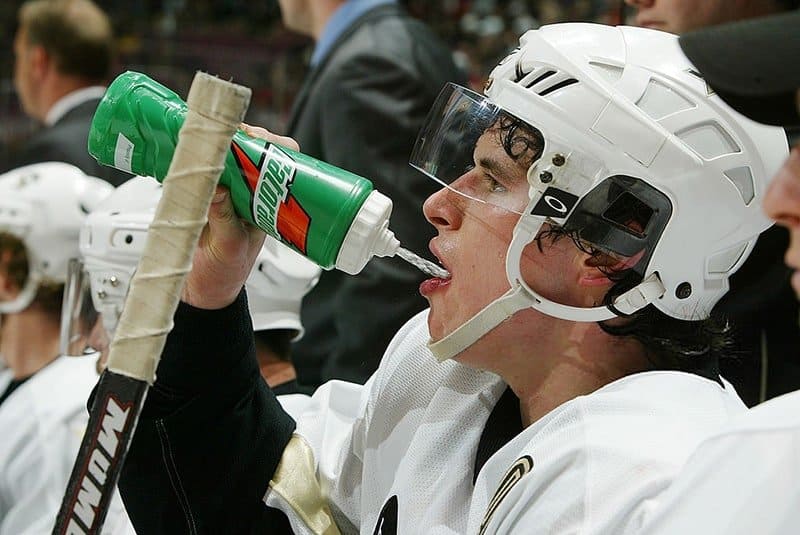 Gatorade should be stored at a cool and a dry place. The best location would be the refrigerator.
Of course, once you open a bottle of Gatorade, you have to drink it within 5 days and it should be stored in an airtight bottle the whole time.
If you open the bottle, with every passing day, the contents in the bottle will deplete in quality over time. The best option is to consume it immediately after you open it.
If there was a sale and let's say you bought a large supply of Gatorade and you are wondering how to store all of them, make sure that the bottles are still sealed.
Then, proceed to store them in a cool and a dry place. It does not increase the shelf life of the sports drink dramatically, but if it is unopened, Gatorade can be drinkable past 9 months its best by date.
The freezer can also be a viable option of storing Gatorade as the sports drink is mainly water with electrolytes and sugar.
Since water freezes at 0°C, Gatorade will freeze at below 0°C since it contains other substances aside from water.
Make sure that the temperature of your refrigerator is set below 0°C of 32°F. Gatorade does not freeze into a solid block like ice but it turns into a slushy which is great if you want a refreshing yet energetic drink during the hot summer days.
Does Gatorade Go Bad? How Long Does Gatorade Last?
The question of how long a bottle of Gatorade would last is a matter of storage. We now know that Gatorade should be stored in a dry as well as a cool place.
The reason as to why the subject of storing it in a dry and cool place is very important is because of the fact that moisture could deplete the quality of the sports drink.
And secondly, heat could act as the prime culprit in releasing chemicals to the drink from the plastic which the bottle is made of and in turn, it could lead to a bad reaction with the electrolytes overall.
Every bottle of Gatorade has a best by date which is not to be confused with an expiration date.
As long as the bottle is sealed and is not tampered with, the sports drink could be drunk up to 9 months past its best by date.
Unopened powdered Gatorade will last for 6-7 months past its best by date too.
However, the shelf life of powdered Gatorade is also limited once it is mixed with water.
It should be stored in an airtight container and you should probably consume it within 5 days, just as same as we do with a bottled Gatorade.
Gatorade will probably go bad if it is not consumed within 5 days after opening it, which is talked about extensively in this article.
It is also a misconception that Gatorade will not go bad if it is sealed, but every Gatorade has its own expiration date which means that whether it is sealed or not, it would still go bad past beyond its time.
How to Tell if Gatorade Is Bad to Drink? Gatorade Shelf Life!
Did you forget about the opened bottle of Gatorade and have no idea how many days has it been?
Well, nobody condones waste and you may be tempted to finish it. But a bad Gatorade will have plenty of signs to offer you.
Look out for any strange changes in the color and the texture mostly. A bad Gatorade will darken in color and there will be lumps in the sports drink instead of its usual smooth consistency.
In most cases, you will also notice lumps in the bottle mostly around its neck. Those are the signs that you must discard it.
If you are still feeling brave enough to taste it, the taste will be more sour than usual (especially for lemon flavor).
The smell would obviously change which would be off-putting and sour in nature.
The same goes for powdered Gatorade which is mixed with water. But if the Gatorade is still in its powdered form, but has turned into a solid mass, don't hesitate to chuck it in the bin.
About The Author