Are you looking for alternatives to white wine in your risotto?
Whether you are worried about a strict dietary regimen or simply don't have any white wine at home, this article will help you find the perfect substitute for your dish.
You don't have to be restricted by a limited pantry – learn five surprising ingredients that could make your risotto taste even better.
Can You Actually Make Risotto without White Wine?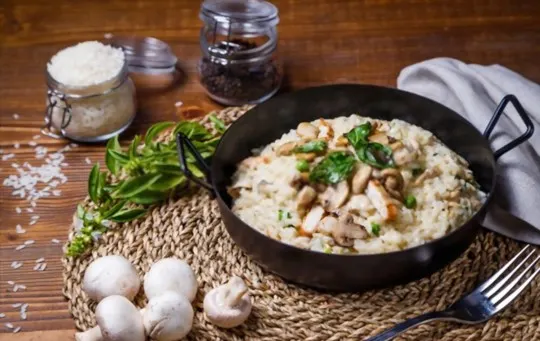 For many, the idea of making risotto without white wine feels like a daunting task.
After all, it's practically become an accepted part of the recipe – almost as if there would be no point in attempting the dish without it.
However, don't worry; using white wine is not obligatory when cooking risotto.
While it adds to the flavor and helps ensure that your rice cooks evenly, you can still make a delicious batch using only broth or another liquid like plain water.
Just make sure whatever liquid you choose has enough flavor and salt to season the rice – otherwise you'll be left with pretty bland risotto.
All things considered, a crisp glass of white wine is always an enjoyable addition to dinner, but if you're looking for an alcohol-free option for your risotto experiment, don't be afraid to take the liquor out of this classic Italian staple.
The 5 Best Substitutes for White Wine in Risotto
It's true that white wine is a common ingredient in risotto recipes and that its sour flavor helps to enhance the other flavors.
However, it's perfectly possible to make an excellent risotto without it.
In fact, there are many tasty alternatives to white wine which can be used in its stead.
With the right substitution, you can easily enjoy an amazing risotto even if you don't have white wine on hand.
Here are five of the best substitutes for white wine in risotto:
1 – Chicken Stock
Chicken stock is an easy substitute to use when there is no white wine.
This substitution option still provides additional flavor to the risotto and will not change the overall consistency of the final product.
For best results, opt for low-sodium chicken stock or broth – this will help keep the salt levels balanced in your risotto.
Additionally, if you are looking for a vegan substitution, vegetable broth can also be used in place of chicken stock.
2 – Beef Broth
When thinking of substituting white wine in risotto, beef broth is probably the closest to the ideal replacement.
The natural umami or savory flavor that you get from the beef broth can lend a similar depth of flavor that white wine possesses.
You can use meat-free broths for a vegetarian version of this dish.
You should look for low sodium versions if possible and use the same amount as when you would have used white wine in your recipe.
If using low sodium versions, you may have to add some salt depending on how much you're using in your dish.
Adjust the seasoning towards the end of the cooking period and taste it before you serve it to make sure that it's just right for everybody who will be sitting down.
3 – Vegetable Stock
Vegetable stock is becoming an increasingly popular option for making risotto as it provides a well-balanced flavor and plenty of savory flavor.
The stock should be reduced before use to make sure that any excess water or starch isn't bringing down the consistency of your dish.
Keep in mind that if an additional savory component is needed, a small amount of garlic or onion can easily be added to the reduced vegetable stock.
This is a great way to add extra depth without overpowering the taste of your dish.
4 – Red Wine
Red wine can be a great substitute for white and is a very common swap.
It will provide an earthy and smoky flavor to the risotto that can have a pleasant depth depending on the particular variety of red wine you use.
The additional sweetness in red wine compared to white can be balanced by using vegetable stock instead of chicken stock.
You may also want to reduce the amount if you use red wine, as it has higher levels of tannins and acids compared to white varieties.
5 – Dry Sherry
Dry sherry is a strong flavored fortified wine that is high in both acidity and salt content.
It has a deep, earthy flavor and aroma that can really give flavor to risotto.
Used delicately, it can add complexity to a risotto without overpowering other flavors.
While the flavor of dry sherry will not exactly match white wine, it does make a good substitute for the same purpose.
Be sure to use one that is not too sweet, as this could change the texture of the overall dish.
Conclusion
In conclusion, if you are looking for a substitute for white wine in your recipe for risotto, there are many viable alternatives to choose from.
Although both red and white wines provide a certain flavor element that is difficult to recreate with non-alcoholic alternatives (such as water or vegetable broth), these substitutes will still serve to enhance your dish with more subtle flavors.
When choosing an alternative, you can either select one based on taste and the flavors you wish to incorporate into the dish, or simply opt for the easiest substitutable – water or vegetable broth – and allow your seasonings and other ingredients to take center stage.
Ultimately, it is up to you as the cook to determine which substitute will work best in any particular dish; so experiment until you find what works best for you.
About The Author