Watercress can add so much flavor and punch to a dish.
The juicy and peppery herb is not only delicious but healthy too.
But it isn't found everywhere and so what can you use instead? The wonderful thing about herbs is there are several types that you can use as a substitute.
In the following sections, take a look at the 5 best substitute for watercress.
What is Watercress?
Belonging to the Brassicaceae family of plants, it is a plant indigenous to Europe and Asia.
Though considered a weed in many places, watercress is one of the herbs humans have been eating since ancient times.
However, people began to cultivate it commercially only in the early 19th century.
Experts consider it as one of the healthiest herbs, and it is now grown in different areas.
Watercress is relatively low on fat, carbs and calories but high in vitamins and minerals.
Research also suggests that it offers many health benefits.
With a peppery and slightly spicy flavor, this little herb can prevent several health issues.
If you want to eat it but can't find it, you can also use the following as substitutes.
5 Best Substitutes for Watercress
Since it belongs to the same family as cabbage, you will be surprised to see how many plants or herbs you can use instead of watercress.
1 – Arugula
This plant goes by several names like roquette, rucola, or garden rocket.
An edible herb from the same family as watercress, it is a suitable substitute.
It is a fast-growing plant and is slightly bitter with a spicy flavor.
The heat increases as the leaves mature. If you are not up for too much spice, try finding young leaves.
They taste delicate and mild. Eat it raw or cooked and mix it with salads and soups.
You can eat it alone or make dishes using several ingredients.
Matured leaves are more suitable in dishes that need cooking.
But add only when your dish is almost cooked and not in the beginning.
The green leafy vegetable has plenty of nutrients, including several vitamins, calcium and potassium.
You can use a similar quantity with watercress if it is still young.
Suitable ratio:
5 watercress leaves = 5 arugula leaves (young) (put only 3 if the leaves are matured) or.
50gms watercress = 30gms arugula.
2 – Spinach
Spinach is not from the same family as watercress.
But it is fresh, slightly crunchy and offers many health benefits.
It, therefore, can be a good choice when watercress is not available.
Taste-wise, it is mild and very juicy; and can turn quite bitter when wilted.
You can eat spinach raw or cooked.
A popular ingredient in Asian and Indian cuisine, spinach is a popular leafy vegetable.
When substituting it for watercress, add some chili flakes to get the peppery taste.
You can add spinach to salads or even eat with dips and sauces.
You can also make smoothies with fresh leaves and add honey, salt and lemon if needed.
When shopping for spinach, choose leaves with vivid green color and fresh stems.
Suitable ratio:
10 watercress leaves = 10 spinach (add some hot pepper powder for spiciness).
3 – Nasturtium Leaves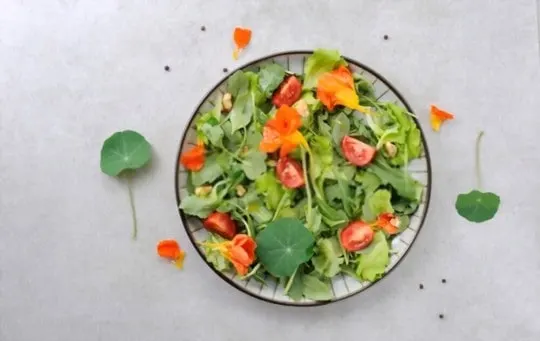 An edible plant with brightly colored flowers, nasturtium is another suitable substitute for watercress.
It also goes by the name of Indian cress but not to be confused with watercress.
The pretty flowers give a distinct flavor and appearance to salads and desserts.
But for substituting watercress, you have to use the leaves.
They almost taste similar because nasturtium also has a spicy and pungent taste.
You can use the leaves in salads, sauces and also make dips.
You can eat it alone or add some salt and spices according to your preference.
Like the other herbs, it is also a healthy plant and adding it to your diet can be beneficial.
Suitable ratio:
25gms watercress = 25gms nasturtium leaves.
4 – Kale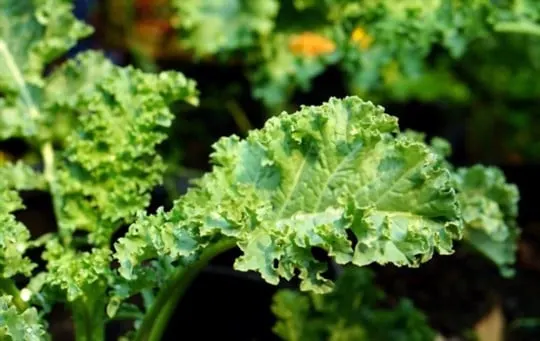 Many people have a love-hate relationship with kale.
It is because though it offers health benefits, it tastes terrible.
But belonging to the same family of plants, kale can take the place of watercress.
You can use it in soups, stews and salads. If you want to indulge more, sauté kale pieces in a pan.
Add a pinch of salt, clove of garlic, chili flakes and olive oil. It will taste delicious.
Even if you may like the taste, there is good reason to eat kale.
It has plenty of nutrients, including vitamins, fiber, iron, calcium and anti-oxidants.
You can use equal amounts of kale and watercress when substituting.
Suitable ratio:
25gms watercress = 25gms kale.
5 – Dandelion Green
Known for its high nutritional value, dandelion green can be an excellent option to use in place of watercress.
It is an edible plant, and every part of it is useful for medicinal purposes.
You can eat dandelions in different ways.
You can make tea with the root, use the flower heads to make fritters and petals in baking.
For substituting watercress, use the leaves in salads. You can also sauté it if you don't like the flavor.
Younger leaves taste mild, but older ones are bitter. So, try to look for young leaves when you shop.
Studies show that dandelion may lower cholesterol, regulate blood sugar and help in weight loss.
Suitable ratio.
25gms watercress = 25gms dandelion green (young) (use less if you have only older leaves or add some sweetener, salt and spices to cut the bitter taste).
Conclusion
When you have so many tasty herbs to use, you don't have to worry about not having watercress.
Each one can provide the kick, punch and crunch as you want.
Add spices and condiments as required to take your herbs to the next level.
Some herbs in your diet can keep you healthy, fresh and active.
So, make something with herbs for your meal regularly.
About The Author