Have you ever wondered how versatile and creative one can be with tortilla chips?
These crunchy and crispy snacks can be used for a wide variety of dishes and snacks, but are you using them to the fullest of their potential?
But sometimes, if tortilla chips aren't available, it can become arduous trying to figure out an adequate substitute.
Here, we'll discuss different alternatives that can act as a worthy substitute for tortilla chips as well as explore all the ways in which they could be used.
So let's get started.
What's Tortilla Chip?
Tortilla chips are a popular Mexican-style snack that can be eaten as is or used as an ingredient in other dishes.
They are made from corn or flour tortillas that have been cut into triangle, rectangle, or other shapes and fried or baked until crispy.
The chips are usually lightly salted and can then be flavored with spices such as chili powder, garlic, cilantro, and lime to create a unique flavor profile.
Tortilla chips can be enjoyed on their own as a salty snack or dipped in salsa or guacamole for an added kick of flavor.
They can also be used as the base of nachos smothered in melted cheese, meat, beans and vegetables; crushed to make the perfect topping for taco salad; and topped with creamy bean dip for the ultimate appetizer.
For a different take on tortilla chip use, consider crushing them up to make your own homemade chilaquiles sauce.
When buying tortilla chips, choose those that contain natural ingredients such as stone ground whole wheat flour or organic yellow corn masa flour.
Avoid any brands that contain artificial colors and flavors, preservatives, trans fats or MSG.
To keep your chips at their freshest longest store them in an airtight container away from direct light.
The 5 BEST Substitutes for Tortilla Chips
Tortilla chips are a popular snack food across the world, but you may find yourself in a situation where you need to find an alternative.
With the wide range of available snacks, it can be difficult to decide what substitution is best for your needs and tastes.
To help you out, here are some great substitutions for tortilla chips that are sure to satisfy any craving.
1 – Cauliflower Crackers
Cauliflower crackers are a tasty and healthy substitute for tortilla chips.
Using cauliflower as the base, these delicious little snacks can be made with some added seasonings and spices for an extra flavor boost.
Plus, since they are made with cauliflower, they are naturally low in carbohydrates and calories.
To make the crackers, you'll need to begin by prepping your florets by chopping them into small pieces.
Then add your desired seasonings/spices to give your crackers more flavor.
Once all of the ingredients have been assembled into a bowl (or food processor), mix everything together until it forms a thick batter-like consistency.
Next, spread the mixture out onto a baking sheet lined with parchment paper and bake until golden brown – approximately 30 minutes or so depending on oven temperature settings.
Once cooled, feel free to enjoy these delicious crunchy snacks as you would regular tortilla chips.
2 – Kale Chips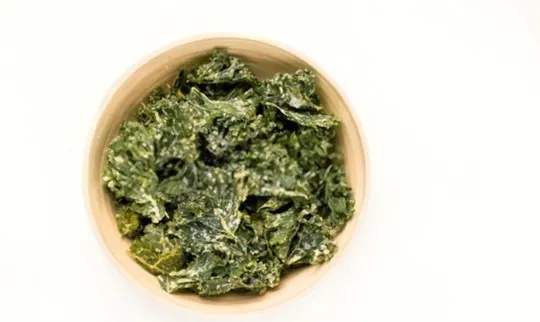 Kale chips are a great substitute for tortilla chips and they make a tasty and nutritious snack.
These crunchy chips are made simply by lightly coating kale with a healthy oil such as olive, grapeseed, or coconut oil and adding some flavorings such as salt, garlic powder, paprika or parmesan cheese.
Kale chips can be baked in the oven at low temperatures until crispy or dehydrated if you're looking for an even crunchier texture.
They taste delicious on their own or can be served with dips like salsa or guacamole.
Don't forget to trim off the tough stems from the kale leaves before making your chips.
3 – Sweet Potato Chips
Sweet potato chips are a great replacement for regular tortilla chips.
Not only do they offer a sweeter, more complex flavor than their plain corn counterparts, but they are also a much healthier alternative.
Sweet potatoes are rich in fiber, vitamins and minerals and provide a good source of energy.
Additionally, sweet potato chips have fewer calories, contain fewer carbohydrates and have less fat than regular tortilla chips.
They can easily be made at home with a few simple ingredients and make for an excellent topping for salads or soups.
Alternatively, you can purchase prepared sweet potato chips at most grocery stores – just be sure to read the label to find out which flavorings have been added as some may contain unhealthy additives or excessive sodium.
No matter how you enjoy them, sweet potato chips offer an enjoyable eating experience that will bring out your inner chip fan.
4 – Zucchini Chips
Zucchini Chips make an excellent substitute for tortilla chips and offer a mouth-watering alternative that provides some added nutritional value.
These chips are sliced thin and baked with a light coating of olive oil and herbs for flavor.
They are crunchy, flavorful, and can be used in a variety of recipes.
Try them with salsa or as a flavorful topping on salads and soups.
Zucchini chips also make an excellent snack or appetizer when served with your favorite dip or dip.
5 – Popcorn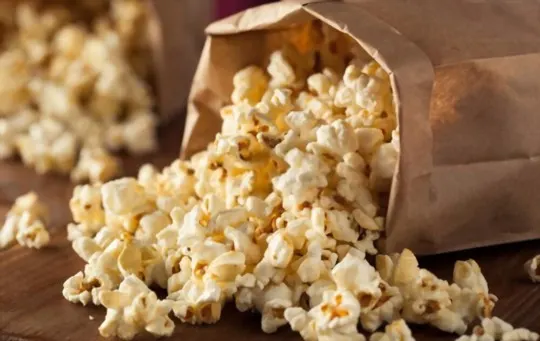 Popcorn is an excellent alternate to tortilla chips when you're looking for a similar crunch and flavor.
All you need to whip up a batch of popcorn is a microwave oven, vegetable oil, and popcorn kernels.
Or, ditch the oil and go healthier with air-popped corn.
For more cheese flavors and added crunch, just sprinkle on some cheddar cheese or crumbled Parmesan.
If you want something spicier, try sprinkling on garlic powder or chili pepper powder (or both) for a delicious treat.
To make things even easier, there are pre-seasoned popcorn options available in the grocery store should you want something fancier.
Conclusion
When it comes to substitutes for tortilla chips, there are some great options available.
With the right ingredients and flavors, you can easily make your own tortilla chips at home.
If you don't want to make your own chips, there are plenty of other options like plantain chips, cheese puffs, potato chips, cornmeal fritters, and even dill pickles that make great alternatives to traditional tortilla chips.
So if you don't have any store-bought tortilla chips on hand or prefer to try something new – these alternative chip recipes can help make your snack time extra special.