There are many different kinds of curry sauces. However, all of them have a few things in common.
They typically contain some oil, tomato paste, garlic, onion, ginger root, and spices like coriander or cumin.
Most commercially produced curry sauces also include sugar for sweetness and salt and turmeric to add flavor and color.
Some people like to make their sauce from scratch by adding fresh herbs or coconut milk instead of tomato paste for added flavor.
Adding a few tablespoons of flour or cornstarch to your curry sauce can thicken it up.
Thickening the sauce will make your dish more like a stew. Of course, you don't want it to be too thick.
Otherwise, you'll need to add water or another type of liquid to thin it down again.
Adding some sour cream is also another way to give your curry a creamy texture if you don't want to use tomato paste for some reason.
This article will explain the different types of flour that you can use to thicken your curry sauce.
We'll also give some easy instructions on how to do it so that you can have a nice, rich-tasting curry recipe in no time.
Types of Curry Sauce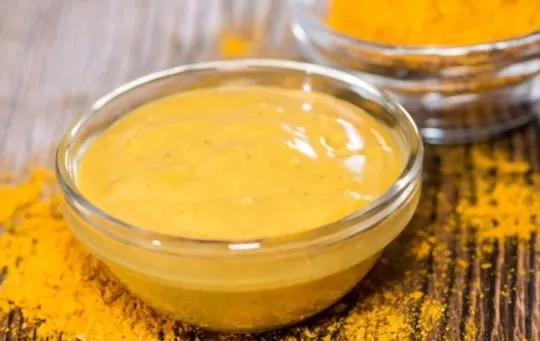 As mentioned, there are many different types of curry sauces.
They can range from being fairly mild to extra spicy.
What's great about curries is that they're usually very easy to make; you just need a few basic ingredients and some spices.
Some people like to add fresh vegetables like peas or carrots, while others prefer using potatoes in their recipe.
The choices are endless. The most common types of curry sauces are as follows:
1 – Madras Curry
This is a spicy South Indian type of curry. It's usually bright red because it contains chili powder or ground red pepper.
This type of sauce is very hot, and you often need to add extra water when cooking with it so that the sauce doesn't burn.
This is because it has a higher water content than many other types of curry sauces.
2 – Dhansak Curry
This type of curry is often sweet and sour. It's not spicy, although sometimes it contains some chili powder.
This sauce is great to use when you want a lighter dish but still has the same flavor as other curries.
3 – Korma Curry
A korma is another Indian sauce; however, unlike a madras curry, it's not very hot.
It has a lot of different spices, such as cinnamon and cardamom, added to it.
The sauce is typically creamy and uses various milk products like yogurt or heavy cream to get that richness.
4 – Tikka Masala
A tikka masala sauce is made with tomatoes, cream, and almonds.
The name comes from chicken, but you can also have a vegetarian version of the dish that's just as delicious.
This type of sauce isn't very hot and has a lot of sweetness to it.
You might want to serve it over rice instead of using naan bread.
5 – Vindaloo Curry
A vindaloo is another type of Indian curry sauce, although you can find it in Portuguese cuisine.
Some people call this the spiciest dish out there.
It's so fiery hot that some individuals become ill when eating it.
This recipe uses very high concentrations of chili powder and other spices.
It's also generally quite salty, so you might want to avoid it if you're on a low sodium diet.
6 – Rogan Josh Curry
This type of curry originated in Northern India and used red chili powder like other madras sauces.
The main difference is that rogan josh is sometimes sweeter than most other types of curries.
Rogan josh also uses onions and tomatoes to get that sweetness.
What is the Perfect Consistency of Curry Sauce?
Many people love curry sauce so much that they use it as a dip for vegetables or bread.
The great thing about this delicious sauce is that you can easily make it at home with your favorite spices and paste.
You might be wondering what the perfect consistency for curry is, though.
Thin enough to pour but thick enough that the taste is still there.
Many people like to use sour cream or even yogurt in their curry sauce because it gives the dish a unique texture that you can't normally get with thickening agents like flour alone.
How to Thicken Curry Sauce?
There are many ways to thicken curry sauce.
Some sauces might naturally be thick on their own, but most will need some help to achieve the right texture.
The following steps show how to thicken a curry sauce:
1 – Choose Your Thickening Agent
When you're trying to find something that can make your curry sauce thicker, you have a few different options to choose from.
Some of these are easier than others, but any will work to create the desired consistency.
2 – Mix with Oil
In many recipes, instead of using flour or cornstarch as the thickening agent, you can mix your curry sauce with some oil and stir it until it's thick.
This is a very easy way to get a thicker consistency, but it might change the taste of your dish.
3 – Mix with Flour
The most common way to thicken curry sauce is with flour.
Most Indian dishes use white flour, but you can also use cornstarch by following these steps:
To start, combine your flour with a bit of oil and mix it.
Next, add some water to the mixture until you get a very thick consistency similar to gravy or pudding.
Once you have the right texture, slowly stir it into your curry sauce while it's at low heat on the stovetop until it's thick and bubbly. Then turn off the heat and let the sauce cool before serving.
4 – Mix with Cornstarch or Other Starches
Another way to thicken curry sauce is with cornstarch.
You can use various starches to create the right consistency, including white or brown rice powder and potato starch.
Mix just one tablespoon of starch with three tablespoons of water until it's smooth, and then slowly add this mixture to your curry while cooking it.
5 – Use Yogurt or Sour Cream
This is another really simple way to thicken curry sauce.
If you add sour cream or yogurt into the mixture, it can help give your dish a much thicker consistency that's cool and creamy at the same time.
Just mix one tablespoon of plain yogurt with a bit of water until you get gravy consistency.
Then add it to your curry sauce while you're cooking.
6 – Add in Some Pureed Vegetables or Fruit
Using fruit and veggies is a great way to get the flavor of your dish to be naturally thicker and more delicious.
One good option is adding some pureed carrots, which also lends itself to the sweetness of rogan josh.
You can also use fruits like pineapple or papaya for a hint of tanginess in your mixture.
7 – Use Tomato Paste
Adding some tomato paste is another great way to get that thick consistency you want for dishes like curry sauce.
Make sure you saute the paste in oil for a few minutes to get that extra layer of flavor.
8 – Use Coconut Milk or Cream
Using coconut milk is another great way to thicken curry sauce because it gives the dish both sweetness and creaminess at the same time.
Add 1/4 cup of coconut milk per one cup of yogurt or water until you get the right consistency, and then add it to the dish once you're done cooking.
Conclusion
In conclusion, you should now know how to thicken curry sauce.
If your recipe doesn't have the right consistency, don't panic.
You can use a number of these easy techniques to get the consistency you want.
So try one out and see if it works for you today.